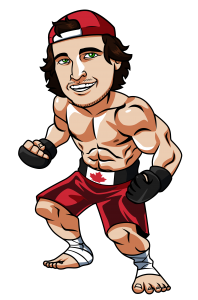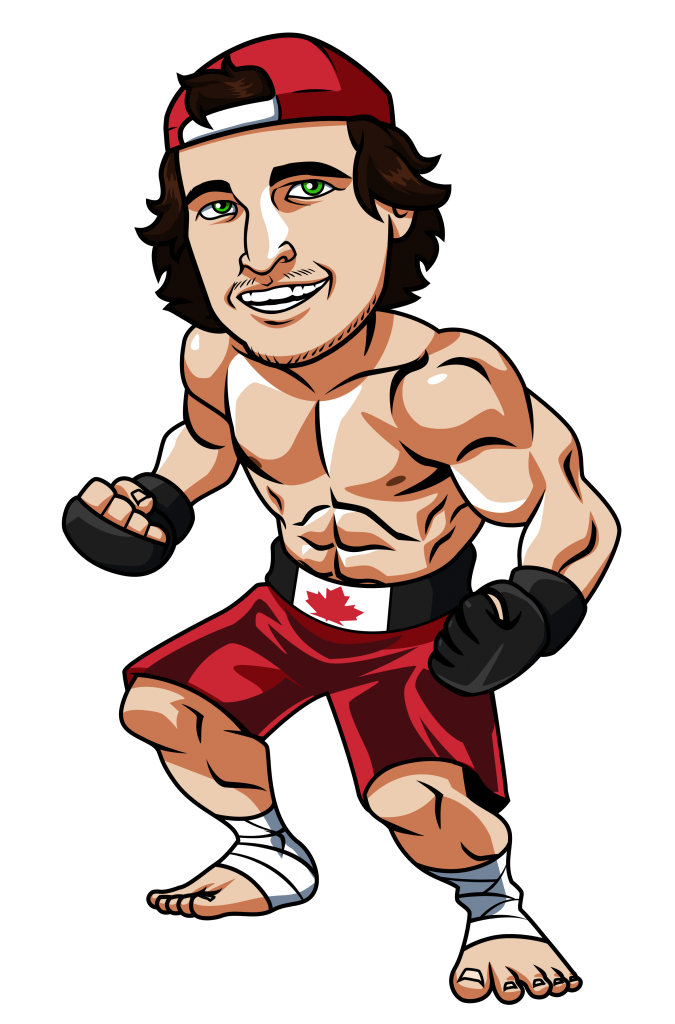 I'm personally still reeling from the mayhem that ensued at UFC 202 in Las Vegas last week.  Hopefully you guys read my betting picks & prop betting articles for that card because you would definitely be up some cash.  I went 4-1 with my picks for the card, and also really brought it home with my McGregor via decision prop bet that paid out beautifully.
So it was a successful UFC 202 betting wise and now we are treated to a very solid Fight Night card in Vancouver.  The UFC is really giving back to their Canadian audience this year with UFC Ottawa, now UFC Vancouver and UFC 206 just announced for Toronto in December.
The Demian Maia vs Carlos Condit fight being moved from UFC 202 to main event in Vancouver really makes this a must see card.  Add in Anthony Pettis making his move to featherweight against Charles Oliveira, and draws such as Paige VanZant, Joe Lauson and Smilin Sam Alvey featuring on the card and this should be another solid event in Canada.
I'll be using whichever odds are best for my picks from our top rated sportsbooks for Canadians below.
Demian Maia vs Carlos Condit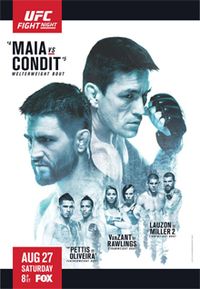 I think Carlos Condit is a beast at Welterweight who definitely won his title shot against Robbie Lawler, but Welterweight is a weird division where I consider the last two who fought for the belt to be below the top contenders of Wonderboy, Maia, and even Condit.
This fight features a couple of contrasting styles with Condit being a very exciting and explosive fighter on the feet, while Maia looks to drag his opponents to the ground and use his dominant positional jiu jitsu to really control a fight.  Maia has really given me no reason to think he won't win this fight.  He destroyed Neil Magny a couple fights ago and we then saw Magny go on a big winning streak through the division before losing to Larkin this past Saturday.  Maia also really took it to Gunnar Nelson who has arguably the best jiu jitsu in Europe and he was able to easily control a dangerous striker in Matt Brown in his last fight, which is likely the closest comparison to Condit.
Carlos Condit is on another level than Matt Brown, but they both fight very dangerously and I'm interested to see whether Condit is able to keep this fight standing.  I'm going to lean towards no and take Maia to control the fight from the outset.
Play: Maia 1.91
Anthony Pettis vs Charles Oliveira
I think the book may be out on Anthony Pettis.  He's lost 3 straight fights in the Lightweight division before moving down to featherweight for this first fight at his new division.  He desparately needs a win, but he is up against a class opponent in Oliveira who is 5-1 in his last 6 fights, with the only loss coming to the surging Max Holloway when Oliveira injured his neck in the first round.
He bounced back last December securing a submission of Myles Jury and looks for another big win on his resume against Pettis.
You know that Oliveira is going to know that he has to push the pace and close the distance against a dynamic Pettis, which I think will play well into his usual game plan.  Look for Oliveira to look to get this fight against the fence and look for takedowns against Pettis, while trying to stay in a dominant position to avoid being finished by Pettis.  If Oliveira can employ a solid game plan there is no reason he can't add another loss to Pettis' resume, with the wildcard being we won't know how Pettis looks cutting to this lower weight class against another big featherweight with more weight cut experience.
Play: Oliveira 2.50
Paige VanZant vs Bec Rawlings
Paige is back from Dancing With The Stars and looking to get back in the win column in the UFC.  I think this is a great fight for her to get a win back over a veteran fighter with a little bit of name recognition.
Paige was worked over by Rose Namajunas last December in her last fight before Dancing With The Stars, but that's a fight against one of the divisions very best.  Paige has looked good against other solid fighters, most namely a dominant win over another top straw weight in Fellice Herrig three fights ago.
Rawlings is on a two fight win streak herself, but she's been matched up against very beatable opponents of late and she just won't have the wrestling to hang with Paige in this one with Paige being the far superior athlete.
Play: VanZant 1.53
Joe Lauzon vs Jim Miller
A couple of guys who got dominant first round knockout wins at UFC 200 are being matched up here for the second time.  Jim Miller won their first fight back in December of 2012 by unanimous decision and I see this fight playing out in a similar fashion.
Both of these guys are only 32 years of age, but their best years are behind them from being in so many battles over the years.  Lauzon is closer to his best self, but stylistically this match up suits Miller very well.  I'm not expecting quite the war that the two had at UFC 155, but I do think Jim Miller has more in the tank than people are giving him credit for.
I like the underdog in this match up with Miller making it 2-0 against Lauzon.
Play: Miller 2.10
Sam Alvey vs Kevin Casey
In my opinion Kevin Casey may be the worst fighter ever to maintain his UFC contract after 5 somewhat bush league fights.  Casey is 1-1-1 with 2 no contests in the UFC.  How ridiculous is that record?  He's also one of the most boring fighters in the promotion with almost no action in the fight if it goes his way.  He throws no punches and looks for takedowns even though he has a dismal 25% success rate at taking his opponent down (probably because he doesn't throw punches to set them up).  You'd think going for takedowns means he's a solid wrestler, but his takedown defense is a brutal 27% as well.
Lucky for us it's Smilin Sam Alvey who is facing Casey this time.  He's not the most active guy on the feet either (although far more active than Casey), but when he throws punches he's aiming for the knockout.  Alvey has a solid takedown defense of 87% so he should be able to stay standing against a guy who telegraphs his takedowns as much as Casey.  Then if this fight stays standing it's only a matter of time before Casey's lights go out.
Play: Alvey 1.47
Tagged With : UFC betting • UFC picks • UFC predictions • UFC Vancouver • UFC Vancouver Betting