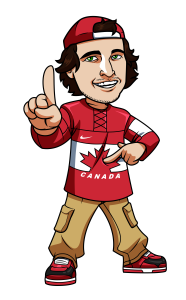 Proline is a sports betting lottery run by various lottery corporations across Canada. For the purposes of this page I'm going to focus on Proline in Ontario because it is the Proline version that I have the most familiarity with and it's also the one the most visitors to this website will be familiar with.
The Western Lottery Corporations version of Proline is very similar to that of the OLG, so this page will apply to Western Canadians, and I have made a specific Proline Stadium page for Atlantic Canada's version of Proline.
How It Works

To bet on Proline you will have to first head down to your local OLG retailer.  Most convenience stores, gas stations and grocery stores will offer an OLG booth where you can fill out your Proline selection sheet.  After filling out your selections bring your filled out sheet to the cash in order to pay and receive your ticket.  Make sure you keep this ticket safe because if you win you will need it to redeem for your winnings.
In the past Proline required you to pick between 3 and 6 winners in a parlay bet. This has now changed, with Proline allowing single wagers.
If your pick(s) do win then you can redeem your ticket for cash winnings at any OLG retailer.
Odds – Proline vs Online Betting Sites
The main knock against Proline is that the odds are horrible.  In fact the OLG's profit margin was 32.42% on their sports betting products in 2022, which is just an insane amount. This 32.42% profit margin is in contrast to online sportsbooks that are happy with a 4.5% profit margin on wagers.
Here is a look at the Proline odds compared to the odds at SportsInteraction.com for a few NHL games from a random Thursday (when I updated this page).
The bet slip on the left is from Proline and the bet slip on the right is from SIA.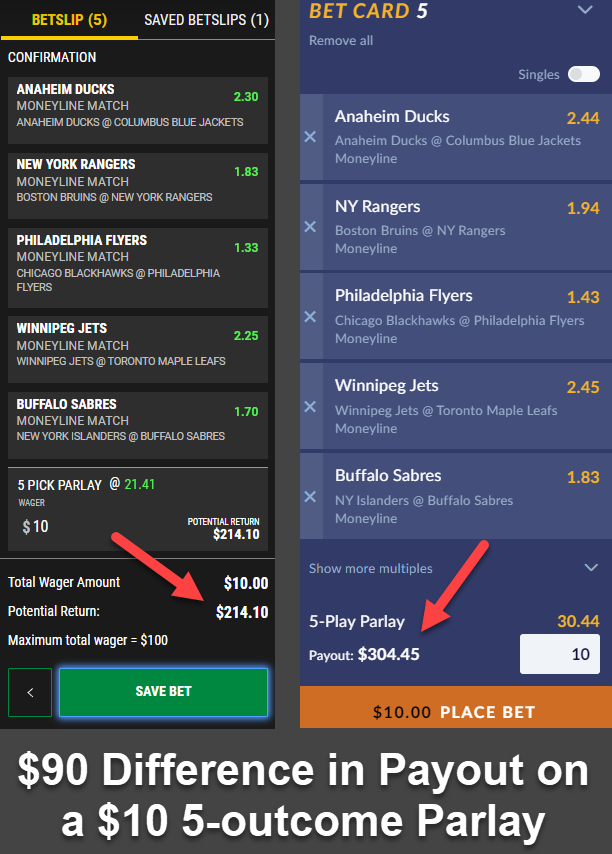 You win $304.45 betting through Sports Interaction and only $214.10 betting Proline.  That's a difference of $90.35 on a $10 bet!  It is very normal for you to win double betting online compared to Proline if you are betting parlays.
I look at Proline as an additional tax on the ignorant. Proline odds are so bad that in 2007 the Tax Court of Canada ruled any profits made from Proline are not taxable because it's impossible to earn a profit over the long term due to the poor odds!
Proline Odds Video
Advantages of Betting Online over Proline
In addition to the obvious reason of the horrible odds being offered through Proline there are other a few other huge reasons to switch to betting online rather than through Proline.
Time and Convenience
To bet on Proline you have to make a special effort to visit a local OLG retailer, fill out your ticket (hoping that there are no games blacked out from odds movement) and then return home to watch the games.  If your ticket is a winner then you have to head back down to the OLG store to collect your winnings.  Online you can bet from your computer or even your mobile phone and your winnings are automatically added to your betting wallet after the bet is settled.
Regulated Online Sportsbooks in Ontario
In the past Proline was the only "legal" way to bet on sports in Ontario. This is no longer the case, with regulated online sports betting launching in Ontario in April of 2022. There are now a wide variety of quality online sportsbook options that are licensed by iGaming Ontario to operate in the regulated Ontario sports betting market. Everything is above board, so there's no reason to leave money on the table betting the predatory odds at Proline.