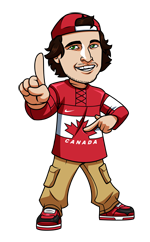 Welcome to my site, SportsBettingCanadian.ca! As you have probably guessed I'm a Canadian who is a huge sports fan and an avid sports bettor. After betting on sports for many years I noticed that there really wasn't an online authority on sports betting for Canadians. Having a solid background in the betting industry and experience building other sports betting websites, I decided to take it upon myself to create the ultimate sports betting information site for Canadian bettors!
Here at Sports Betting Canadian all of the information is written by me and tailored towards Canadian sports bettors. I've included a section dedicated to the various provinces and their government run sports lotteries, a betting guide with articles for both beginner and advanced bettors, information about betting on the most popular Canadian sports, a complete section on horse race betting in Canada and a thorough guide to all of the deposit options available to Canadians.
Current Articles
Top Sportsbooks for Canadians
Almost every sports betting site online accepts Canadian bettors, which leaves quite a choice for Canadian sports bettors. Here at Sports Betting Canadian I only wanted to promote the very best online betting sites, so I waded through all of the different information and found what I feel are far and away the best 3 sportsbooks for Canadian bettors. These betting sites are each committed to growing their brand in the Canadian market and offering a great product to Canadians for years to come. Each of the sportsbooks tailor their sportsbooks and banking options to Canadian residents. The sportsbooks are all safe, secure, trusted and respected in the industry with great customer service teams that make sure you enjoy your online betting experience.
1

See Website For Details

Licensed and regulated in Canada
Easy deposits & withdrawals including Interac
Competitive betting lines

Bet Now Review

2

See Website For Details

Licensed and located in Ontario
Entirely focused on Canadian betting market
Easy deposit/withdrawal options, including Interac

Bet Now Review
Each of the reviews for my 3 recommended sportsbooks are written with the Canadian sports bettor in mind. I suggest opening an account at each site to compare odds between sites to ensure you're getting the best return on each wager you make.
Sports Betting by Province
You will notice that a large section of the website is dedicated to sports betting options offered by the various Provincial lottery corporations in Canada. These provincially run sports betting "lotteries" generally have far worse odds than the popular Canadian facing online betting sites, and I felt it was my responsibility to provide information on each of the various province-run sports betting options and compare them with the top online betting sites for Canadians.
You can check out this very popular section of the site by clicking here. In that section I've broken down Canadian sports betting by province, provincial lottery corporation and the sports betting option provided by each provincial government.
Sports Betting in 2023
2022 was a great year for sports betting. The vast majority of sporting events returned to their normal schedules after a couple years of sporadic scheduling due to the covid-19 pandemic. The Winter Olympics took place in February and the year concluded with the World Cup, which is the biggest global sporting event that takes place every four years.
This year the major sports leagues will once again have full schedules taking place at traditional times. The Women's World Cup is scheduled to take place in July/August, with the Rugby World Cup and Cricket World Cup following in September and October, respectively.
In boxing it should be a very interesting year in the heavyweight division. Oleksandr Usyk and Tyson Fury are the heavyweight champions, and they are expected to meet early in the year in what will be one of the most important title fights of all-time. There are several other big fights teased for this year including Gervonta Davis vs Ryan Garcia, Errol Spence vs Terrence Crawford, and Artur Beterbiev vs Dmitry Bivol. Canelo Alvarez, the biggest star in the sport, should fight a couple times this year, while boxing draws Jake Paul and KSI are also planning to fight multiple times, which would be big for boxing betting.
In addition to the UFC, boxing, and World Cups of various sports, the regular big betting events of the year should take place at their normal time slots this year. The Super Bowl will take place in February, NCAA March Madness in March, the Kentucky Derby in May, and the NBA and NHL playoffs are scheduled for May-June this year.
Overall, it should be a great year for betting on sports. All top sporting events are back to full schedules at their traditional times and we will be treated to some big boxing matches and some other great events that only take place every four years. It's another great year to bet a sports bettor in Canada.
Gamble Responsibly
I also want to note that it's easy to get carried away when betting on sports and some people inevitably bet more than they can afford. I want to stress that you should always gamble responsibly and only bet with an amount you are willing to lose (anything can happen in sports). If you feel that gambling is affecting your life in a negative way don't hesitate to get help. Visit Gamblers Anonymous today to learn more about getting help with any sports betting problems you may have.
About SportsBettingCanadian.ca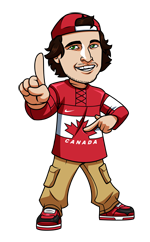 I launched SportsBettingCanadian.ca in 2014 because, as a passionate Canadian sports bettor, I saw a need for an accurate and thorough information site focusing solely on sports betting in Canada.  Now in 2023, I feel that we have the most complete and authoritative information site online for Canadians to get their sports betting questions answered.
All of the information pages here at SportsBettingCanadian.ca are written by me, as well as the majority of articles, but I've also added a couple experts to help me with articles on sports that I don't follow quite as closely. For a more in depth bio or to shoot me a message check out my About Me page.
Thanks for visiting SportsBettingCanadian.ca and do not hesitate to email me if you have any questions, comments or concerns.