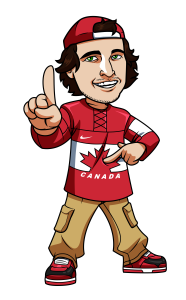 Winnipeg is the central hub of Manitoba with over half of the population of the province, and all of the professional sports goodness. The Winnipeg Jets returning to the city in 2011 was huge for the sports landscape with Jets joining the Blue Bombers of the CFL as the two main professional sports teams in the city. The Jets were a staple in Winnipeg from 1972 to 1996 and it was a huge win for the city when the Atlanta Thrashers relocated to Winnipeg almost a decade ago.
The sports betting landscape in Winnipeg is actually one of the best in the country. I wouldn't waste your time with the WCLC's version of Proline, which has very poor odds compared to online betting sites and also several added restrictions, but the government run sports betting website PlayNow.com is well run with fair odds. The issue with PlayNow.com is that you are only allowed to place parlay bets. If you would like the option to place single bets it's also safe, easy and legal to join any of our top rated online betting sites for Canadians.
Top Sports Betting Sites for Winnipeg Residents
1

See Website For Details

Licensed and regulated in Canada
Easy deposits & withdrawals including Interac
Competitive betting lines

Bet Now Review

2

See Website For Details

Licensed in Ontario and Malta (accepts bettors from across Canada)
Competitive betting lines
Easy deposit/withdrawal options, including Interac

Bet Now Review
Our top rated sportsbook, SportsInteraction.com, also takes bets on races held at the Assiniboia Downs race track in the city, which is huge bonus for those horse racing fans in Winnipeg.
Offline Sports Betting in Winnipeg
Offline sports betting in Winnipeg is available, but it's run by the WCLC (Western Canada Lottery Corporation). You have your Sport Select options, that include Proline, Point Spreads and Pools, but they all have significant issues such as very poor odds and parlay restrictions. Compared to online betting sites it's really no competition.
I want to make sure I stress how bad Sport Select betting is for Winnipeg residents. The odds are far worse than those offered at online betting sites, with parlays often paying out half as much as the exact same parlay bet through one of our recommended betting sites. Add in the fact that you are forced to only bet parlays of between 3 and 6 outcomes, which is a major restriction when you only see value in one play in a given night. I strongly advise Winnipeg residents who bet through Sport Select to make the transition to betting online.
Government Regulated Online Sports Betting
PlayNow.com is a government run online betting site that accepts players from Manitoba, as well as BC. It's a legitimate option for sports bettors in Winnipeg and it's a step in the right direction for government regulated betting in Canada. The site is very similar to the online sportsbooks that we recommend and even offers fair odds, which is somewhat of a surprise considering how poor the odds were from Sport Select for all these years. That said, there is still the problem of PlayNow forcing players to only bet parlays. Single game bets are still not accepted at PlayNow.com, which is an automatic deal breaker for the majority of sports bettors.
If you'd like to learn more about PlayNow, check out my detailed info page about the site. I include an in depth comparison between PlayNow and the top online betting sites for Canadians.
PlayNow.com is a step in the right direction for government run sports betting in Canada, but until they allow single game wagers they will not be on the same level as the top Canadian online sports betting sites.
Land Based Casino Sportsbooks Near Winnipeg
The McPhillips Station Casino and the Club Regent Casino are both right in downtown Winnipeg, but unfortunately neither of these casinos accept sports bets in any form.
That said, they are off-track betting locations for Assiniboia Downs racetrack, which I get into more below.
Assiniboia Down Racetrack
Winnipeg is home to Assiniboia Downs racetrack located at 3975 Portage Avenue in Winnipeg. Assiniboia Downs has live racing at Wednesdays, Fridays, Saturdays and select Sundays. You can bet on these races, as well as others from around the world at the track.
You can also bet on Assiniboia Downs races through SportsInteraction.com, our top rated sportsbook.
Major Sports Teams in Winnipeg
Winnipeg Blue Bombers – CFL
Winnipeg Jets – NHL