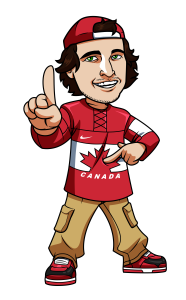 What's up guys! My name is Niko and I'm the creator and editor of SportsBettingCanadian.ca.
As a 35 year old living in Ottawa, Ontario, I've been betting on sports since I graduated from high school (over 15 years ago). After high school I began my business degree at the University of Ottawa and it was during this time that I started to take a greater interest in sports betting and also web development. After completing my degree I decided to combine these passions and I have been building sports betting websites professionally ever since.
I noticed that there really wasn't a high quality sports betting information site exclusively targeting Canadian bettors.  This was a bit of a surprise to me because there is a ton to write about when it comes to sports betting in Canada.  The topics you will find here at the site include reviews of what I believe are the top 3 sportsbooks for Canadians, profiles of the various sports betting lotteries such as Proline or Sport Select, or simply outlining in detail the various deposit options that Canadian can use to fund their online sports betting accounts.  I also enjoy writing news, tips or "how to bet" articles based on sports that Canadians will find interesting.  For example you will notice a lot more content on the Canadian sports teams than American ones and you will see popular Canadian events such as the Tim Horton's Brier or the World Junior Hockey Championships featured at the site.
The websites I found that were claiming to be dedicated to Canadian sports bettors, really weren't providing that great of information and looked more like they were just thrown together quickly to make a quick buck by ranking high in Google and sending sign ups to various sportsbooks (some that aren't even good for Canadians). I wanted to remedy this by becoming the ultimate authority in online sports betting for Canadian bettors.
I'm constantly updating the site and looking for ways to improve it. If you have any ideas about additional sections or articles for the site, or simply ways to improve the current pages please drop me a line using the form below!
Drop Me A Line!