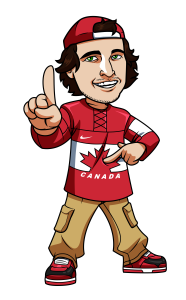 Boasting one of the best dynasties in sports history with Wayne Gretzky's Oilers from the late 80's, I think it's safe to call Edmonton a sports town.  The Oilers are without a doubt the most popular team in the city and with the team now being lead by young superstar (and captain) Connor McDavid there's a much more legitimate buzz around this team than what was there over the past several seasons.  Apart from the Oilers, the Edmonton Eskimos have some of the best fans in the CFL and FC Edmonton is another pro sports team that does well in the city.
Edmontonians looking to bet on sports do have a Sport Select option that is run through the government, but unfortunately the odds are very poor compared to those you can find at online betting sites.  I suggest that Edmonton residents who want to place a sports wager join one of our recommended betting sites, each of which are safe, legal and easy to join for Canadians.
Best Sports Betting Sites for Edmonton Residents
Offline Sports Betting in Edmonton
Offline sports betting is available in Edmonton in the form of Sport Select, which is a sports betting lottery offered by the WCLC.  With Sport Select (also commonly referred to as Proline) you are able to place bets by filling out a ticket at your local convenience store.  The problem with the Sport Select games is that the odds are far worse than those you would find at an online betting site such as SportsInteraction.com.
I'd suggest checking out our dedicated Sport Select information page to see some odds comparisons between Sport Select and online betting sites.  On the same parlay it's not uncommon for the Sport Select payout to be half of what you would win at an online sportsbook.
Land Based Casino Sportsbooks Near Edmonton
Edmonton actually has 7 casinos in the city and surrounding area, so if you're looking to gamble via casino games or poker you don't have to leave the city.  Unfortunately none of the these 7 casinos accept sports wagers and it doesn't seem like there are plans to add sportsbooks in the near future.
Northlands Park Racetrack & Casino
If you're into betting on the horses live you are in luck in Edmonton.  The Northlands Park Racetrack & Casino is located at 7410 Borden Park Road in Edmonton.  The racebook at Northlands Park allows you to wager on horse races from across North America.
They do also have a sports lounge at the casino, but just like the other casinos in Edmonton you are not able to bet on sports outside of horse racing at Northlands Park.
Major Sports Teams in Edmonton
Edmonton Eskimos – CFL
Edmonton Oilers – NHL
FC Edmonton – NASL