Boxing betting has gained popularity over the past few years. Generational talents such as Canelo Alvarez and Tyson Fury are transcending the sport to become cultural megastars, while social media influencers such as Jake and Logan Paul are bringing new eyes to the sport.
Boxing is a very entertaining sport to bet on because the outcome can change with one clean punch. Below I will recommend betting sites for Canadians to bet on boxing, and break down the most common bets you can make on a boxing match.
Best Boxing Betting Sites For Canadians
All three of these betting sites are trusted and popular among Canadians. Betway.ca is our top rated betting site for Canadians looking to bet on boxing because they offer a wide selection of fair odds for a all high profile boxing matches.
1

See Website For Details

Licensed and regulated in Canada
Easy deposits & withdrawals including Interac
Competitive betting lines

Bet Now Review

2

#Ad

Most popular betting site worldwide
State of the art live betting platform including streaming of several events
Fixed odds for horse racing

Bet Now Review
Latest Boxing Articles
Boxing Betting Options
There are a few popular betting options for high profile boxing matches. The most obvious bet, and the one that receives the vast majority of action on most fights, is simply wagering on which boxer will win. The other popular betting options include method of victory (fight outcome), total rounds (length of fight) and round betting (when and how the fight ends). Below I will look at a few of these betting options using example screenshots from Betway.
To Win Fight
Also known as the money line, this is simply a bet on which boxer will have their hand raised at the end of the fight.
Here's an example from Betway.ca using a Gennady Golovkin vs Ryota Murata fight:

In this example Golovkin is a big favourite. A $100 bet on Golovkin would payout $118. Murata is the underdog with decimal odds of 4.33, which indicate a $100 bet on Murata would payout $433.
As you can see there is a '+18 Bets' option for the fight. You would click this link to see all of the betting options available for Lomachenko vs Commey.
Total Rounds
Total rounds is a wager on the length of the fight. The oddsmakers will set a total and you can bet on whether you think the fight will last over or under that many rounds. Here's the total odds screenshot from Betway for a Tyson Fury fight. As you can see Betway offers a wide range of totals with various odds. **There are more totals available than the three shown in the screenshot.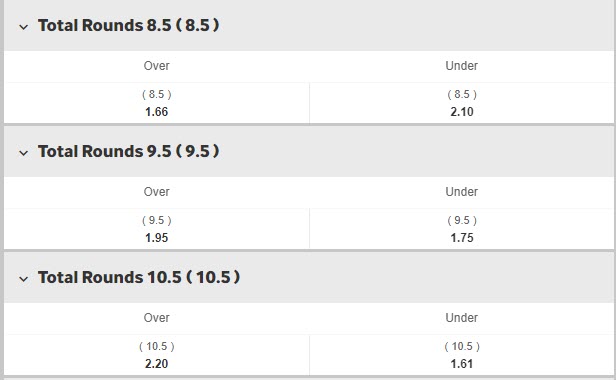 If you think the fight continues into the championship rounds you could bet on the over 10.5 total. If you think the fight ends early you have the option to bet the unders of early rounds for large returns.
Method Of Victory
Method of victory is a bet on the winner of the fight and how they will win (knockout, decision, etc).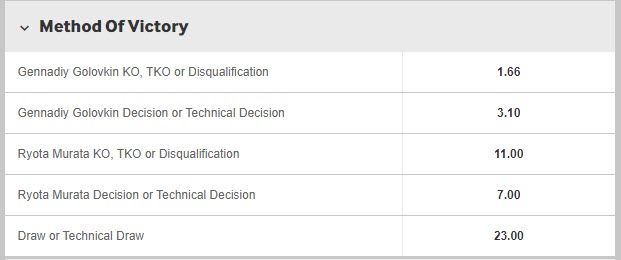 According to the odds the most likely outcome of the above fight is for Golovkin to win via KO, TKO or DQ. A $100 bet on Golovkin to finish the fight would payout ~$166.
Method of victory is a great option for bettors who understand how a fight may play out. For example, if you think Murata's only chance of winning is getting a knockout, it would make more sense for you to bet Murata by KO/TKO/DQ rather than simply betting Murata to win.
Round Betting
Round betting involves betting on the winner of the fight and when they will win. Oddsmakers will often group rounds together for this bet type, as well as offer odds for each individual round.
Here are the round betting odds for Gennady Golvkin to win the Golovkin vs Muarata fight (Betway also has betting lines available for Murata to win each round).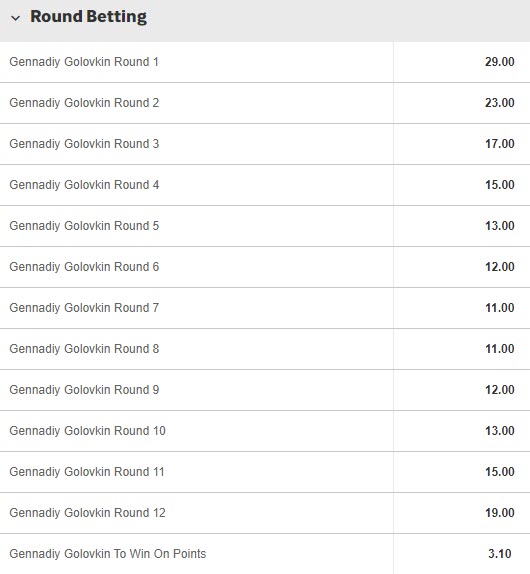 If you think Golovkin will become too much for Murata right out of the gate you could bet Golovkin to win in round 1 at odds of 29.00 or round 2 at odds of 23.00.