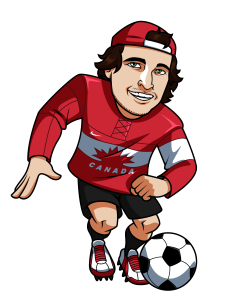 Euro 2020 kicks off today! The tournament is taking place across Europe with only European nations participating, but I know there is a lot of interest in the tourney over here in Canada. Euro 2020 was postponed from it's originally scheduled dates in June and July of 2020, to it's current dates from June 11th to July 11th of 2021, due to the covid-19 pandemic. Even though the tournament will be taking place in 2021, the tournament is keeping it's "Euro 2020" title. It's been three years since the 2018 World Cup, so I for one am really looking forward to watching the best soccer players in the world battle it out for national glory.
France, England and Belgium are the favourites, as they should be with all of their international success of late. France won the 2018 World Cup, while Belgium defeated England in the third place game in the same tournament. All three nations still have their cores intact from that tournament, so it should come as no surprise they are the three nations considered top contenders at Euro 2020. That said, there is so much talent in Europe that this tournament is really up for grabs with about 10 or so nations having a legitimate chance at glory in France this summer.
The Dutch are back in a top international tournament after having failed to qualify for both Euro 2016 and the 2018 World Cup. They are one of the 10 teams who I consider to have a chance, so I'm excited to see how they perform with their younger core of players.
With this event being so big, even over here in Canada, I wanted to add this "how to bet" page to give a simple step by step guide for new bettors looking to wager on Euro 2020 this year.
How To Bet On Euro 2020 in Canada – Step By Step Guide
These simple and quick steps will get you betting on Euro 2020 in just a few minutes.
#1. Open a Sports Betting Account
The first step is to open an online betting account.  Our top rated site for Canadians is SportsInteraction.com and that is also true for Euro 2020. You can place any Euro 2020 bet you want at Sports Interaction throughout the tournament.  Here's a full review of Sports Interaction if you'd like to know more.
Click here to open an account at SportsInteraction.com.
Sportsbook
Features
Offers
Rating
Bet Now
#2. Deposit
Next, you'll need to deposit some funds into your betting account.  Sports Interaction accepts a wide variety of deposit methods.  You can check out the details of some here.
#3. Bet On Euro 2020
Now that you have funds in your account you're ready to start placing bets and winning money on Euro 2020.
Once at SportsInteraction.com you should click on 'Soccer' followed by 'International' and 'EURO 2020 Matches'. From there you'll see each upcoming match in the tournament and if you click on the heading for any of the matches you'll see all of the available wagers you can make on the match.
Sports Interaction also has 'Euro 2020 Outrights' and 'Euro 2020 Groups' sections where you can place futures bets such as which country will win the tournament, the group winners and more.
That's it though, you should be ready to bet! Click here to visit SportsInteraction.com.
Tagged With : Euro 2020 • Euro 2020 Betting • UEFA