Sports Action is the betting brand name used by the British Columbia Lottery Corporation to provide offline betting options to BC residents.
The BCLC does also offer online betting in the form of PlayNow.com.
Online Betting Site Alternatives to Sports Action
1

See Website For Details

Licensed and regulated in Canada
Easy deposits & withdrawals including Interac
Competitive betting lines

Bet Now Review

2

See Website For Details

Licensed and located in Ontario
Entirely focused on Canadian betting market
Easy deposit/withdrawal options, including Interac

Bet Now Review
How Sports Action Works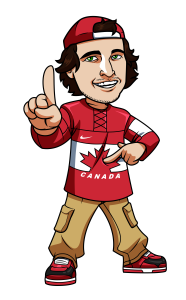 To bet on Sports Action you will have to head down to your local BCLC outlet in order to fill out your betting slip.
You can choose your odds from Oddset 3-outcome, Oddset 2-outcome, Point Spread, Over/Under or props bets. The Oddset 3-Outcome odds include ties, while Oddset 2-Outcome are simply money line odds where you pick which team will win the game flat out. For example, a hockey game is considered to have ended in a tie in Oddset 3-Outcome once the game remains tied after overtime. Check out the different Sports Action how to play pages at the BCLC website for all of the tie rules.
If all of the picks on your Sports Action bet slip are winners then your ticket is a winner.  You can collect your winnings at any BCLC retailer.
Odds – Sports Action vs Online Betting Sites
I was shocked when I saw the odds that Sports Action was offering British Columbia bettors.  I wasn't able to find the profit margin that the BCLC makes on Sports Action tickets, but I assume it must be around 50% because these odds are even worse than the Proline odds offered by the OLG and they have a profit margin of 30-40% on sports betting lottery games.
Here is a look at the Sports Action odds compared to the odds from SportsInteraction.com for four NHL games from the Tuesday night I updated this page (the odds seem like they've actually gotten worse from a few years ago).  I used the 2-outcome oddset in order to be able to compare the odds with the typical moneyline odds you would find at an online betting site.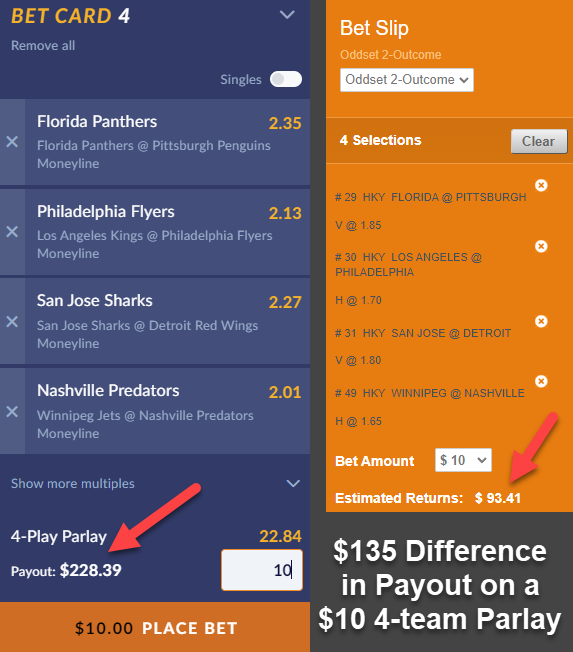 You receive a payout of $93.41 betting through Sports Action.  Betting on the exact same 4 team parlay at Sports Interaction you win $228.39.  That's a difference of $135 on a $10 bet.  You win more than double (almost triple) betting online than with Sports Action!
Other Disadvantages of Sports Action
On top of offering BC residents horrible odds Sports Action has a lot of other factors going against it when compared with sports betting online.
Bet Offerings
The bet selection at Sports Action is very limited. There are generally only around 50 games offered across all of sports on a given night. If you want to bet on anything other than the major North American sports and leagues you are out of luck with Sports Action. Even the better selection for the major sports is very limited (no alternate spreads, prop betting lines, etc.).
Sports Action also does not have features that are now standard at online betting sites such as live betting, cash out options, loyalty rewards, and more.
Convenience
To bet on Sports Action you have to make a special effort to visit a BCLC retailer and fill out your selection sheet. Then if you win you have to return to a lottery retailer to collect your winnings. With online betting sites you can wager from the comfort of your own home or even anywhere you can get a mobile signal thanks to mobile betting. After bets are settled your winnings are immediately available in your betting account ready to either be bet with again or withdrawn.