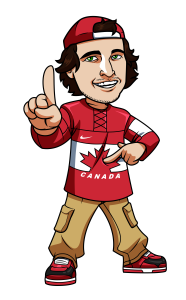 Toronto is without a doubt the sports hotbed of Canada. With almost 3 million people living in the actual city and 6 million in the Greater Toronto Area, it's no surprise that Toronto is home to a sports team in every major sports league in North America. If you are an NBA or MLB fan in Canada there's a good chance that you root for a team from the city because Toronto is home to the only Canadian teams in both of those leagues.
Because of the massive surplus of sports teams and fans in the Toronto area, sports betting is a very big part of Toronto culture.  Just recently I was at an Argonauts game and a promoter came around with sportsbook sponsored props sheet that you could fill out before the game for a chance to win prizes.  Another time walking to a Blue Jays game I saw a massive sportsbook sponsorship show up on one of the many billboard screens in Yonge-Dundas Square.  Sports betting has definitely found it's way into Toronto and it's here to stay.
I personally really enjoyed the fact that online sportsbooks are beginning to market more heavily in the Toronto area. It's time there is legitimate competition to Proline for the regular sports fan in Canada. Hopefully this will force Proline to start offering fair odds or lose customers to these legitimate sportsbooks.
Best Sports Betting Sites for Torontonians
1

See Website For Details

Licensed in Ontario and Malta (accepts bettors from across Canada)
Competitive betting lines
Easy deposit/withdrawal options, including Interac

Bet Now Review

2

See Website For Details

Licensed and regulated in Canada
Easy deposits & withdrawals including Interac
Competitive betting lines

Bet Now Review
Offline Sports Betting in Toronto
Offline sports betting in Toronto is available, but it's run by the OLG (Ontario Lottery and Gaming Corporation). You have your Proline, Point Spread and Pools options, but they all have their draw backs and compared with online betting sites they are by far the weaker option.
I should stress how poor a sports betting option Proline is for Toronto residents. The odds are dramatically worse for players than the odds offered at online betting sites, with a court actually ruling that the Proline odds are too poor for anyone to win money over time. This doesn't even take into account the fact that you are forced to bet on at least 3 outcomes for each wager and don't receive the benefits of the sign up bonuses and promotions offered at online betting sites. I strongly advise Toronto residents who bet with Proline to make the switch online.
Land Based Casino Sportsbooks Near Toronto
Toronto has several land based casinos located within a couple hours of the city. Unfortunately for Toronto residents, none of these casinos accept sports bets in any form.
The closest brick and mortar casino to Toronto that offers casino sports betting is that of Casino Niagara in Niagara Falls, which is about an hour and a half drive via the QEW. There is a sportsbook section of Casino Niagara, however, similar to Proline you are only allowed to make parlay bets of between 2 and 6 outcomes. The number of sports offered for wagering is also limited to just hockey, football, baseball and college basketball.
Woodbine Racetrack
If you only enjoy betting the horses then you are in luck as a Toronto resident. Woodbine Racetrack is located at 555 Rexdale Blvd, in Toronto near the Pearson International Airport. Woodbine Racetrack allows you to wager on all of their races directly at the track. They also offer a wide variety of slot games that you can try your luck at.
You can also bet on the Woodbine races through our recommended online betting sites. Full details with a 'how to bet' guide here.
***I should note that Woodbine Racetrack only accepts wagers on horse races. You will not be able to place sports wagers at Woodbine.
Major Sports Teams in Toronto
Toronto Argonauts – CFL
Toronto Blue Jays – MLB
Toronto FC – MLS
Toronto Maple Leafs – NHL
Toronto Raptors – NBA
Toronto Rock – NLL