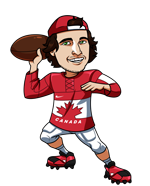 The 2019-20 NFL season gets underway this week and buzz has started as to which team will take down Super Bowl 54 this coming February.  The Patriots are favourites to repeat, but at odds of 7/1 they are by no means big favourites. The other Conference Championship teams from last year (Rams, Chiefs, Saints) are all right there as well with odds of around 8/1. With these four elite teams ready to battle it out, as well as new contenders sure to emerge, this is going to bet an exciting year with several teams having a legitimate shot at the Super Bowl heading into the season.
In this article I'll look at the futures odds for the Super Bowl heading into the regular season, give my current favourite plays and also provide a quick guide to get your bets in from Canada.  I will be using the odds from our top rated betting site for Canadians: SportsInteraction.com.
2018 Super Bowl Odds
Here are the odds for all of the NFL teams with 33/1 or better odds of winning the Super Bowl (taken from SportsInteraction.com).
There are the 18 teams with 33/1 or better odds at SIA. I would also suggest comparing the odds to our other top rated Canadian sportsbooks before placing the wager.
My Super Bowl Pick
The Patriots deserve to be the favourites once again this year.  They are the defending champions, they've advanced to the Super Bowl for three straight years, and won three of the last five Super Bowls. Until they've shown a drop off I think it's premature to think they won't once again find a way to win. This is a team that has won a playoff game for 8 straight years. That's ridiculous. That said, their core pieces are one year older and the loss of Gronkowski could cause a hole in their offense.
I like the Chiefs at odds of 8/1. I think this is the most talented roster in the NFL, and with one more year experience under their belts, I expect them to be able to rise to the occasion in the big moments and get the wins. This is a team that was absolutely shutout by the Patriots in the first half of the AFC Championship game last season, but came back in the second half scoring 31 points before eventually losing in OT.
I think the Chiefs are the best team in the league, so I'll happily take the 8/1. That said, I do think they will have to get past the Pats in the AFC Championship, so I don't think the Patriots is a bad play either.
Play: Kansas City Chiefs 8/1 @ SportsInteraction.com
3 Steps To Betting in Canada
If you're new to online sports betting and want to place a bet on the 2020 Super Bowl, follow these 3 simple steps.
Step 1. Open an Online Sports Betting Account
First you'll need to open an online sports betting account. If you know what team you want to bet on for the Super Bowl I suggest signing up with the sportsbook that provides the best return on that team. Compare odds between the 3 big Canadian sportsbooks and then select which bookie to use.
Continuing with my pick above, I would be signing up at SportsInteraction.com because they offer the longest odds for the Chiefs at 8/1.  They are also our top rated sportsbook and we have a special deal with them where anyone who signs up through us receives a 100% matching bonus up to $200 on your first deposit.
Click here to sign up at SportsInteraction.com.
Step 2. Deposit
Next you'll have to make a deposit. Check out our deposit info page for some more detailed information on the various deposit options available at the top sportsbooks we recommend.
Step 3. Bet On The Super Bowl
To bet on the Super Bowl you'll need to select 'Football' followed by 'NFL' or 'NFL Futures' at whichever sportsbook you choose. The Super Bowl odds should be at the top of either of these pages.
It's important that you understand the odds in order to know what return you're getting.  Most sportsbooks will default to decimal odds, which means you'd see the Chiefs at odds of 9.00 (continuing with my pick above).  That means that $100 would payout $900 (100 x 9.00).
Tagged With : Super Bowl betting • Super Bowl Futures • Super Bowl odds