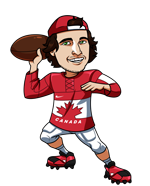 The 2018-19 NFL season gets underway tomorrow and buzz has started as to which team will take down Super Bowl 53 this coming February.  The Patriots are once again big favourites, but at 5/1 they aren't quite as big of favourites as they were last year.  There are also plenty of teams in the 9/1 to 12/1 range, so it's going to be an exciting year with several teams having a legitimate shot at the Super Bowl heading into the season.
In this article I'll look at the futures odds for the Super Bowl heading into the regular season, give my current favourite plays and also provide a quick guide to get your bets in from Canada.  I will be using the best odds from any of our top rated sportsbooks for Canadians when looking at the lines.
2018 Super Bowl Odds
Here are the odds for all of the NFL teams with 40/1 or better odds of winning the Super Bowl (taken from SportsInteraction.com).  I don't think anyone with longer odds that this has much of a shot, so I haven't listed them.
New England Patriots 5/1
Green Bay Packers 9/1
Philadelphia Eagles 9/1
Pittsburgh Steelers 10/1
Minnesota Vikings 11/1
LA Rams 11/1
New Orleans Saints 12/1
Atlanta Falcons 16/1
San Francisco 49ers 20/1
Jacksonville Jaguars 20/1
LA Chargers 20/1
Dallas Cowboys 22/1
Carolina Panthers 25/1
Houston Texans 25/1
Kansas City Chiefs 28/1
Seattle Seahawks 33/1
Denver Broncos 40/1
Oakland Raiders 40/1
Baltimore Ravens 40/1
Detroit Lions 40/1
New York Giants 40/1
Tennessee Titans 40/1
There are the 22 teams with the longest odds I found being 40/1 or better at our top rated Canadian sportsbook.
My Super Bowl Pick
The Patriots deserve to be the favourites once again this year.  They've been to the finals in each of the last two season and it took a massive effort from the Eagles to beat them in the finals last year.  That said, I still think their odds are too short to provide value.
For me that value comes in the form of the Pittsburgh Steelers at 10/1.  In my opinion this Steelers team still has the best wide receiver and best running back in the game.  When you have elite players at those skill positions it becomes easier for everyone else to step up and win games.  The defense is above average and I still think Big Ben has enough in the tank to dig deep and win some big games.  The AFC North Division is up for grabs, with the Ravens at 40/1 having the next best odds in the division.  The Steelers should easily win the division and then it will just come down to stringing a few solid games together to win the Super Bowl.
Play: Pittsburgh Steelers 10/1 @ SportsInteraction.com
3 Steps To Betting in Canada
If you're new to online sports betting and want to place a bet on the 2019 Super Bowl, follow these 3 simple steps.
Step 1. Open an Online Sports Betting Account
First you'll need to open an online sports betting account.  If you know what team you want to bet on for the Super Bowl I suggest signing up with the sportsbook that provides the best return on that team.  Compare odds between the 3 big Canadian sportsbooks and then select which bookie to use.
Continuing with my pick above, I would be signing up at SportsInteraction.com because they offer the longest odds for the Steelers at 10/1.  They are also our top rated sportsbook and we have a special deal with them where anyone who signs up through us receives a 100% matching bonus up to $200 on your first deposit.
Click here to sign up at SportsInteraction.com.
Step 2. Deposit
Next you'll have to make a deposit.  Check out our deposit info page for some more detailed information on the various deposit options available at the top sportsbooks we recommend.
Step 3. Bet On The Super Bowl
To bet on the Super Bowl you'll need to select 'Football' followed by 'NFL' or 'NFL Futures' at whichever sportsbook you choose.  The Super Bowl odds should be at the top of either of these pages.
It's important that you understand the odds in order to know what return you're getting.  Most sportsbooks will default to decimal odds, which means you'd see the Steelers at odds of 11.00 (continuing with my pick above).  That means that $100 would payout $1100 (100 x 11.00).
Tagged With : Super Bowl 2018 • Super Bowl betting • Super Bowl Futures • Super Bowl odds