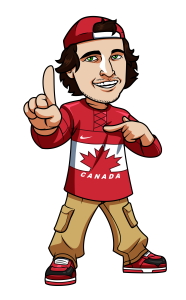 Canadians love their MMA.  Georges St. Pierre is a household name throughout Canada and of course the UFC have other massive stars such as Conor McGregor who have become stars worldwide.  The Rogers Centre was recently passed for the largest attendance record in a UFC event, but the fact they held that title for so long shows how big UFC is in Canada.
The UFC has become somewhat of a monopoly for MMA throughout the world, after purchasing the WEC, Strikeforce and Pride.  This is great for the sport and UFC bettors because it puts all of the best fighters in the world on the same roster and allows for competitive fights on every card.
Canadians should be on the UFC online through a reputable betting site like the three I've listed below.  None of the government run sports lotteries offer MMA betting.
***Special Offer for UFC 223*** New Canadian sign ups at SportsInteraction.com will receive a risk free $20 bet on UFC 223 + a 100% up to $200 sign up bonus. Claim this free bet & bonus here.
Best UFC Betting Sites for Canadians
Each of these sites will take bets on at least the main card from every UFC event.  I expect UFC betting to continue to grow in popularity and for these Canadian sportsbooks to continue to improve their UFC bet offerings in order to keep up with the demand from Canadians who love MMA.
Last UFC Picks
UFC Betting Options
The options are limited when it comes to betting on a UFC fight.  The most obvious and popular betting option is simply wagering on which fighter will win.  After that you can bet on the "when" and the "how".  The when involves betting on when either fighter will win the fight (which round) and the "how" is betting on the method of victory (knockout, submission, decision) the fight will end with.
To Win Fight
This is the most basic and popular form of UFC betting.  You simply wager on which fighter you think will win the fight.  The fighter can win via knockout, submission, DQ, or decision.  The only thing that matters is that he has his arm raised at the end of the fight.
Here is an example using the odds from the Welterweight Championship fight at UFC 171, after GSP vacated his title:
From Bet365:
From Sports Interaction:
This is also a great example of why it is advantageous to have accounts with each of the 3 recommended Canadian sportsbooks.  You can see that the odds here are quite a bit different between Bet365 and Sports Interaction.
If you think Hendricks is going to win then you should bet with Bet365.  A bet on Hendricks to win the fight at Bet365 pays out at odds of 1.25, which means a $100 bet would payout $125 for winnings of $25.  That same wager would only win $17 at Sports Interaction.
But if you think Lawler is going to pull off the upset then you should bet at Sports Interaction because you get odds of 4.50 on Lawler instead of 4.00 from Bet365.  This is the difference between a $450 payout on a $100 bet and a $400 payout.
Round Betting
Getting a little bit more technical you can also bet on when either fighter will win the fight.
As you can see you can bet on either fighter to finish the fight in any round or to win via decision.  According to these odds Hendricks is expected to win the fight in one of the first two rounds or else battle it out and win via decision.
Method of Victory
The third betting option is how the fight will end.  There are three ways for either fighter to win: knockout, submission or decision.
Hendricks is expected to win the fight via knockout at some point, while neither fighter is expected to submit their opponent.
Method of victory betting can be great for bettors who understand the fighters strengths and weakness, as well as the probable game plan for each fighter.  If you know all of this information you can get a fairly good idea of how the fight will play out and can bet accordingly.  If you think Hendricks will almost surely knockout Lawler within the 5 rounds then the 1.80 knockout odds look much better than the 1.17 odds for Hendricks to win the fight from the same betting site.
Daily Fantasy MMA
My favourite way to bet on UFC cards is via daily fantasy MMA at DraftKings.com.  You pick a lineup of 6 fighters while staying under the salary cap and your fighters earn points through finishes, significant strikes, takedowns and more.  I'm a huge believer in daily fantasy MMA.  So much so that I decided to give daily fantasy MMA it's own page here at the site.  Click here to learn more.