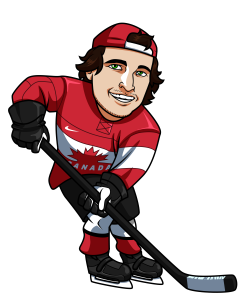 Hockey is Canada's game and it is the sport that we as a country take a great deal of pride in. The Canadian Men have won gold at the last three international competitions that included the best players in the world (2010 & 2014 Olympics and 2016 World Cup) and the Canadian Women won gold at five of the last six Olympics (2022, 2014, 2010, 2006, 2002).
Seeing as hockey is Canada's national pastime, it's no surprise that betting on hockey is also an enjoyable pastime for many Canadian hockey fans.
Betting online through a reputable online sportsbook like the three I have listed below is the best way for Canadians to bet on hockey.
Best Hockey Betting Sites
I have chosen to promote these three sportsbooks here at the site because each of these sites is committed to providing Canadians with the best possible sports betting experience (Sports Interaction only accepts Canadians).  On top of offering Canadians great banking options and customer support this also means that the sportsbooks are built with Canadian bettors in mind……and we Canadians love our hockey.  Each of the sites offers a ton of hockey betting options to choose from on each game.
All three of the below sportsbooks are also licensed in the regulated Ontario betting market, while also operating in the rest of Canada.
1

See Website For Details

Licensed and regulated in Canada
Easy deposits & withdrawals including Interac
Competitive betting lines

Bet Now Review

2

See Website For Details

Licensed and located in Ontario
Entirely focused on Canadian betting market
Easy deposit/withdrawal options, including Interac

Bet Now Review
Recent Hockey Articles
Different Hockey Bets
There are a ton of different hockey bets you can choose from, but I'm going to focus on the main ones here. If you click on 'NHL Betting Lines' at any of the betting sites above you will generally see three bets for each game. These include the moneyline bet, puckline bet (spread) and over/under. I will go into more detail on all of these main betting options below and then touch on the other bets you can make in the props and futures sections.
Moneyline Betting
Moneyline betting is simply betting on which team will win the game outright. For NHL games this means there are just two options because with shootouts included there is always a winner. Here is an example from a game between the Montreal Canadiens and Toronto Maple Leafs.

I have highlighted the moneyline odds (I'm going to use this example for the next few betting options as well). In this example the Canadiens are the underdogs and payout with odds of 2.25. That means that to find the payout for a Canadiens win you can multiply your wager amount by 2.25 to find your payout. So if I bet $10 on the Canadiens, I would receive a payout of $22.50 ($12.50 winnings) if they pulled off the upset. The Maple Leafs odds are 1.67, which means a $10 bet on the Leafs would only win $6.70 for a $16.70 payout.
Spread Betting
In the NHL you will see a 1.5 goal spread in the puckline section for each game. That said you can also find additional puck lines if you click on the game in question and find all of the available bets. For this example though we will stick with a typical 1.5 goal spread for the puckline. Here is the same example from above, but I have pointed an arrow at the puckline odds.

We already know that the Canadiens are the underdogs in this game. That means for the puckline they will be given a 1.5 goal handicap (+1.5). A Canadiens puckline bet in this case is a winner if the Canadiens either win the game outright or lose by 1 goal. The odds associated with this outcome are 1.39, which means a $10 bet pays out $13.90 for winnings of $3.90.
On the flip side the Maple Leafs must win the game by 2 or more goals for them to win the -1.5 puckline bet. This is less likely than the Canadiens either winning or keeping the game close so the Leafs have puckline odds of 3.13, which would result in a payout of $31.30 on a $10 bet.
Over/Under
If you don't want to bet on which team will win the game, but instead on how many total goals will be scored then you should bet the over/under. The sports betting site will set a total goals number for the game and you can bet whether there will be more or fewer than that number of goals scored by both teams combined.

In this example a total of 6 goals for the game has been set by Sports Interaction. If you think 7 or more goals will be scored then bet the over, and if you think 5 or fewer goals will be scored bet the under. If the game ends with exactly 6 goals scored (4-2 for example) then the over/under bet will be considered a push and your wager amount will be returned to your account.
Betting sites will often offer single team over/under bets as well.
Prop Bets
Prop bets are events that may or may not happen within a game that are not exclusively related to the final outcome of the game. They can be player props, team props or other propositions that could happen throughout a game.
Here are some player props examples:
Who will record more points in the game? (choose between 2 or more players)
Over/under on total points by a certain player.
Over/under on total shots by a certain player.
Over/under on total saves by a goaltender.
Which player will score the first goal in the game?
Will a certain player (Ovechkin for example) score a goal in the game?
Will a certain goaltender get a shutout?
And the list goes on and on. Basically anything you can quantify player statistic wise could be a prop bet offered by one of our recommended sportsbooks.
Here are some team props examples:
First period betting lines.
Margin of victory by either team.
Will the game go into overtime?
Alternate pucklines, over/unders, etc.
First to 3 goals in the game.
That's just to name a few. Once again, basically anything that can be quantified could be offered as a prop bet. The more high profile games (Stanley Cup Finals for example) will have more prop bets available at the betting sites.
Futures Bets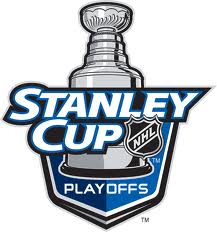 The classic example of a futures hockey bet would be which team will win the Stanley Cup this season. You can place this bet throughout the year with the odds changing depending on how each team is doing at that time and the public perception of their chances to win the Stanley Cup. One thing to keep in mind when placing a futures bet is that your wager will be locked up until the bet is settled. For this reason you should take into account the time value of money when placing your futures bets.
Other futures bets include which NHL team will win each Conference or Division, whether or not a team will make the playoffs, over/unders on season points, which country will win the World Championships and more.