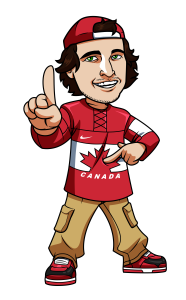 Pools is a sports betting option provided by the OLG for Ontario residents.  With Pools the odds and spreads are swept away and you are left with simply picking winners regardless of the odds.
How It Works
As I said before you simply pick which teams you think will win on a given night.  A card will generally have around 10 or more games or props listed and you simply select which team you think will win each game.  A Pools entry costs $5 and the money is entered into the Pro Pools pot for that particular card.  Everyone who buys an entry is entered into the same pool and whichever card gets the most winners correct wins the pot.
For example, looking at the NHL Pools Card from January 12th there were 2 entries that went 12 for 12.  These individuals then split the prize of $32,997, which equaled out to just under $16.5k per person.  On the January 13th NBA Pools Card there were 74 winners who went 9 for 9, each winning $143.88.  On most occasions you will have to pick every game correct on the card to win.
How Is The Prize Pool Determined
Proline states that 60% of the wagers on Pools cards go towards the prize pool.  This is equal to the just under 40% profit margin that the OLG claimed from sports lotteries in their last annual report.  This is not a good payout percentage for players considering that online sportsbooks only generally make a profit of around 4.5% on bets that they take.
I think the draw of the Pro Pools games are the fact that there are high payouts if you do manage to get all of the games picked correctly. This brings in players who want a big payday, but don't really care that their odds of winning are much lower than the amount they could possibly win.
Pools Compared To Online Sports Betting
I wanted to do a quick comparison to see what kind of payout could be expected by going 10 for 10 on a regular parlay at an online betting site. I'm going to have to make some assumptions first of all.
My first assumption is that the average odds on my parlay are 1.80 because people will pick the favoured team the vast majority of the time on a typical Pro Pools card.
My second assumption is that a Pro Pools card must go 10 for 10 to win the prize pool. After looking at several Pro Pools results at the Proline website I think this is a fairly safe assumption.
Ok, so let's get into this. With odds of 1.80, muliplied by themselves 10 times we end up with parlay odds of 357.05. Now to find the payout I multiplied the parlay odds of 357.05 by the $5 it cost to buy the Pro Pools card. This results in a payout of $1785.23.
All-in-all I think Pro Pools are ok as long as you use them for entertainment and not for expected returns . It's fun to have the chance at a huge payday and to forget about odds for a change. Just remember that only $3 from every card goes towards the overall prize pool, so there are smarter ways to bet your money.