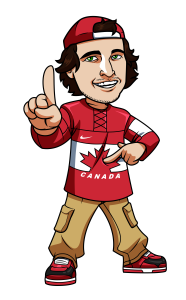 Mise-o-jeu is the sports betting program offered by the Quebec government.  You can bet on Mise-o-jeu both online through Loto-Quebec's Mise-o-jeu Plus website or offline at any lottery retailer in Quebec.
How To Bet
Mise-o-jeu Plus (Online)

The Mise-o-jeu Plus website is actually fairly well put together.  The odds, features and betting selection are similar to a typical online betting site.  If you are interested in betting online you will first have to open an account with the Espace Jeux website.  You must be a resident of Quebec and be physically in the province in order to create your account.  You will be required to either provide your credit card number for instant verification or a photocopy of another piece of ID to verify that you are indeed a Quebec resident.  After you have created your account you can make a deposit using your credit card, Interac e-Transfer or bill payment online.
**The Mise-o-jeu Plus online sportsbook is a viable option for Quebec residents. The remainder of this page will focus on the in-store version of Mise-o-jeu.
Mise-o-jeu In-Store
To place your bets offline you will first need to enter your picks on the Mise-o-jeu website.  This will give you the prediction number for each outcome you selected.  An example of the selection process can be seen below on the Mise-o-jeu selection slip in the odds comparison example (the blue prediction numbers).  At your local lottery retailer you must fill in the prediction numbers for each outcome on a selection slip in order to buy your bet ticket. There is also now an option to create your ticket online and print a barcode that you scan at a Loto Quebec retailer to purchase the ticket.
Odds – Mise-o-jeu vs Non Government Online Betting Sites
The problem with in-store Mise-o-jeu betting is that the odds are horrible for players.  Mise-o-jeu takes far more juice than Mise-o-jeu Plus or other online sportsbooks.  At a typical online betting site if a game is completely even with no favourite then both teams will have odds of 1.91.  With Mise-o-jeu the odds for a pick'em game are 1.75 for both sides.  This means that you would win 16 cents less on every dollar that you bet with Mise-o-jeu than at a fair online betting site.
Here is an example comparing the Mise-o-jeu odds with those of SportsInteraction.com for the exact same 4 team NFL parlay bet.  This example is from a couple years ago, but the result still holds true today. I selected the underdog from four games that had the same spread at both Mise-o-jeu and SIA to properly show the differences in the odds.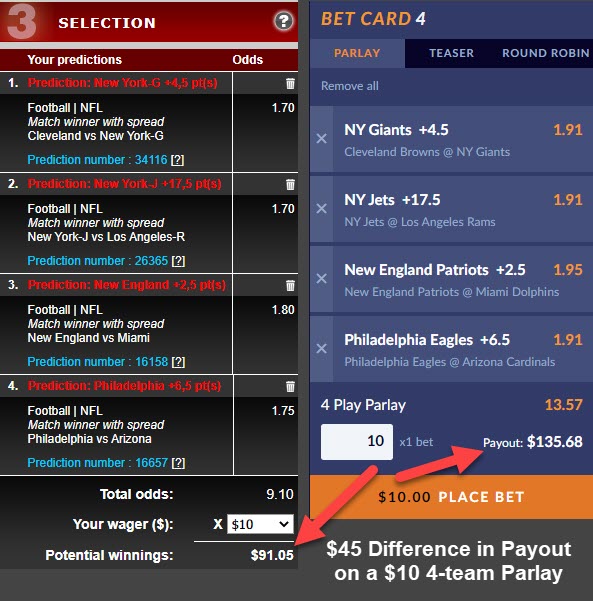 The payout on a $10 bet with Mise-o-jeu is $91.05 (this means the winnings are $81.05 because the wager amount is included in the potential winnings). The winnings on the exact same $10 bet from SIA is $135.68. That's a difference of $44.63 or more than a third of the winnings from Mise-o-jeu.
If you're planning to open an online betting account steer clear of Mise-o-jeu and instead check out any of my 3 recommended betting sites for Canadians.
Mise-o-jeu Odds Video