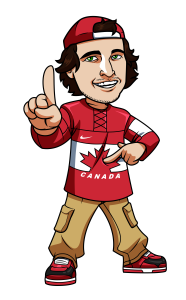 Mise-o-jeu is the sports betting program offered by the Quebec government. You can bet on Mise-o-jeu both online through Loto-Quebec's Espace Jeux website or offline at any lottery retailer in Quebec.
How To Bet

The Mise-o-jeu website is actually fairly well put together. Although there are not as many betting options available as a typical online betting site there are still several to choose between (far more than Proline for example). If you are interested in betting online you will first have to open an account with the Espace Jeux website. You must be a resident of Quebec and be physically in the province in order to create your account. You will be required to either provide your credit card number for instant verification or a photocopy of another piece of ID to verify that you are indeed a Quebec resident. After you have created your account you can make a deposit using your credit card, Interac e-Transfer or bill payment online.
To place your bets offline you will first need to enter your picks on the Mise-o-jeu website.  This will give you the prediction number for each outcome you selected.  An example of the selection process can be seen below on the Mise-o-jeu selection slip in the odds comparison example (the blue prediction numbers).  At your local lottery retailer you must fill in the prediction numbers for each outcome on a selection slip in order to buy your bet ticket. There is also now an option to create your ticket online and print a barcode that you scan at a Loto Quebec retailer to purchase the ticket.
Like most other provincial run betting programs Mise-o-jeu only takes parlay bets. You must make between 2 and 8 picks for every parlay bet you make through Mise-o-jeu.
Odds – Mise-o-jeu vs Non Government Online Betting Sites
The real problem with Mise-o-jeu betting is that the odds are horrible for players.  Mise-o-jeu takes far more juice than typical online betting sites.  At a typical online betting site if a game is completely even with no favourite then both teams will have odds of 1.91.  With Mise-o-jeu the odds for a pick'em game are 1.75 for both sides.  This means that you would win 16 cents less on every dollar that you bet with Mise-o-jeu than at a fair online betting site.  The fact that you must bet parlay bets with Mise-o-jeu magnifies the difference because the juice is compounded with each additional selection added to the parlay.
Here is an example comparing the Mise-o-jeu odds with those of SportsInteraction.com for the exact same 4 team NFL parlay bet.  This example was taken when I updated this page (on December 16th, 2020). I selected the underdog from four games that had the same spread at both Mise-o-jeu and SIA to properly show the differences in the odds.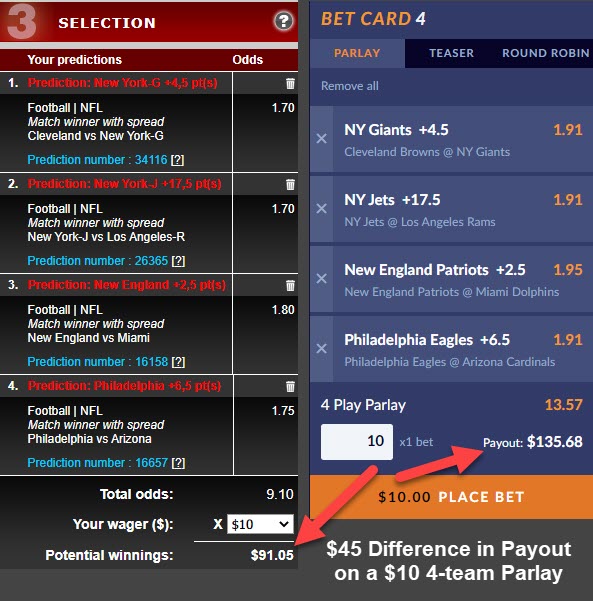 The payout on a $10 bet with Mise-o-jeu is $91.05 (this means the winnings are $81.05 because the wager amount is included in the potential winnings).  The winnings on the exact same $10 bet from SIA is $135.68.  That's a difference of $44.63 or more than a third of the winnings from Mise-o-jeu.
It's a shame that a decently put together website from Loto-Quebec is basically unusable due to the horrible odds offered through Mise-o-jeu.
Mise-o-jeu Odds Video
Other Disadvantages of Mise-o-jeu
The horrible odds should be enough to convince any sane person that there are better options than Mise-o-jeu betting, but just in case here are a few more disadvantages of Mise-o-jeu when compared with the betting sites I recommend to Canadians.
No Sign Up Bonus
Even with their horrible odds Mise-o-jeu still doesn't offer a sign up bonus for players will to create an account at their site. Each of the sites I promote offer at least $100 in free bets to new players to entice them to sign up at their betting site. The online sportsbook industry is a competitive market so the majority of online sportsbooks will offer incentives such as sign up bonuses to bring in new players.
Betting Restrictions
Not being allowed to bet on single games would be a huge deal breaker for me, even if the odds at Mise-o-jeu were fair. Parlay bets are fun because if you hit everything you can win a good chunk of money, but in my opinion parlays are more of a gimmick than anything. I still don't understand why government run sports lotteries don't accept bets on single games.
If you're planning to open an online betting account steer clear of Mise-o-jeu and instead check out any of my 3 recommended betting sites for Canadians.