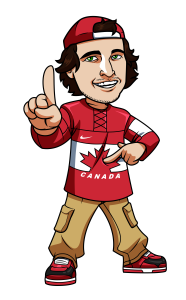 Proline Stadium is the blanket term for the sports betting lottery games offered by the Atlantic Lottery Corporation. The sports betting options offered under the Proline Stadium name by the ALC include Proline, Proline Fantasy, Proline Futures and Stadium Bets.
On this page I'm going to outline how to bet on each of the Proline Stadium betting options and follow it up with an odds comparison between Proline Stadium and one of my recommended online betting sites.
How It Works

Proline Stadium works in a very similar fashion to Proline in Ontario, with two major differences. With Proline Stadium you only have to make a minimum of 2 picks in your parlay bets and the ALC takes bets online through their Proline Stadium website.
So basically if you want to bet on Proline Stadium you can either head to your local ALC retailer and fill out a selection slip to receive your betting ticket or create an account at the Proline Stadium website, make a deposit and place your bets online similar to how you would at one of the sportsbooks I recommend.
Each of the bets offered through Proline Stadium is different so I've broken them down below.
Proline
The Proline option at Proline Stadium is very similar to that of the other Proline options with a few major differences.  As mentioned earlier you can pick anywhere from 2 to 8 outcomes on your parlay bets, which is a bit more player friendly than the OLG or WCLC Proline options.  Also the V, T, and H mean different things than other Prolines.  For example, with Proline Stadium hockey games are considered to be over after 60 minutes of play.  If the game is tied after regulation only the T selection is a winner.  Stadium Bets is the version that includes overtime and shootouts in hockey.  I suggest you understand the tie rules for every sport before betting on Proline Stadium.
Proline Stadium also offers a lot of player vs player prop bets that you can include on your ticket.  For example I'm seeing a Justin Herbert over/under of 277.5 passing yards while I'm writing this.
Proline Fantasy
Proline fantasy works the same way as Proline in that you must make between 2 and 8 picks on a parlay ticket. The difference is that you are picking between pools of players. Each group is made up of between 3 and 4 players and you choose which player will have the best statistical night.
Click here to see the fantasy scoring for the various sports.  As an example, in hockey goals (worth 2), assists (worth 1) and plus/minus are counted towards a players stats for the night.
In the event that two players from the group end up leading with the same number of points the odds associated with the player that you chose will be divided by 2 and applied to the parlay bet.
Proline Futures
The Proline Futures bets work in the same way as the would at a regular online betting site. The easiest example here would be betting on which team will win the Stanley Cup in hockey. You can make this bet at any time throughout the season and you are able to cash the bet if your team does lift Lord Stanleys Mug at the end of the playoffs.
It's great for Proline Stadium to offer futures bets, which is something most other lottery corporations in Canada aren't doing, but you would still likely receive better odds through an offshore betting site.
Stadium Bets
Stadium Bets is basically the same as Proline except there are no ties. In hockey both overtime and shootouts are included when determining an outcome. Stadium Bets also offer spreads on the games, as well as the regular over/under totals that you will find with Proline.
The parlay rules of having to select between 2 and 8 outcomes apply with Stadium Bets.
Odds – Proline Stadium vs Online Betting Sites
Proline Stadium has updated to dynamic odds, which allows them to offer odds that are comparable to odds you would see at online sportsbooks. The odds are not static, so they will change throughout the day based on the lines provided by their odds provider. This is a positive change and it removes my main issue with Proline Stadium, which was that their odds were far worse than online betting sites.
The dynamic odds do pose an issue for anyone who likes to buy their ticket at a retail store. The odds of your selections may change before you can pay for your ticket.
The odds for the the Fantasy parlay's are still very poor, so I would advise against playing that option with Proline Stadium.
Even with the improved odds there are still other major disadvantage to betting with Proline Stadium rather than through one of our recommended betting sites, which I will get into below.
Disadvantages of Proline Stadium
Proline Stadium has a couple distinct disadvantages when compared with betting online.
Betting Restrictions
At Proline Stadium you are not allowed to make single game bets.  This is a huge disadvantage, especially when you only see value in one play on any given day.  Parlay bets also multiply the added juice that is charged by Proline Stadium to make tilt the advantage further in favour of the Atlantic Lottery Corporation.
There are also less betting options to choose from.  Offshore betting sites take bets on almost every sport you can imagine and offer tons of betting options on each of these sports.  With Proline Stadium you are limited in your betting options.
No Bonus Money
Even though Proline Stadium has a sportsbook that allows you to place your bets online they don't provide any sign up bonuses or other loyalty programs for their players.
Online sportsbooks, on the other hand, work hard to entice new players to try out their site. They also work hard on player retention by offering great promotions and loyalty programs for current sign ups. Simply put, online sportsbooks work hard to ensure that you have an enjoyable betting experience.
No bonuses and bet restrictions are two key reasons why only bettors should still join a legitimate online betting site like SportsInteraction.com.
If you've decided to place bets online make the right choice and sign up at one of my recommended sportsbooks. You will receive a sign up bonus, be taken care of by customer support, have the opportunity to bet on a ton of sports.