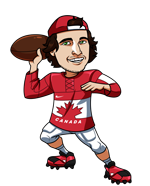 I went 2-1 with my CFL picks last week.  That brings my season record to 8-6 on the season.  All eyes will be on Johnny Manziel this week as he takes on his former team in Montreal.  He didn't see the field last week, to the chagrin of a lot of fans who tuned in to see him on the field, but he should definitely play a big part this week.
I will be using the odds from SportsInteraction.com for my CFL picks throughout the season.  They are our top rated sportsbook for Canadians.  Check out our full SIA review here.
I've also added a 3 step tutorial explaining how to bet on the CFL, so check that page out if you want to get some action on these games this week.
Ottawa Redblacks @ Toronto Argonauts
Ottawa -5
Toronto +5
We are getting close to must-win territory for the Argos this season.  That said, this will be their first game against an East Division opponent and for this reason I don't think the Argos are quite as bad as they have looked to this point in the season.  Toronto was absolutely shredded last week in Winnipeg, but the Bombers have been putting up huge offensive numbers all season.  Toronto has played all of their games so far this season against Calgary, Edmonton, Winnipeg and Saskatchewan.  Those are the top four teams in the West and I would argue the top four teams in the entire CFL.  It should come as no surprise that the Argos are sitting at 1-5 after that schedule.  I expect a bounce back for the Argos moving into the East portion of their schedule.
Ottawa is 4-2 to this point in the season, but they've gone 2-0 in games against the East, including a big win in Hamilton this past week.
The line of Ottawa as a 5 point road favourite indicates that they are significantly better than Toronto.  Just based on strength of schedule alone I think it's hard to say that with certainty.  For this reason I'll gladly take the points and expect a big game from the home dogs in this one.
Play: Argos +5
Saskatchewan Roughriders @ Edmonton Eskimos
Saskatchewan +8
Edmonton -8
I'm not sold on the Eskimos this year.  Sure, they beat Montreal handily on the road last week, but literally any CFL team would have beat Montreal in that game.  Before that they split their home and away with Toronto and their only real impressive win this year was a tight road win in Winnipeg in week 1.
Saskatchewan is a wild card.  Some games they look like world beaters and other games they look brutal.  Last week they fell behind the Stampeders 24-0 right out of the gate, but then looked like the better team for the final 3 quarters of the game.  This is a team that has the ability to be very good, but sometimes they just can't get it together.  Luckily for the Roughriders I don't think a bad quarter will cause them to lose this game against the Eskies.  I think Saskatchewan is the better team and they should win this game, or at the very least beat the spread.
Play: Roughriders +8
Hamilton Tiger-Cats @ Montreal Alouettes
Hamilton -6.5
Montreal +6.5
This is the game everyone will be watching this week.  Manziel playing his first CFL regular season game against his former team.  What a story line.
Unfortunately for Johnny I think this might be too much too soon.  I don't expect the Alouettes defense to be able to shut down the Ti-Cats offense, which has sputtered of late, but has the ability to score often.
I think Manziel will have a decent game, but I don't think he will have enough weapons to put up enough points against his former defense to keep this game close.
Play: Ti-Cats -6.5
BC Lions @ Calgary Stampeders
BC +11.5
Calgary -11.5
The Stampeders were outplayed for a good portion of their game in Saskatchewan last week.  I expect them to come out ready to dominate BC and make a statement.  Calgary has been covering spreads with ease this year and until they start to sputter I will be backing them often.
BC is the worst of the West Division teams and I don't expect they will be able to hang with Calgary this week.
Play: Stampeders -11.5
Tagged With : CFL betting • CFL picks • CFL week 8