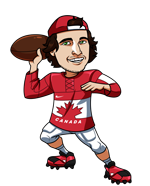 The CFL has a special spot in the hearts of hardcore Canadian sports fans. It's a fast paced game with big plays and big swings in the score. CFL football is exactly the type of sport that is great for sports betting.
I know there is a lot of interest in betting on CFL games here in Canada. Because of this I wanted to create this page to provide a simple 3 step tutorial to help Canadians quickly and easily get betting action on any CFL games this week.
Bet On The CFL in Canada – How To Guide
Follow these three steps to get your bets placed on this weeks CFL action.
Step 1. Open a Sportsbook Account
First you will need to open an account with an online betting site that accepts Canadians. SportsInteraction.com is our #1 recommended betting site for Canadians looking to bet on the CFL. Sports Interaction has a sportsbook that is fully catered towards Canadians players. This means their betting options, deposit methods and customer service is all geared towards Canadian players. Check out our full review to see why they are our #1 rated sportsbook.
Click here to visit SportsInteraction.com, click on the 'Open Account' button and fill out the registration form to open your account.
Sportsbook
Features
Offers
Rating
Bet Now
Step 2. Deposit
After you've created your account you will need to deposit to have funds with which to bet.
Once logged into your SIA account click on 'Deposit' in the top right corner of the screen. You can then select your preferred deposit method and follow the instructions to complete your deposit. Sports Interaction offers a wide variety of deposit methods that are easy for Canadians to use. Check out our deposit information page for a further breakdown of some of the deposit methods accepted.
Step 3. Place Your CFL Bets
You're now ready to place your CFL bets.  To find the CFL betting lines click on 'Sports' from the top navigation bar, open the 'Football' drop down menu and select 'CFL Games'.
Here's an example screenshot of what the single game betting options will look like for a CFL game:

You can see that the spread, money line and over/under bets are prominently shown for each CFL game.  You can also click on the team names to see the full list of betting lines available for the game including winning margin, first scoring play, first team to score, race to 10 points, first half money line, first half total, and more.
I usually stick with the main three betting options on CFL games, but the prop bets also allow you to get really into the game and bet on every aspect.  Check out the football betting page for a further breakdown of all the different bets you can make.
That's it for now. Ready to bet? Click here to visit SportsInteraction.com.