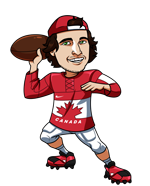 Last week I once again had 3 picks because the Toronto vs Montreal game was not listed at the time of my article.  In week 9 I went 2-1, but in week 9 I came back to .500 for the 3 game weeks by going 1-2 last week.  The Eskimos lost their first game of the season, while the Stamps won by 4, while the spread was 4.5, so that was a tight one and a hard loss to swallow.  My main play of the week though was the Redblacks -3.5 and they came through with a decisive 19 point win over the Ti-Cats.  My season record now sits at 19-15, so I need to get some more winners to increase the win vs loss spread.
There will be no contest this week as I'm focusing on the contest I'm running for the Mayweather vs McGregor fight.  You can see more about that here.
I'll be using SportsInteraction.com for my CFL picks all season long.  They're our top rated sportsbook and they are an in-game sponsor of the Hamilton Tiger-Cats this season, which shows their commitment to the CFL.  You can check out our full SIA review here.
Winnipeg Blue Bombers @ Montreal Alouettes
Winnipeg -1
Montreal +1
The Bombers earned a huge win over Edmonton last week and bring that momentum to Montreal.  Winnipeg is now 4-0 playing against Eastern teams and I have no reason to believe they will get their first loss to the East Division in Montreal.
The Alouettes have actually performed well at home this season with a 3-1 record, but I still can't get behind this team because they are still, along with the entire East, a far weaker team that anyone outside of Saskatchewan in the west.  I'll take the West in basically pick'em games all season.
Play: Blue Bombers -1 
Saskatchewan Roughriders @ Edmonton Eskimos
Saskatchewan +6.5
Edmonton -6.5
Edmonton finally lost last week to bring their season record to 7-1.  I still think that record is deceiving though because the team is only +28 in point differential on the season, which shows just how close their wins have been.  Edmonton has won by 7 or more only twice this entire season (7 points vs Ottawa and 9 points vs BC).  They just aren't blowing teams out, so the 6.5 point spread seems like a lot from that perspective.
Add in the fact that Saskatchewan is coming off a bye week and had a huge 41-8 win over BC in week 8 and I think we can start to take this Roughriders team seriously.  They're 3-4 on the season and I believe that they are a true threat to make the playoffs in the stacked West.
Play: Roughriders +6.5
BC Lions @ Ottawa Redblacks
BC +2
Ottawa -2
The Redblacks finally got a win by pummelling the Ti-Cats last week, but now they are facing an entirely different animal with the Lions in town (no pun intended).  BC just had a tough battle with the Stamps, but coming off of two losses they are going to be gunning for a win in Ottawa.
I simply don't think the Redblacks can run away with this game and they have shown a tendancy to lose close games this season.  The smart money has to be on taking the 2 points with BC.  I do think Ottawa will make the playoffs, but they will need to pick their spots with wins over Eastern teams down the stretch.
Play: Lions +2
Toronto Argonauts @ Calgary Stampeders
Toronto +10
Calgary -10
Calgary beat Toronto 41-24 two weeks ago in Toronto and I don't think they should have any trouble racking up points against the Argos at home this time around.  Calgary had a hard fought game last week in BC where the offense was shut down slightly compared to how it was motoring along before their bye week.  I expect the offense to break out once again against this Argos defense and run up the score while easily covering this 10 point spread.
These teams simply aren't on the same level.
Play: Stampeders -10
Tagged With : CFL betting • CFL picks