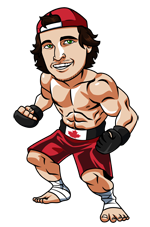 The UFC heads to Sao Paolo, Brazil, for a Fight Night card that features a couple of Brazilian legends against up and coming prospects in the main and co-main events.  The main event features the return of Lyoto Machida after two years away from the octagon against Derek Brunson who is ready to add a big name to his wins list.  In the co-main Demian Maia is back for his first fight since losing that uneventful decision to Tyron Woodley for the welterweight title, and he is facing top prospect Colby Covington, who I believe has the ability to be welterweight champ sooner than later.
The main card featuring 6 fights will be shown on TSN 2 here in Canada on Saturday Night, while the prelims will be shown on UFC Fight Pass.  I have 3 plays below, and one lean that I touch on at the bottom of the page.
***Next week is UFC 217 at Madison Square Garden.  It's a massive card and I will have plenty of articles about the fights next week, so check back for that.  I've also included a how to bet on GSP vs Bisping guide for any Canadians interested in betting on GSP's return.
Sportsbook
Features
Offers
Rating
Bet Now
1

Licensed and regulated in Canada
Easy deposits & withdrawals including Interac
Competitive betting lines
2

Licensed and located in Ontario
Entirely focused on Canadian betting market
Easy deposit/withdrawal options, including Interac
Lyoto Machida vs Derek Brunson
Lyoto Machida is back in the octagon, but he's been out of action for two years and is now 39 years old.  What version of the Brazilian legend will we see?
I don't think it matters what version of Machida shows up because I think Derek Brunson would even defeat the version of Machida that was fighting a few years back.  Brunson has the ability to end fights with his left hand and he's learning to channel that finishing ability without running in with his chin up, which resulted in him being knocked out by Robert Whittaker a few fights back.  Brunson overadjusted in his fight against Anderson Silva, which resulted in a controversial decision loss, but he found his mojo again with a quick finish of Dan Kelly in his last outing.
Brunson has a strong wrestling base from his time as a 3-time Division II All-American wrestler at University, and he's shown the power he has in his hands.  Machida was viciously knocked out in his last fight against Yoel Romero and he was taken down and submitted in the fight previous to that against Luke Rockhold.  I actually think that Brunson will get the best of Machida on the feet, but if he starts to get caught similar to the fight with Whittaker, I think Brunson will adjust and use his wrestling, which has proven to work against Machida in recent contests.
Brunson is on his way up and Machida is on his way out.  I think Brunson wins this fight handily and I think the loss to Anderson Silva in a decision he seemed to win will help him in this fight if he isn't able to get the early knockout.  That said, I do see Brunson ending this fight early with his big left hand.
Play: Brunson 1.62
Vicente Luque vs Niko Price
Luque is on of my favourite prospects in the welterweight division.  He's coming off a decision loss to Leon Edwards, where Luque slowed down considerably after a strong round 1 where he controlled the action.  Luque has not had to go past round 1 much of late, with him getting first round finishes in 3 of his previous 4 fights, while the other fight being won by Luque in the second round.
If Luque's conditioning is an issue he may not have to worry about it in this fight with Price, who also has 3 early finishes in his 3 UFC fights.
Luque is by far the more technical fighter.  He's a more technical fighter on the feet, with a more varied attack that can hurt you from any position.  He's also very adept on the ground and looks for submissions, which is an area we have not yet really seen Price tested in, being that Price has fought 3 stand-up fighters to this point in his UFC career.  Against these stand-up fighters Price has been able to land the kill shot in each fight, but against Alex Morono he was actually being outstruck 45-23 before getting the finish at the end of the second round.  Price is very hittable and that's not a good thing against a guy as dangerous as Luque.
I think Luque has the advantage in every area of this fight and I expect him to find a way to win in a big way this Saturday.
Play: Luque 1.63 @ SportsInteraction.com
Christian Colombo vs Marcelo Golm
Golm is a newcomer to the UFC and even though he is only 5-0 with his first 3 wins coming over guys with 0 fights and his most recent two coming over a 0-2 and a 1-2 fighter, he's still a big favourite in this fight against Colombo.  This just shows you how the MMA betting public feels about Christian Colombo.
That said, I think bettors are simply fading Colombo, rather than actually finding some of Golm's fights and seeing how the Brazilian looks.  I found a couple fights of his on YouTube and was not impressed in the least.  In his most recent fight he was up against an absolute can who was gun shy and basically stood in front of Golm until he was hit and the first decent punch put him down.  Golm's level of competition is laughable and he doesn't even look like a very athletic guy.  His stand up is very stilted and I don't even give him an edge there against Colombo.
Christian Colombo is 0-1-1 in the UFC, with his first fight being a draw against Jarjis Danho.  That said, its easily forgotten that Colombo had a point deducted for kneeing a grounded opponent in round 1, otherwise he would have won the fight easily by scores of 30-27, 29-28 and 29-28.  The cardio was there for Colombo in that fight and we have no clue what Golm's cardio will be like if his opponents don't crumble early in front of him.  And even though Colombo lost via submission to Luis Henrique in his second fight, Henrique is far superior to what I've seen from Golm, especially on the ground and in terms of takedowns.
Don't get me wrong, Colombo is by no means a top level fighter, but I give him a slight edge in stand-up, I know he has the cardio to go the full three rounds, and he has fought the more difficult competition.  I will gladly take the dog odds in this case.
Play: Colombo 2.50
The other big fight on the card is top prospect Colby Covington against Brazilian legend Demian Maia.  I'm very high on Covington and leaning towards him getting the win as a slight favourite, but Maia is such a dangerous opponent, with the ability to capitalize on any small mistake Covington may make going for an impressive win, that I decided to steer clear of this fight on the bet card.
Tagged With : UFC betting • UFC picks • UFC Sao Paolo