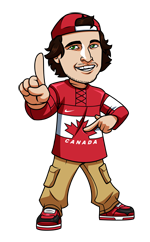 Canadian MMA hero, Georges St-Pierre, is set to make his long awaited return to the octagon on November 4th to fight Michael Bisping for the UFC middleweight belt at UFC 217.  This GSP vs Bisping fight can likely be considered the biggest fight in the UFC this year given the fact that McGregor's fight with Mayweather was in the boxing ring.  The UFC 217 card is set to take place at Madison Square Garden in New York, which adds to the hype and the UFC is stacking up the card (Garbrandt vs Dillashaw, Wonderboy vs Masvidal, etc) to make this a flag pole event for the promotion.
The odds for the St-Pierre vs Bisping fight have been jumping around since the fight became official at the beginning of August, but GSP is currently a slight favourite.  I've outlined the odds a little bit further down the page.
If you're a Canadian who is excited about the GSP return and wants to place a bet, follow this simple three step guide to get your wager in on either St-Pierre or Bisping before the fight.
Bet On St-Pierre vs Bisping In Canada – 3 Step Guide
Step 1. Open an Online Betting Account
First you'll need to create an account with an online sportsbook.  SportsInteraction.com is our top rated sportsbook for Canadian residents.  They are solely focused on providing a great betting experience to the Canadian bettors and actually even had GSP as a company spokesperson a couple years back.  The GSP vs Bisping fight is consistently in their "most popular" bets section, even two months out from the fight, so I'm sure they are taking quite a bit of action on the fight.
Click here to open an account at SportsInteraction.com.
Sportsbook
Features
Offers
Rating
Bet Now
Step 2. Fund Your Account
Next up, you'll have to make a deposit in order to have funds online with which to wager on GSP vs Bisping.
Sports Interaction offers a wide variety of deposit options.  Check out our deposit methods page for some in depth breakdowns of the various options.
Step 3. Place Your Bets
You're now ready to bet!  I've posted a screenshot of the current GSP vs Bisping odds at SportsInteraction.com.  These odds will change and shift as we move closer to the fight, so be sure to check the site for the current odds yourself.

To find the bet, select 'MMA' and 'Mixed Martial Arts' from the left sidebar in the Sports Interaction sportsbook.  The fight will also likely be featured on the homepage until it takes place.  Check out our UFC betting page for more info on the various bets you can make on an MMA fight.
I'm actually surprised that GSP isn't a bigger favourite in this fight.  He handpicked Bisping as his return fight because he's very confident he will get the win.  St-Pierre is a consummate professional and you can be sure that he will be fully ready for this fight, and he would only return if he truly believed he could still compete at the highest level.  I will have more prediction posts added closer to the event, but I'm confident I will have a lot of GSP action come fight night.
Ready to bet?  Click here to visit SportsInteraction.com…
Tagged With : Georges St. Pierre • GSP • Michael Bisping • UFC 217 • UFC betting