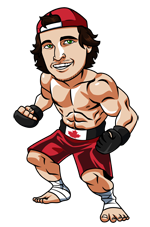 This week the UFC heads to Orlando for a prime time card headlined by Jeremy Stephens vs Josh Emmett.  The main event may not feature a really big name fighter, but this is one of the deepest non-PPV cards I've seen in recent memory.  There are a good 8 or 9 fights on this card that feature notable fighters, so it should be an eventful night.
This is a prime time card with the main card of four fights beginning at 8pm EST on CTV2 here in Canada.  The prelims begin at 6pm EST on TSN2 and you can catch the 5 early prlims on UFC Fight Pass at 4pm EST.
I was able to go 3 for 3 with my picks last weekend, so hopefully I can continue the hot streak.  I'll be using the best odds being offered from any of our recommended sportsbooks for each of my picks on this card.
Sportsbook
Features
Offers
Rating
Bet Now
1

Licensed and regulated in Canada
Easy deposits & withdrawals including Interac
Competitive betting lines
2

Licensed and located in Ontario
Entirely focused on Canadian betting market
Easy deposit/withdrawal options, including Interac
Jeremy Stephens vs Josh Emmett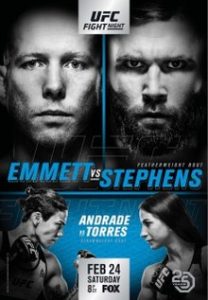 Everyone seems to be high on Jeremy Stephens now that he's on a two fight win streak where he looked very good in his victories.  That said, the first win was over Gilbert Melendez, who I think the vast majority of the UFC would beat at this point in their careers, and Doo Ho Choi who has very suspect defense that everyone seemed content to overlook because of his toughness in his fight with Cub Swanson.  They were good wins, yes, but they were against two overrated stand-up fighters.  Emmett is a power wrestler and that is the type of fighter Stephens has had trouble with in the past.
I realize people could say that Emmett only has the one big win on his UFC record, and that it was a knockout of Ricardo Lamas, who has had a ton of trouble against power wrestlers with big overhands in his entire career, but I think he's the real deal.  Emmett is built like a vending machine and this raw power is evident in both his takedowns and overhand punches.  Stephens does not have very good takedown defense.  He was taken down twice by Renato Moicano and five times by Frankie Edgar in his last two losses.  His takedown defense is only 64%, which is quite low.  The threat of the takedown should reduce Stephens ability to throw his leg kicks as well, which is one of his most dangerous weapons.
I see Emmett being able to get this fight to the mat and to ground out round wins.  Even on the feet I give the power edge to Emmett and could see him landing a big shot while staying in the pocket or after feinting takedown shot.  I see far more paths to victory for Emmett in this fight and I'm happy to fade Stephens, who's stock is very high after two wins over pure strikers.
Play: Emmett 2.30
Angela Hill vs Maryna Moroz
Hill is coming off a loss to Nina Ansaroff where she simply could not cope with the pressure and pace of Ansaroff.  Luckily for Hill, Moroz is not a pressure fighter at all and Hill should be able to play her game and get the better of Moroz on the feet without having to worry about constant pressure or takedown attempts.
These two are very similar fighters, but I think Hill is a level up from Moroz.  She should have a higher output than Moroz and land the more effective strikes.  Moroz had a great UFC debut where she won via submission over Joanne Calderwood, but she's left a lot to be desired in her four fights since going 2-2 and really not looking good in any of them.
Play: Hill 1.74 @ SportsInteraction.com
Sara McMann vs Marion Reneau
McMann should be on another level to Marion Reneau in this fight.  McMann is a very frustrating fighter to bet on because she doesn't always bring her A-game and she can look for ways out of fights if things get into deep waters.  She really should be a dominant fighter in the women's bantamweight division solely based on her Olympic level wrestling credentials (she won a silver in the 2004 Olympics).  Women's MMA is still in it's relative infancy and a power wrestler like McMann should have the tools to defeat all, but the elite in the division.
To be fair, you could argue that McMann has only lost to the elite fighters in the division.  Before her recent loss to Ketlen Vieira she had only lost to Rousey, Tate and Nunes, the three biggest names in the division.  And the loss to Vieira may say more about Ketlen Vieira's chances to do damage in the division than McMann's inability to progress at this stage in her career.
The good thing for McMann is that Reneau is neither an elite fighter or a hot prospect.  We know what we're getting with Marion Reneau and that's a decent stand up fighter with weak takedown defense.  Reneau has been taken down in each of her last 5 UFC fights and McMann should have no trouble getting this fight to the canvas whenever she chooses.  That said, McMann does have some holes in her grappling defense on the mat, so there is a path to victory for Reneau, but I think the chances she pulls off a submission on McMann are very slim.
This should be a layup fight for McMann and even though there are a lot of questions about her toughness, she should be on such another level to Reneau that it shouldn't be a factor.
Play: McMann 1.48
Tagged With : UFC betting • UFC picks