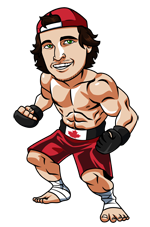 The UFC continues their packed schedule with another Fight Night card this Sunday night, taking place in Austin, Texas.  The card is solid for a Fight Night card, with 3 fairly big fights to close out the card including Cerrone vs Medeiros, Lewis vs Tybura and Vick vs Trinaldo.  On top of those big fights there are some other recognizable names on the card including Thiago Alves and the hype machine Sage Northcutt.
It's important to remember that the card is taking place this coming Sunday, not Saturday.  That may be why the time slots are all also pushed an hour earlier, with the Fight Network prelims getting underway at 7pm EST and the TSN2 main card portion beginning at 9pm EST (there are also 3 Fight Pass prelims beginning at 5:30pm).
I'll be using the best odds being offered from any of our recommended sportsbooks for each of my picks on this card.
Sportsbook
Features
Offers
Rating
Bet Now
1

Licensed and regulated in Canada
Easy deposits & withdrawals including Interac
Competitive betting lines
2

Licensed and located in Ontario
Entirely focused on Canadian betting market
Easy deposit/withdrawal options, including Interac
Donald Cerrone vs Yancy Medeiros
Cerrone had a rough 2017 losing his 3 fights and really getting destroyed by both Masvidal and Till in two of them.  His fight with Robbie Lawler was very competitive with Lawler just having slightly more output in two of the three rounds to squeak out a decision.  Masvidal simply outclassed Cowboy with his boxing and Till was just too long and powerful for the undersized Cerrone.
As bad as 2017 was for Cowboy, he was fighting killer after killer, with each of those 3 opponents currently ranked in the top 7 of the welterweight division.  He's now facing Yancy Medeiros, who is ranked #15 after a big win over Alex Oliveira in his most recent fight.  In that fight it was really Medeiros' heart that got him the win more than his skills.  It was a barn burner of a fight where Oliveira was getting the best of Medeiros before gassing out late in the fight, resulting in a Medeiros KO.  That fight was a big step up in competition for Medeiros, who was able to easily get through a couple of weak opponents after also making his jump up to 170 pounds.
The fact that Medeiros also fought the majority of his career at 155 pounds is a big plus for Cerrone in this fight after he simply could not keep up with the size and power of Darren Till in his most recent loss.  This fight should be a more technical stand up tilt, which will play right into the hands of Donald Cerrone.  He should have a significant advantage on the feet in this fight and also have the ability to take the fight to the mat if he chooses.  The one x-factor in this fight is the fact that Medeiros has a ton of heart and he will not go lightly even if Cowboy is getting the best of him early in this fight.  Cerrone will need to be ready to take the action to Medeiros for 25 minutes and avoid the big shot that could turn the tides in the direction of Yancy.
All of that said, I just think Cerrone is on another level in this fight.  I believe he will get a finish in the first couple of rounds, but even if he doesn't he has the endurance to go the 5 round distance, while keeping a fairly solid pace.  There is the concern that Cowboy could get caught with a body shot and lose via TKO, but I think the chances are low of that happening.
Play: Cerrone 1.63
Sage Northcutt vs Thibault Gouti
As much as Northcutt has been over-hyped in his UFC career and has not lived up to the lofty expectations put on him by the promotion, you cannot argue with the kids 4-0 record at lightweight in the UFC.  His two losses came when he ventured up to 170 pounds and simply got outgrappled by two larger fighters.  Sage is not a great grappler by any means, but at least at 155 pounds he is generally the stronger man who is able to power out of bad positions, which he was unable to do at welterweight.  That said, I will also agree that his 2 recent decision wins at lightweight over both Enrique Marin and Michel Quinones were very underwhelming performances over two guys who are not UFC caliber fighters.
All of that said, I do think Northcutt should be able to get the win in this fight with Gouti.  After being 0-3 in the UFC, Gouti finally got his first UFC win by knocking out Andrew Holbrook in his recent September fight.  Holbrook has now been finished in the first round in 3 of his last 4 UFC fights, so that is not too impressive in it's own right.  Before that fight, Gouti was finished by Teemu Packalen, Olivier Aubin-Mercier and Chad Laprise, with the Laprise and Packalen losses coming very quickly.  Sage fought a smart, technical fight en route to a 30-27 decision in his recent fight with Quinones, but I think he should be able to unload a little bit more against Gouti and potentially get his first finish since back in 2015 when he was the hottest prospect in the promotion.
Sage has the athleticism and striking to dominate the lower level fighters in the lightweight division and I think he will take another step forward in his progress with a patient striking (and potentially wrestling) display against a guy who has never registered a takedown in his UFC career.  This is a match-up set up perfectly for Sage and he should be able to deliver.
Play: Northcutt 1.36
Alex Morono vs Josh Burkman
Burkman is 37 years old and he's lost 4 straight fights in the UFC, and has only beaten the washed up KJ Noons since 2014.  He is not a UFC caliber fighter in any sense of the word and has only stuck around with the promotion because he has a somewhat recognizable name from being in the sport for so long (he was a contestant on TUF 2).  Burkman is only around for the paycheck these days and that should be evident in this fight with Alex Morono.
Morono is coming off a tough 2017 that included a couple tough losses.  First he was knocked out by Niko Price and then he lost a close split decision to Keita Nakamura.  That said, he did have some glimpses of brilliance in his 2016 wins over Kyle Noke and James Moontasri.  Morono has quality striking with high output.  I don't think he will have any trouble finding the target against Burkman early and often.
Burkman's only shot in this fight in my opinion is to land some takedowns and use his wrestling, but I think there's as good a shot of Morono getting a knockout as Burkman landing a takedown.  If Morono can keep the fight standing for the majority he should run away with it and rack up damage en route to an easy decision if he doesn't finish Burkman beforehand.
Play: Morono 1.43
Tagged With : Donald Cerrone • UFC betting • UFC picks