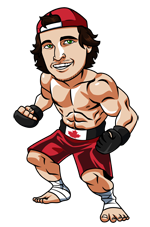 If you didn't watch last weekends main event fight between Dustin Poirier and Justin Gaethje, I suggest taking some time right now and watching the full fight.  It was one of the most entertaining fights I've ever seen.  Kevin Lee and Edson Barboza have quite the act to follow this weekend after their fellow lightweight contenders put on such a barn burner of a show last Saturday.
This weeks card heads to Atlantic City and we're also back to the normal time with the main card getting started at 10pm EST.  There are 6 fights scheduled for the main card which means we could be waiting until after midnight for the Lee vs Barboza main event, which is not ideal in my opinion.  Overall though this is a very solid card with Cub Swanson vs Frankie Edgar in the co-main event and a fight between Aljamain Sterling and Brett Johns at bantamweight that I'm very interested in.
I only have plays on the main and co-main events on this card once again.  Last week I hit both Poirier and Cowboy, and this week I'm once again going with the favourites.   I'll be using the best odds being offered from any of our recommended sportsbooks for each of my picks on this card.
Sportsbook
Features
Offers
Rating
Bet Now
1
Licensed and regulated in Canada
Easy deposits & withdrawals including Interac
Competitive betting lines
2

Licensed and located in Ontario
Entirely focused on Canadian betting market
Easy deposit/withdrawal options, including Interac
Kevin Lee vs Edson Barboza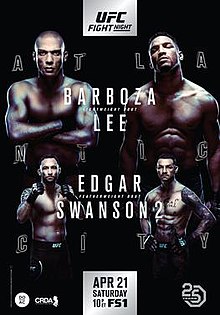 Lee and Barboza have a tough act to follow in this battle between a couple of lightweight contenders after their fellow contenders, Poirier and Gaethje, put on a fight for the ages last weekend. I don't expect this fight to be as action filled or as competitive as last week's main event, primarily because I think Kevin Lee has a clear path to victory in this fight.
People seem to want to sweep Edson Barboza's recent loss to Khabib Nurmagomedov under the rug with the explanation of "well it's Khabib". I don't buy that excuse for a second, especially considering how Khabib was able to get Barboza to the canvas on multiple occasions with relative ease and really didn't even have to worry about Barboza's potent striking offense because he was content to just try to stuff takedowns rather than mounting any offense of his own. Going into that fight analysts pointed to Barboza's improved takedown defense as a reason he might have been able to contend with Khabib, but I also don't buy that analysis. When you look at Barboza's last five opponents prior to Khabib he fought against Dariush, Melendez, Pettis, Ferguson and Felder. All stand-up fighters. Those five guys have a combined 4 takedowns over their past 25 total fights (5 most recent fights each). Compare that with Kevin Lee who has 13 takedowns of his own over his last 5 fights.
Lee may not have the takedown aggression and persistence that Khabib does, but I still think he will be able to get this fight to the mat on more than one occasion. Once there, Lee actually has a better submission grappling game than Khabib and I think he will be able to catch Barboza in a submission.
Don't be surprised if Kevin Lee comes out of this fight looking great after an early submission win. Overall, the only way I really see Lee losing this fight is by a Barboza KO and I think that result is unlikely.
Play: Lee 1.71
Cub Swanson vs Frankie Edgar
Edgar thoroughly dominated Swanson when these two fought back in 2014, securing multiple takedowns before finishing the fight via submission in the third round.
This time around I don't think much has changed. Swanson is still a very solid standup fighter, who has one glaring hole in his game, in that he often leaves his neck available during scrambles. Swanson's last four losses have all been via submission due to a choke. I think Frankie will eventually be able to secure a choke of his own again in this fight as well after pressuring Cub onto the mat and into scrambles throughout the fight.
The main argument against Edgar seems to be that he's returning too quickly after his KO loss to Brian Ortega a month and a half ago. This may be a valid argument, but comparing this return to Michael Bisping's loss to Kelvin Gastelum is a little bit ridiculous in my opinion. First of all, Bisping fought again only two weeks after his loss to GSP, and more importantly Bisping would have been an underdog in that fight even if he had a full fight camp with Kelvin very likely still getting a first round KO.
I think Edgar is on another level and it should show through in this fight.
Play: Edgar 1.45
Tagged With : UFC betting • UFC picks