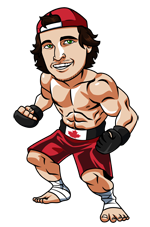 It was a crazy week in the world of MMA.  From the musical chairs for the title fight with Khabib to the Conor McGregor shenanigans the build up to UFC 223 was unfortunate, but never dull.  Luckily what was left of the card delivered and now the UFC is heading to Arizona to continue the momentum with a UFC on Fox card headlined by Dustin Poirier and Justin Gaethje.
This is a prime time card meaning the four main card fights get underway at 8pm and should be finished by 10pm EST.  I love these cards because the action gets underway in the afternoon (3:30pm on Fight Pass in this case) and you don't have to stay up until 1am to see the best fights.  This weeks prelims will be shown starting at 6pm on TSN 5 with the main card being showcased on CTV TWO at 8pm EST here in Canada.
I'm only going to be giving my picks on the main and co-main events on this card.   I'll be using the best odds being offered from any of our recommended sportsbooks for each of my picks on this card.
Sportsbook
Features
Offers
Rating
Bet Now
1

Licensed and regulated in Canada
Easy deposits & withdrawals including Interac
Competitive betting lines
2

Licensed and located in Ontario
Entirely focused on Canadian betting market
Easy deposit/withdrawal options, including Interac
Dustin Poirier vs Justin Gaethje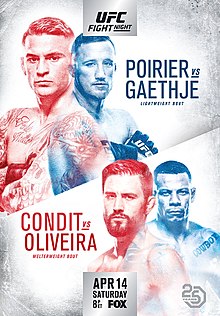 To me Dustin Poirier is the real deal, while Justin Gaethje is still a huge unknown.  Poirier has fought the who's who in the lightweight division beating high quality fighters such as Yancy Medeiros, Joseph Duffy, Bobby Green and most recently Anthony Pettis in the past couple years.  He was also ahead against Eddie Alvarez before illegal knees from Alvarez resulted in the fight being a no contest.  His only loss was to Michael Johnson and that was a flash KO where he got caught in the pocket.  Overall, I've been super impressed with Poirier's development over the past few years and I think he should emerge as a top contender with a win this weekend.
Gaethje is a lot of fun to watch, but I still don't know how he really stacks up against elite fighters in the division.  He destroyed Michael Johnson, but Johnson is a .500 UFC fighter who is 1-5 in his last 6 fights (the one win was his flash KO of Poirier), so I don't read too much into that fight.  Next up he fought Eddie Alvarez and Eddie was getting the better of him for 3 rounds before finishing him late.  It was still a war, which every Gaethje fight will be, but his defense was exposed by Alvarez with Justin eating 155 significant strikes in that fight.  I personally think Poirier is a step up in competition from Alvarez and I think Poirier hits quite a bit harder as well, so I don't think Gaethje will be able to block punches with his chin quite as readily like he has in his past.
Add in the fact that the Alvarez loss was the first loss of Gaethje's career and just look at the amount of damage he took in that fight.  He's coming back just four months later against another guy who will be looking to put his lights out.  Gaethje really has no defense and I think it will take a few KO losses before he realizes he needs to adjust his game.  Poirier will provide the second KO loss this weekend.
Play: Poirier 1.74 @ SportsInteraction.com
Carlos Condit vs Alex Oliveira
With Matt Brown pulling out of the fight due to a torn ACL and Alex Oliveira stepping in, Carlos Condit went from a great stylistic matchup to an awful one.  Matt Brown likely would have stood in the pocket and banged it out with Condit, but Oliveira is likely going to try to get this to the mat and I don't think he will have much trouble against Condit.
Condit has absolutely awful takedown defense.  His takedown defense is just 38% according to FightMetric which is absolutely abysmal.  Oliveira has strong wrestling and I think he will be able to get this fight to the mat on demand.
Condit is the more explosive and dangerous striker, but I think Oliveira will be able to hold his own on the feet while working to set up his takedowns.  Condit has now lost 3 straight and he's 2-6 in the UFC since 2012.  The book is out on Condit and he can only beat guys who are purely strikers at this point in his career.  Oliveira does not fall into that category with wrestling and strength a big part of his game.  Look for Oliveira to once again show that Condit is a one dimensional fighter and should only be matched up against other pure strikers in the future.
Play: Oliveira 1.50
Tagged With : Dustin Poirier • Justin Gaethje • UFC betting • UFC picks