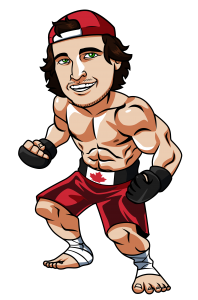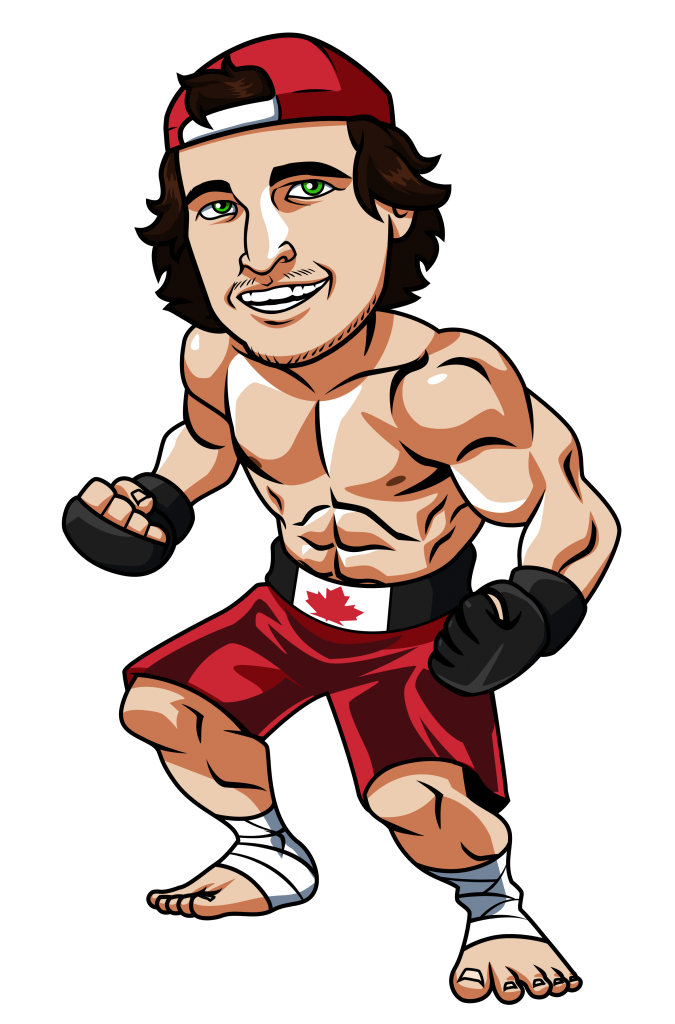 Cruz vs Dillashaw is not a PPV, and it's not really being marketed like a massive fight by the UFC (it's even a weird single show embedded this week), but this is a fight that I am very excited about.  Dominick Cruz, returning from injury more than 4 years removed from his last title fight in the UFC before the title was stripped due to his injury problems, versus TJ Dillashaw who has looked extremely good beating Renan Barao a couple times, but who has really not beat anyone else to solidify himself as the best in the division.  It's a great storyline for a title fight and I personally love watching both Cruz and Dillashaw fight, so I'm excited for Sunday night.
There's a couple other interesting fights on the card that I will also share my thoughts on below.
I'll be using the best odds I can find among our top rated sportsbooks for Canadians.
To learn more about the various MMA bets you can make, check out our MMA betting info page.
***Remember, this card gets underway at 6pm EST Sunday Night.  The first five fights can be found on UFC Fight Pass.  At 8pm you will be able to find the later prelims on the Fight Network and then the four main card fights will air on TSN 5 at 10pm EST.
Dominick Cruz vs TJ Dillashaw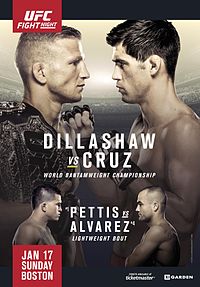 I was very impressed with Dillashaw in his last fight.  He absolutely picked apart Barao for the entire fight before the referee mercifully stepped in to stop the fight in the fourth round.  Dillashaw has a lot of the footwork skills that made Cruz so dominant in the division for so long, while mixing in some powerful punches.  I think Dillashaw would beat Barao every time if they fought ten times, but that's really the only big name that Dillashaw has even had to beat to be the champ for 2 years.
Dillashaw got his title shot after the UFC needed a title fight to headline UFC 173 after Weidman vs Belfort was scrapped.  They decided to offer a Barao title fight to Assuncao, who had just beat Dillashaw 6 months prior, but he couldn't accept the fight due to a rib injury.  In a bind, they offered the shot to Dillashaw, who was already on the UFC 173 card, expected to fight Takeya Mizugaki.  We all know what happened.  Dillashaw destroyed Barao for 5 rounds before finishing him in what was at the time considered a massive upset.  Barao hadn't lost for ten years, so the UFC set up an immediate rematch, but Barao had trouble cutting weight, once again the UFC needed to salvage a card, so enter Joe Soto.  This was Soto's first fight in the UFC and he was fighting for the title just because he happened to be in the same weight class and on the same card as the Championship fight.  In the end Dillashaw had a tough time with him, taking 5 rounds before he finally got the finish.  People were not impressed, but this set up another rematch with Barao.  That fight went through and as we all saw the second fight was very similar to the first with Dillashaw dominating from the start to finish.
Now, I'm not taking anything away from Dillashaw's performances against the Barao, but this does bring up a very big question.  Is Dillashaw really as good as he has looked, or is his footwork and pressure filled style just perfect for a fighter like Barao who doesn't use much lateral movement in his fighting style.  I personally believe it's the latter.  Barao has been the perfect opponent for Dillashaw and Cruz will be anything but.
Cruz should have just as good of footwork as Dillashaw, and what he gives up in power he will more than make up for in elusiveness, takedowns and fight IQ.  I see a five round fight taking place with Cruz winning 50-45 or 49-46 on the judges scorecards.
The real champ is back.
Play: Dominick Cruz 2.20
Eddie Alvarez vs Anthony Pettis
This is a very interesting Lightweight fight that I think will set the winner up for a title fight with the winner of dos Anjos vs McGregor.  It's an interesting fight for that reason, but I don't see it being a close fight.  Eddie Alvarez is a grinder who gets his wins by out willing his opponent.  This was a perfect mentality to beat Gilbert Melendez, who is another grinder.  The problem comes when you face guys who just have more technical skills.  We saw how Donald Cerrone absolutely destroyed Alvarez's lead leg in their fight, which welcomed Alvarez to the UFC.  Anthony Pettis throws just as, if not more, devastating kicks than Donald Cerrone.  He's also a more dangerous fighter, with a ton of finishing weapons in his arsenal.
Eddie Alvarez is no Rafael dos Anjos.  He's a good fighter, who uses his will to win.  Pettis is a great fighter, with tremendous technical skills.  I expect Pettis to control this fight for it's entirety and not let it turn into a brawl.  Pettis will eventually find a way to get a huge "showtime" shot in on Alvarez and this fight will be done, with Pettis right back in the title picture.
Play: Anthony Pettis 1.294
Matt Mitrione vs Travis Browne
This fight between these two dangerous heavyweights will not get outside of the first round.  Both of these guys are tremendous athletes, who can move very well for heavyweights, while also having hammers for fists.
I'm leaning towards Mitrione in this one for a couple of reasons.  Number one I'm expecting his best stuff.  He's said it's basically do or die in the UFC for him with this fight and I expect him to be extremely focused after not being happy with getting caught in a guillotine on a silly takedown attempt against Ben Rothwell.  Number two, is I think this fight could go either way, so I prefer to take the underdog.  It just takes one connection for either of these guys and when it's like that it's really anyone's guess who can land that big punch first.
Play: Matt Mitrione 2.30
Tagged With : UFC betting • UFC Fight Night • UFC picks