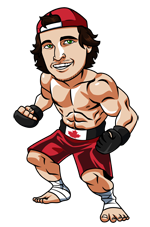 The UFC is heading to Las Vegas this week for the UFC 222 pay-per-view card that is set to cap off a streak of 8 straight weekends with UFC events.  This card was originally meant to be headlined by Max Holloway defending his featherweight belt against Frankie Edgar, but an injury forced Holloway out of the fight and the UFC has attempted to save the card by bringing in Cris Cyborg to headline with a defense of her women's featherweight title.  Edgar will still be on the card in the co-main event slot with a top contender tilt against Brian Ortega that will act as the people's main event.
The fight card gets underway at 6:30pm EST with the first 3 fights on UFC Fight Pass.  The broadcast will then move to TSN2 here in Canada for the four preliminary fights before the PPV gets underway at 10pm EST.
I had a rough 0-3 week with UFC Orlando this past weekend, so I'll look to get back in the win column with my plays below.  I will be using the best odds being offered from any of our recommended sportsbooks for each of my picks on this card.
Sportsbook
Features
Offers
Rating
Bet Now
1

Licensed and regulated in Canada
Easy deposits & withdrawals including Interac
Competitive betting lines
2

Licensed and located in Ontario
Entirely focused on Canadian betting market
Easy deposit/withdrawal options, including Interac
Brian Ortega vs Frankie Edgar
Brian Ortega is arguably the most dangerous submission grappler in the entire UFC.  He's now 13-0 in his MMA career and is 6-0 in the UFC with 6 finishes.  In these UFC fights Ortega has often been losing before finding a way to get a late finish and end the night with his arm raised.  Against Clay Guida, for example, Ortega was clearly down 2-0 on the scorecards before winning via TKO with 20 seconds left in the third round.  Two fights ago against Renato Carneiro was the same thing with most agreeing Ortega was again down 2 rounds before getting a third round submission on an ill-timed takedown attempt by Carneiro.  Ortega is a finisher and he's never out of a fight.
Unfortunately for Ortega, Edgar is a veteran of the sport who has never been finished (submission, knockout, etc) over the course of his entire 22-5-1 MMA career.  Edgar is as crafty as they come and I would be very surprised if Ortega is again able to find a way to get Edgar out of this fight in just 15 minutes.  We already know that Edgar should get the better of Ortega on the feet and in the wrestling exchanges in this fight.  It will just be a matter of if he is wise enough to steer clear of Ortega's submission threats.
Cub Swanson is really the only big win on Ortega's resume and Swanson is a guy who has had an issue with submission losses his entire career.  The Ortega loss was Swanson's fifth submission loss.  Edgar, on the other hand, simply doesn't make those kind of mistakes.  He fights in a very technically sound style that prevents opportunities for his opponent to take his neck, and is seemingly always in control on the mat.
Ortega definitely has the skills and ability to be the first fighter to finish Edgar, but I do think that is his only path to victory and it's not a very likely path.
Play: Edgar 1.57
Andrei Arlovski vs Stefan Struve
I'm not sold on Struve in this fight.  Yes, Arlovski is getting up there in age, but I don't necessarily think he's lost much of a step.  I think he just has not evolved and he's been facing the top fighters in the heavyweight division over the past 2 years.  Yes, Arlovski had that 5 fight losing streak between January of 2016 and June of 2017, but those losses were to Miocic, Overeem, Barnett, N'Gannou and Tybura, five guys who I think would be significant favourites in a fight with Stefan Struve.  Arlovski looked solid in his last outing getting a win over Junior Albini and he showed he still does have enough activity and ability in the pocket to get wins in this heavyweight division.
Struve put together a couple finishes over Bigfoot Silva and Daniel Omielanczuk, and everyone decided that he's back as a top fighter, but the fact is neither one of those opponents are even UFC level.  Struve then went out and got destroyed by Alexander Volkov this past September.
I expect this fight to stay standing and I think Arlovski will be the more active and more dangerous fighter on the feet.  This is heavyweight and Struve does have the ability to end this fight at any time, but I think Arlovski will be the faster fighter and will be able to land a big shot at some point to add another finish to his record.
This is a great plus-money spot on a guy I would take even if this was a pick'em.
Play: Arlovski 2.80
Mackenzie Dern vs Ashley Yoder
Mackenzie Dern is the biggest name in women's jiu-jitsu having won the World Jiu-Jitsu Championship for her with class in both 2015 and 2016.  She's still only 24 years old and after getting into MMA a couple years back she has gone 5-0 cutting her teeth in LFA and Invicta, and is now making the jump to the UFC.
When Dern announced her intention of making a career in MMA a couple years back the UFC signed her right away and has been grooming her to be on the promotions stars.  The UFC has invested in Dern and will look to get her some wins out of the gate to build her brand.  This fight with Yoder is one of the easiest fights the UFC could give Dern at this time.
Yoder is a fighter who is not a threat on the feet and who often makes silly mistakes to put herself in bad positions.  She's an armlock specialist with 4 of her 5 professional wins coming from armlock.  Dern will not lose this fight by armlock and that lowers Yoder's paths to victory right out of the gate.
I actually don't see any real paths to victory for Yoder in this fight.  Dern, although being very green on the feet, is still the better athlete and I think she will be able to make this fight take place wherever she chooses.  In the UFC fights I saw for Yoder, she put herself in bad positions against both Justine Kish and Angela Hill, and it was just the fact that both of those girls prefered to keep the fight standing that they didn't take advantage.
I expect Dern to come in here and get a first round submission in her UFC debut and the hype train will then leave the station.
Play: Dern 1.31
Bryan Caraway vs Cody Stamann
It seems like Caraway is an underdog every time he steps into the cage.  He's been a dog in each of his last 6 UFC fights and he's 4-2 in that span.  I think part of the reason for the dog status is the fact that he generally only fights around once in a year, and the fact that he doesn't look like the most athletic guy in the cage.  That said, he's as technical as they come and his last win over Aljamain Sterling from two years back where he controlled the ground game, shows he can hang with top level grapplers.
Stamman is a big prospect in the UFC having just won the big prospect vs prospect fight with Tom Duquesnoy in his last fight this past October.  That was a split decision win though and it's really his only win over top level competition in his career.
Caraway is a completely different fighter than Duquesnoy and I'm refusing to overlook him heading into this fight.  There are still a lot of question marks surrounding Stamman and I would not be at all surprised if we see Caraway go in there and control this fight.
Play: Caraway 2.30
***I'm also fully expecting Cris Cyborg to win her fight, but at odds of around 1.06 I don't see value.
For a further breakdown of the various bets you can make on each UFC fight, check out our UFC betting section.
Tagged With : Cyborg • UFC • UFC 222 • UFC betting • UFC picks