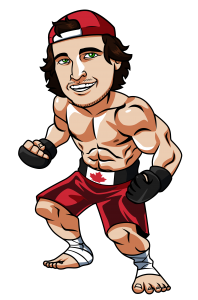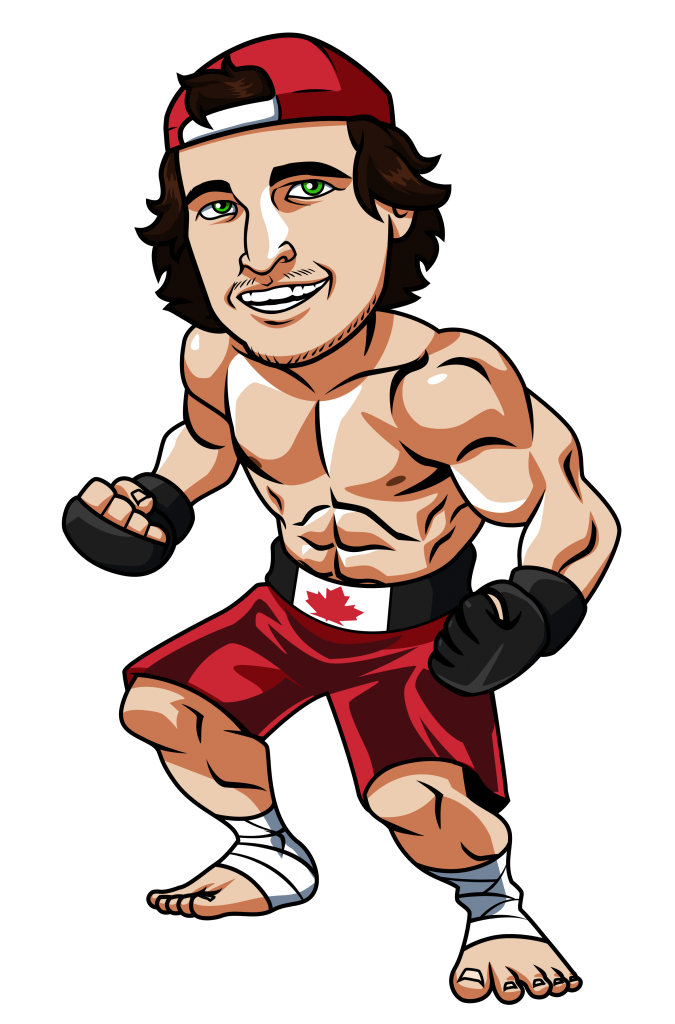 Last week at Fight Night Rotterdam we were reminded just how exciting heavyweight fights can be.  Overeem and Struve, the two Dutch heavyweights were each able to finish their opponents in front of the home crowd with some devastating knockouts.  I went 2-1 for my main card picks on that card, with Gunnar Nelson also putting forward a very impressive performance against rising start Albert Tumenov.
This week the UFC heads to Brazil for a massive UFC 198 PPV card that is probably the best card ever for Brazil fans.  All of the biggest names in Brazilian mixed martial arts are on the card, with the headliner being the heavyweight title fight featuring Brazilian champion Fabricio Werdum taking on contender Stipe Miocic.  The other big name Brazilians on the card include Jacare Souza fighting fellow Brazilian legend Vitor Belfort, the arguably greatest of all-time Anderson Silva fighting Uriah Hall and Cris Cyborg getting her first fight in the UFC at a catchweight of 140 pounds.  The other big name Brazilians on the card include Shogun Rua, Little Nog, Thiago Santos, Warlley Alves and my personal favourite on the card, Demian Maia who has been destroying top ranked opponents of late.
I'm going to be giving my picks for each of these main card fights below, as well as the preliminary main event between Maia and Matt Brown.  I'll be using the best odds I can find among our top rated sportsbooks for Canadians for these picks.
To learn more about the various MMA bets you can make, check out our UFC betting page.
Fabricio Werdum vs Stipe Miocic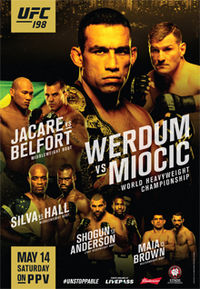 The main event of the night is the title fight between Werdum and Miocic.  It seems like a long time that Werdum has had the belt because it's been almost a year since he unified his Intermin belt by defeating Cain Velasquez in Mexico City.  The Heavyweight Fights, especially the ones for the title, just seem to fall through an awful lot over the past several years, so here's hoping Werdum stays healthy leading into this fight with Stipe.
This fight is tailor made for Werdum to keep his belt.  First of all, fighting in Brazil is a huge advantage for Brazilian fighters.  Werdum has never lost a fight in his home country and I don't expect him to start now.  Fight week can be very difficult for the opponents of Brazilian fighters and it will be interesting to see if Stipe is at his best in this fight.
Even with Stipe at his best he will likely have to KO Werdum in order to get this win.  This is possible, but highly unlikely, seeing as Werdum has only been finished once in his entire MMA career, and that was by Junior dos Santos when he was at the top of his striking game.  Werdum will have a huge advantage on the ground and if Werdum can get the fight to the mat he should have a very good chance to submit Stipe.  Werdum is the more complete mixed martial artist in this fight, and this combined with the advantage of fighting at home will make him extremely hard to beat in this title fight.
Play: Werdum 1.625
Jacare Souza vs Vitor Belfort
Souza is coming off a split decision loss to Yoel Romero in a fight that would have likely earned him a title shot against Luke Rockhold.  Instead he faces his fellow Brazilian MMA legend in order to get back into the title conversation.
Vitor just got back in the win column with another KO win over Dan Henderson, after losing his title fight opportunity to Chris Weidman.  With Vitor's fighting style, this fight will almost surely not go to a decision.  Vitor likes to come out with some big flurries in order to try to finish the fight.  This worked against Henderson in his two recent fights with him, with Vitor being able to finish those fights within a couple minutes each time, and he also caught Rockhold with a head kick finish four fights ago back in 2013.  The knock on Vitor is that without the TRT and doping that he is not able to sustain this pressure for long, so if his opponent is able to withstand the initial furry he becomes a sitting duck, which is exactly what happened after Weidman was able to fend him off in the first minute of their title fight.
I expect Jacare to be able to stay standing for this Vitor flurry and then he should be able to pick apart his fellow Brazilian on his way to the win.
Play: Jacare 1.36
Uriah Hall vs Anderson Silva
This is an interesting fight between a couple of explosive counter-punchers.  Neither of these guys seem to be at their best when they are pushing the action, so it will be interesting to see how this fight plays out.
Even at his old age, I still think that Silva has explosive striking ability and I hope that he learned from his fight against Bisping that if he's going to allow the fight to go to the judges he needs to be more active.
This fight being in Brazil, I do think that Silva has a big advantage and I'm expecting him to come out very strong, looking to finally get that vintage Silva finish that we haven't seen in almost 4 years.
Play: Silva 1.72
Cris Cyborg vs Leslie Smith
After Ronda was KO'd by Holm I began to believe the hype from Cyborg that she would destroy Ronda in the stand up.  It all started to make sense why it seemed like the UFC was protecting Ronda from the other top female fighter in the world.  Now that Ronda is knocked off her pedestal it will be interesting to see how the UFC uses Cyborg moving forward.  She has the makings of being a big star for Brazil and it seemed like a wasted to keep her in Invicta.  Even if she takes catch-weight fights in the UFC at least she will have more eyes on her.
I expect her to absolutely run through Leslie Smith in the first round of this fight.
Play: Cyborg 1.10
Mauricio Rua vs Corey Anderson
I'm not a huge Corey Anderson fan, but I do think he's the better fighter of these two.  Shogun just seems like he's over the hill.  Even fighting in Brazil didn't help him in 2 of his last 3 fights, with TKO losses to both Ovince Saint Preux and Dan Henderson in that span.  He has bounced back in a small way with a decision win over Little Nog in his last fight, but that's really just a win over another fighter that is past his prime.
This is one fight where I don't see the home crowd being enough to give the Brazilian the edge.
Play: Anderson 1.50
Demian Maia vs Matt Brown
I'm in the Demian Maia fan club and hope that he can get a title shot at some point here before the end of his career.  Just the way he handled Neil Magny and Gunnar Nelson has been incredible.  Both of these fighters came out and got huge wins after their Maia losses, which to me gives Maia even more respect for how he dismantled both of these top prospects.
Matt Brown is a higher ranked opponent for Maia, but I still feel like he will be able to get in tight against the brawler and put him on his back before doing work.  Maia might not get as many submission victories as other jiu-jitsu specialists, but this is because he makes sure he keeps the dominant position and does damage to his opponent while making them appear absolutely defeated.  I like another huge win for Maia this weekend in Brazil.
Play: Maia 1.33
I realize I'm taking 6 out of 6 favourites, but that's the way it goes sometimes.  If you're looking for an underdog, my favourite would be Belfort, who is actually the second biggest underdog out of the group here.
This card gets underway this Saturday at 6:15pm EST with 4 fights on UFC Fight Pass.  The show then moves to TSN 5 for 4 more fights including the Maia vs Brown fight, and that is followed up at 10PM with the PPV main event featuring the 5 big fights.
Tagged With : Anderson Silva • Fabricio Werdum • Heavyweight Title • UFC 198 betting • Vitor Belfort