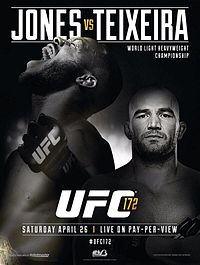 Jon "Bones" Jones is back in the octagon this coming Saturday to take on his latest challenger, Glover Teixeira, for the UFC Light Heavyweight Championship.  Jones hasn't had a fight since his barn burner with Alexander Gustafsson, which won basically every fight of the year award for 2013.  Glover is undefeated in his five fights so far in the UFC, but he's not expected to be as big a challenge for Jones as Gustafsson was at UFC 165.
The other big fight on the card is Phil Davis vs Anthony Johnson.  Davis is coming off a big win over Lyoto Machida, while Johnson is making his way back to the UFC after finally setting on Light Heavyweight as his weight class.  I would expect the winner of this fight to be put into a title eliminator fight against either Cormier or Evans, so both of these fighters (Davis for sure) are probably two wins away from a title shot.
The rest of the card isn't that exciting to me so I won't be going into detail on those fights.  The flyweight fight between Benavidez and Elliott could have some significant implications on the division, but other than that the card is weak in my opinion.
Jon Jones vs Glover Teixeira Odds and Pick
Jon Jones 1.20
Glover Teixeira 5.50
Jones is a huge favourite in this fight, but he has to be.  Jones has beat the who's who in the Light Heavyweight Division and has never lost in his career except for when he was DQ'd for illegal elbows way back in 2009.  Jones has defended his belt 6 times and the only time he really looked like he might lose it was last fight against Alexander Gustafsson.  Jones credits Gustafsson with forcing him to dig deeper and to not get complacent in the division.  I expect an even better Jones to come out in this fight and have his way with Teixeira.  Sure, Glover won 5 fights in the UFC so far, but for some reason he is getting this title shot without having to face the divisions best fighters.  Ryan Bader, who he last defeated is ranked #9 in the division, James Te Huna who was two fights ago is ranked #15.  He never had to face guys like Rashad Evans, Chael Sonnen, Shogun Rua or even Dan Henderson to get this title shot.  Glover will be out of his league in this one.
Phil Davis vs Anthony Johnson
Phil Davis 1.50
Anthony Johnson 2.75
Davis is on a three fight winning streak and his only loss inside the octagon was against Rashad Evans in January of 2012.  He has wins over guys like Gustafsson, Nogueira and most recently Lyoto Machida.  Davis just may be the real deal and if he can beat Anthony Johnson as well he will be in line for a title shot.  Johnson is a bit of a strange case because he has been away from the UFC for his last 6 fights.  He did win them all, but this is against less competitive fighters than there are in the UFC.  I think Johnson may be biting off a bit more than he can chew here in his return to the UFC.  In his entire career Johnson has not beat anyone of the caliber of Davis and I don't expect it to start now.
There's no major Canadian content on this card and I'm not all that excited about the big fights either.  I'm mostly looking forward to Jones getting this win to set up the rematch against Alexander Gustafsson that everybody is waiting for!
Tagged With : Glover Teixeira • Jon Jones • UFC 172 betting • UFC 172 odds • UFC 172 picks