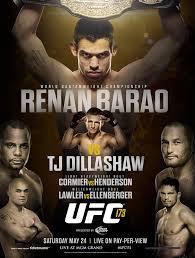 UFC 173 doesn't have the star power of Jon Jones headlining like UFC 172 did, but it's still going to be a big show with 3 very interesting fights on tap.  The headliner is the Bantamweight title fight where Renan Barao is set to cast aside his latest challenger TJ Dillashaw.  The fight I'm most excited about has got to be Daniel Cormier vs Dan Henderson because we get to see Daniel Cormier fight a real UFC fighter at light heavyweight after dismantling Pat Cummins, who replaced Rashad Evans, in his 205lb debut.  The other fight I'm eager to watch is Robbie Lawler getting back into the octagon following his loss in the Welterweight Championship against Johny Hendricks.  He's up against Jake Ellenberger who I think might be out of his league.
The card is definitely weak, but I still might check it out at a bar if nothing better comes up.  Anyways, let's get to it and look at these 3 main fights with their odds and my picks:
Renan Barao vs TJ Dillashaw Odds and Pick
Barao is a beast and I think he will win this fight, but I don't like the odds here.  As dominant as Barao has been winning his last 32 MMA fights (1 no contest), I never like to take a guy only getting 1.12 odds.  He has an extremely good shot at beating Dillashaw, but one misstep and it could be over.  Dillashaw does have the ability to knock guys out and although he isn't even in the same class as Barao, I'm steering clear of betting on this fight.
Daniel Cormier vs Dan Henderson Odds and Pick
Bet365 is also offering an over/under of 2.5 rounds on the fight and I like the over 2.5 rounds at odds of 1.80.  Daniel Cormier will be far too much for Dan Henderson to take and Cormier will dominate the entire fight, but I don't think the will be able to finish.  Henderson has a heck of a chin on him and if you saw the damage he took in the Rua fight you have to wonder how he made it to the 3rd round let alone knock out Shogun.  He did get knocked out by Vitor, but Vitor has much better finishing than Cormier.  I expect a dominant 15 minutes by Daniel Cormier, but no finish in this fight.
Robbie Lawler vs Jake Ellenberger Odds and Pick
Robbie Lawler is going to knock Ellenberger out.  Jake Ellenberger hasn't really beaten anyone of consequence in his entire UFC career.  He did beat Jake Shields, but that's probably his most impressive win and Shields was just cut from the UFC.  He's coming off a loss to Rory MacDonald and lost to Martin Kampmann not long ago.  I don't think his wins over Jay Hieron or Nate Marquardt really stand for much.  For this reason I like Lawler to push the pace in this fight and probably knock Ellenberger out.
This really isn't an exciting card, but these three fights are somewhat interesting.  If you find odds for the method of victory I like Cormier by decision and Lawler by knockout.  Barao will likely find a way to get a knockout as well.  The next few UFC PPV's will step up their games so I'm looking forward to those.
Tagged With : Dan Henderson • Daniel Cormier • Renan Barao • Robbie Lawler • UFC 173 betting