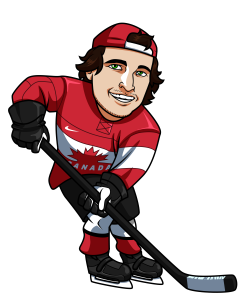 I've been doing very well with my NHL Draft Kings lineups lately.  I won the $12 NHL event to take down $400 on Friday night and then followed that up with a $600 second place finish in the $27 event on Monday after taking Saturday & Sunday off.  Now that there are only two games in which to choose players from I find it much easier to find the value plays and then build your teams around these players.
Tonight the two games in action are the Montreal Canadiens vs the Tampa Bay Lightning and the Chicago Blackhawks vs the Minnesota Wild. Here are my thoughts….
Goaltender
First of all you need to pick a goalie.  I personally think that the Lightning vs Canadiens game has a much better chance of having a big number of goals than the Blackhawks vs Wild game.  The fatigue of playing a second game of back to backs can often show on defense and I think if there's an early goal by the Lightning in this game we could have a blowout similar to game 2 of the series on our hands.
Devan Dubnyk ($8500) – I like this play.  The Wild have played better than a 3-0 deficit and Dubnyk definitely has the potential for a shutout at home in this game.  They're also small favourites to get the win, which is huge for goaltending.
Corey Crawford ($9000) – Crawford is another strong play in my opinion.  He's been playing lights out and the team defense has been on point.  I think he will get more shots against, and could easily pick up a SO or a win again.
I like either play.  I give a slight edge to Crawford, but if you want to use those $500 elsewhere Dubnyk is an extremely close second in my opinion.  I have 2 lineups tonight with one of each.
Center
Tyler Johnson ($7700) – This guy is going to be on a ton of teams again tonight and for good reason.  He puts the puck in the net and he's still great value below Stamkos or Toews.  Definitely include him.  He's on both my teams.
Steven Stamkos ($8900) – Stamkos has found his game and if things go like I think (Lightning blowout), having both of these top centers will win the money.
Galchenyuk ($3700) or Granlund ($4200) – These are my other plays.  I have Galchenyuk on the lineup with Crawford and Granlund on the lineup with Dubnyk.
Wings
Alex Killorn ($4500) – My logic here is to pair Killorn with Stamkos because they play on the same line.  You saw last night how they can hook up on the same goal.  He's also cheaper than Callahan.
Ondrej Palat ($4800) – Palat is an absolute steal here.  Kucherov costs $7100 and they basically have had the exact same production throughout the year.  In fact, Palat plays more.  But because Kucherov had the big game 2 his price sky rocketed.  I'm pairing Palat with Johnson here and hoping that Palat is in on the Johnson plays tonight instead of Kucherov.
My third winger is just a cheap throw in.  For these type of guys I look for minutes played because that's the best indicator for shots and blocked shots that can get them a few points. DraftKings is great because they show the minutes played for each player in their last ten games.  They also show the price for each player for each game over that span, and I often like to get a guy who used to be priced higher in this type of spot.
Defensemen
Anton Stralman ($3500) – This is a steal for a guy that is often on the top Tampa Bay powerplay.  Simple as that.  He pairs well with all of the Tampa forwards I took so far and will likely get some touches in scoring chances if the Bolts do score in bunches like I expect.
Suter ($5100), Seabrook ($4900) – Depending on which goaltender is on the lineup, I took one of these minute munching d-men, both of whom get powerplay time.
So there you have it.  As you can see my team is built around my prediction that the Lightning will be the highest scoring team tonight.  I paired players from both the top 2 lines and added a top PP defenseman from the Lightning as my base.  I then built around that with a value utility player with big upside, a top defenseman who plays a lot of minutes in big situations from the other game.
If all goes well, I hope to continue my strong week at DFS hockey!
Click here to visit DraftKings.com and enter your own teams….
Tagged With : DraftKings • fantasy hockey • NHL