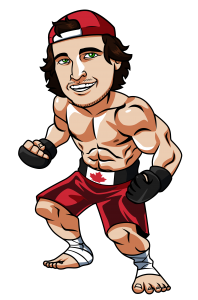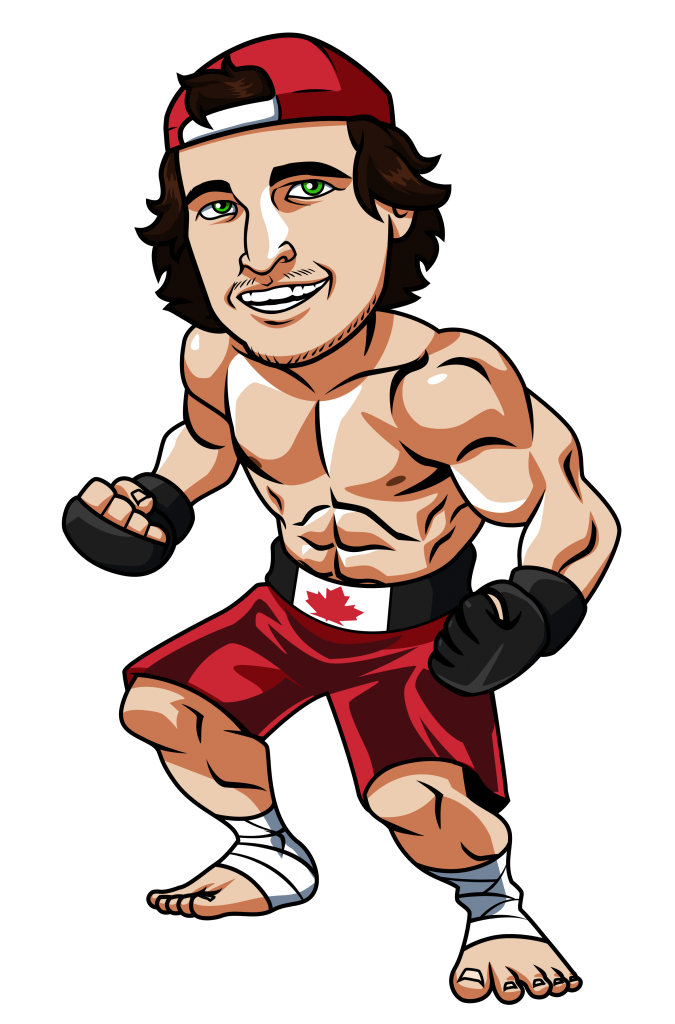 Daily fantasy MMA is another DFS sport that has me hooked.  I've caught (or at least followed closely) every UFC event over the past year, and the DraftKings.com UFC contests are the reason why.
DraftKings has some huge fantasy MMA contests for every event, with upwards of $100,000 in guaranteed cash for just a $3 entry.  The scoring is complex, but the main strategy I can give you is to pick fighters who can finish.  The bonus points for finishes are huge!  I will get into the scoring and strategy more below.
This is as good a place as any for me to add a little brag to page.  Earlier this year I won a VIP trip to UFC 189: McGregor vs Mendes through DraftKings.  When Henderson knocked out Tim Boetsch the package was won.  It was an absolutely amazing time, front and centre, at one of the best main events in the history of the UFC!  So there you go.  From personal experience, it is possible to win big with fantasy MMA at DraftKings.
Top Daily Fantasy MMA Site
DraftKings is the only top Daily Fantasy Site that currently offers daily fantasy contests for the UFC.  They're my favourite daily fantasy site and in my opinion they've overtaken FanDuel as the industry leader in Daily Fantasy in North America.
DraftKings runs very big contests for the big UFC PPV's.  At UFC 229 DraftKings had a $300,000 guaranteed contest that was only $10 to enter, with first place paying out $100,000.
The Fight Night contests aren't quite that big, but you will still see $50,000 contests with just a $3 entry for the smaller events.
Picking Fighters
At DraftKings.com your fantasy UFC team consists of 6 fighters.  Each fighter is given a salary and you must keep the total amount you spend under $50,000.  In a typical contest the total amount of salary in a fight will equal $19,400 (or an average of $9700 per fighter).  This means you're usually able to get 4 favourites and 2 underdogs on a typical lineup.
I'm writing this a few days before Fight Night 73, so I'll give you a screenshot of what the fighter salaries look like below.  Or click here to view the salaries for an upcoming event.
Scoring
The scoring for daily fantasy MMA at DraftKings is hard to follow during the fight.  You do get points for strikes, takedowns, knockdowns, advances and reversals, but you really have to wait until after the fight to know what your fighter scored because all of those things are open to interpretation by the judges.  Basically what you're looking for in MMA daily fantasy is for your fighter to win the fight, and the quicker the win, the better.
Points During Fight
Significant Strikes: +0.5 points
Advances: +3 points
Takedowns: +5 points
Reversals: +5 points
Knockdown: +10 points
Fight Conclusion Bonuses
1st Round Win: +90 points
2nd Round Win: +70 points
3rd Round Win: +45 points
4th Round Win: +40 points
5th Round Win: +40 points
Decision Win: +30 points
As you can see the main points come in the form of the fight conclusion bonuses.  You want your fighter to get a finish as quickly as possible, and if they can build up some significant strikes en route to a finish, then that is ideal.
Daily Fantasy MMA Tips
I've done fairly well with my daily fantasy UFC lineups in the past and even won a VIP trip to Vegas for UFC 189 this past summer (second shameless brag).  Here are a few tips that I use when picking my lineups.
Look For Finishers:  This is the most important tip I can give you.  If you're going to win one of the larger MMA fantasy contests at DraftKings you're going to need quick finishes from your lineup.  I like to look at the "to win inside distance" odds at Bet365.com when deciding which fighters to take (learn more about various MMA bets).  This gives me an idea of each fighters perceived chances of finishing the fight.
Just look at this example from UFC 190.  Rousey only had 19 significant strikes in her quick 34 second victory over Bethe Correia, but she still had the highest score of all 5 of these winning fighters.  Struve had a good number of significant strikes (93), but without the finish he only had 71.5 points.
Heavyweights: Heavyweight fights will always have a better chance of finishing via a knockout than other divisions, simply because the big lads punch harder (Struve vs Nogueira not ending in a knockout was very surprising).  One solid connection generally will finish a heavyweight fight.  For this reason I will almost always have one of the fighters from the heavyweight fights on the card in my lineup.
Strikers over Wrestlers: Just look at the example from UFC 190 again and compare Cannetti (51 points) with Struve (71.5) points.  Cannetti had 4 takedowns and 2 advances, which is something you will often see from a wrestler.  Those moves combined with 32 significant strikes resulted in Cannetti getting 51 points with his decision win.  Struve on the other hand had 93 significant strikes while staying on his feet, which resulted in 71.5 points.  It's much easier for strikers to score points at DraftKings, and this doesn't even include the fact they have a much better chance at finishing fights.
Daily Fantasy UFC Strategy Video
Here's a video with a few strategy tips to help you win money at daily fantasy MMA.