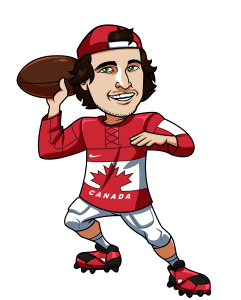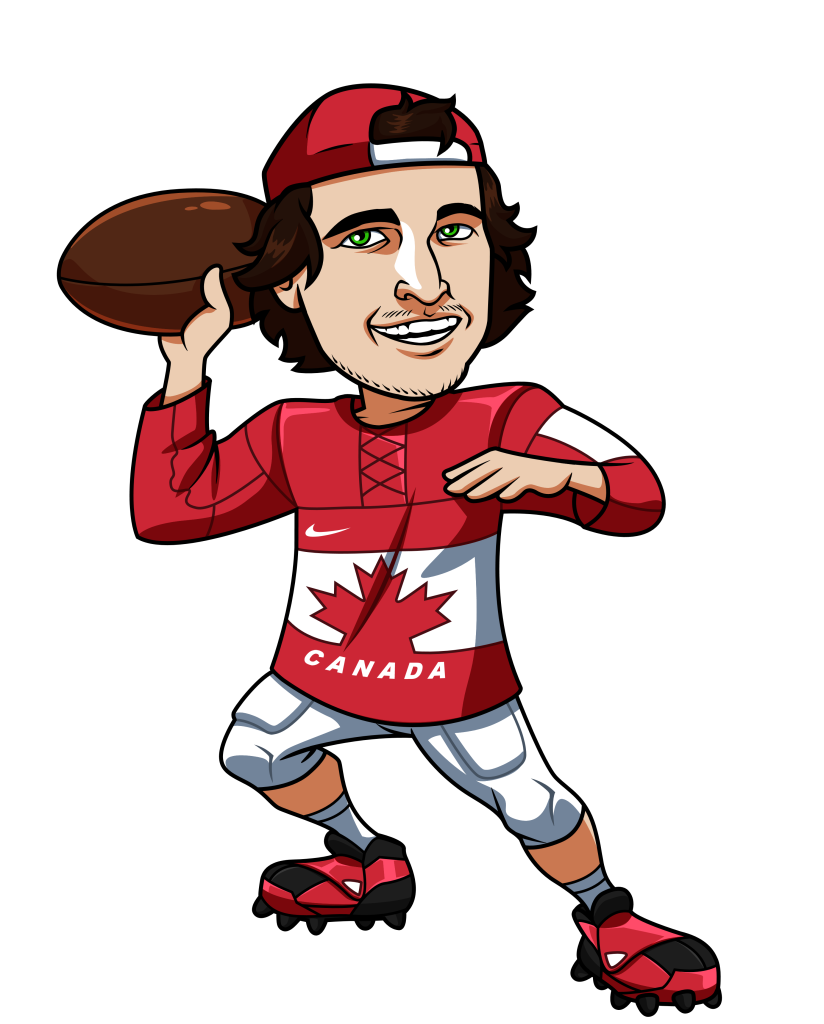 Fantasy football is by far the most popular sport for fantasy sports in North America.  I'm not sure whether football or hockey would have more fantasy players up here in Canada, but they are without a doubt the two most popular sports for daily fantasy north of the border.  Fantasy football gets a ton of media coverage even here in Canada and it is by far the most popular sport at the daily fantasy websites.
Football is the perfect sport for fantasy football leagues because each team generally plays a game every week, with the vast majority of the games being played on Sunday.  This allows the daily fantasy sites to set up week long leagues that include the Thursday and Monday games as well, or simply offer leagues that include the Sunday games.
Even though I'm a much bigger hockey fan, football is my favourite fantasy sport because the various positions, stats and match ups allow for a much more in depth strategy.
Best Daily Fantasy Football Site
Sportsbook
Features
Offers
Rating
Bet Now
**SIA is our top rated football betting site for Canadians.  We do not currently promote any DFS sites.
Picking Players
A DFS football team consists of 1 quarterback, 2 running backs, 3 wide receivers, 1 tight end, 1 flex (RB/WR/TE) and 1 defense.  You pick your team against the salary cap, which is typically set at $50k.
Here are some examples the prices of wide receivers to give you an idea of the cost of players.  These prices were from a few years back.
Antonio Brown $8500
Keenan Allen $7500
Jarvis Landry $6600
Each week the salaries are updated the players salaries depending on their projected performances for the upcoming week.
Scoring
The object of fantasy football is to finish the week with more points than your competition.  For this reason it's vital that you understand the scoring structure in order to best pick players who will produce for your team.
Offensive Players
Rushing yards = 0.1 points
Rushing touchdowns = 6 points
100+ yard rushing game = 3 points
Passing yards = 0.04 points
Passing touchdowns = 4 points
300+ yard passing game = 3 points
Interceptions = -1 point
Receiving yards = 0.1 points
Receiving touchdowns = 6 points
Receptions = 1 point
100+ yard receiving game = 3 points
Kickoff return touchdowns = 6 points
Punt return touchdowns = 6 points
Fumbles lost = -1 points
Fumbles recovered touchdowns = 6 points
Two-point conversions = 2 points (rushing, receiving or passing)
Defense
Sacks = 1 point
Fumble recoveries = 2 points
Touchdowns = 6 points
Safeties = 2 points
Blocked kicks = 2 points
Interceptions = 2 points
0 points allowed = 10 points
1-6 points allowed = 7 points
7-13 points allowed = 4 points
14-20 points allowed = 1 point
28-34 points allowed = -1 point
35+ points allowed = -4 points
If you participate in other sports check out their scoring structures at the pages below:
Daily Fantasy Football Tips
Here are a few tips that should help you as you are starting out playing daily fantasy football.  As you get more experience you can develop your own strategies.
Injuries & Suspensions – Injuries are very common in the NFL and they can drastically affect the fantasy value of players.  Depending on the injury report throughout the week you may be able to get a player who will be stepping into a bigger role because of an injury for a cheap price.  For example, if a starting running back is ruled out late in the week the back up running back will now likely be good value because he will get the bulk of the work and his cap hit likely won't have changed.  Click here for an up to date injury report.
Match Ups – In fantasy football match ups play a huge role.  If you can get offensive players who are up against a weak defense in the upcoming week that is very advantageous.  Look at whether certain defenses are good against the pass or the run and you can start to figure out the potential game plan for the offense, which will point you in the direction of which players could have the big weeks.
Quarterback, Receiver Stacks – When I select a quarterback I generally like to have at least one of his receivers.  If the quarterback is going to go off for a big game then it's very likely that at least one of his receivers also has a big game.  The only time I may choose to pick a QB without also taking one of his receivers is if he can do damage with his legs and I don't think the upside of the receivers justifies the stack.
Avoid Negative Correlations – In big contests you should always avoid negative correlation plays.  Here are some examples:

Team A's Defense with Team B's players – It would be very unlikely that both of these selections could have a big game.
Too many players from the same team – In big contests you're looking for players to go off for big games.  Considering that only one player (receiver or rusher) can score each teams touchdown it usually doesn't make sense to have too many players from the same team in your lineup.  I usually cap at 2 receivers from the same team and in these rare cases I'd always have a QB stack with these two receivers.
Team A Defense with Team A Players – I generally like to take a defense from a game where I have no players.  You want the defense to score points and when this happens it keeps that offense off the field.
Game Script – You should always be considering the game script in your head.  For example, if you think Team A gets off to a big lead early this could be a perfect situation for Team A's running back and Team B's receivers.  I'll often take the running back from one team and a receiver from their opponents and then hope that the game script plays out to allow both of these players to get the most opportunities possible.  There's a lot of other ways that you can use possible game scripts to give your team the highest possible ceiling.