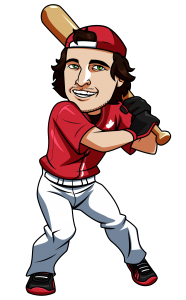 In the MLB the entire league plays almost every night, which gives a lot of options throughout the season for daily fantasy baseball players.  Baseball is also a great fantasy sport because there is a lot of strategy involved with pitcher vs hitter dynamics throughout the league.  The statisticians out there can really sink their teeth into daily fantasy baseball and if you know the game you can definitely make a profit.
Top Daily Fantasy Baseball Site
DraftKings and FanDuel are the top two daily fantasy sports sites online, and this same fact holds true for daily fantasy baseball.  FanDuel were the trailblazers in the industry, but DraftKings emerged in 2012 and have grown big enough to rival FanDuel in that short time.  These two sites are both very reputable, with huge player bases that allow for gigantic prize pool contests where you can turn into a Millionaire over night.
The difference between these sites for daily fantasy baseball players lies in the scoring system.  I find the DraftKings scoring system more complex, while the FanDuel scoring is very straight forward.  For this reason I suggest casual players use FanDuel and more serious players go with DraftKings, but it's really personal preference.  You can see a breakdown comparison of each sites fantasy baseball scoring rules here.
Both sites Daily Fantasy Baseball Championships had a prize pool of $4,000,000 this year with the winner taking down a Million in Vegas.  Needless to say there is money to be won at both sites.
Picking Players
From here on out I'm going to be using FanDuel for the examples on this page.  Again, to see a more in depth comparison between the two sites check out our FanDuel vs DraftKings baseball page.
After you've opened an account at FanDuel.com and made a deposit you are ready to join a league and select your players.
A fantasy baseball team consists of a pitcher, catcher, first baseman, second baseman, third baseman, short stop and three outfielders.  You typically pick your team against a salary cap at FanDuel, which is generally set at $35,000.  Here are some examples of the prices of various players to give you an idea.  These prices were from near the end of the 2014 MLB season.
Jake Arrieta $12,700
Edwin Encarnation $4,800
Rougned Odor $2,900
As you can tell from those examples a good chunk of your salary cap generally goes to your starting pitcher.  This is because the pitcher is a huge part of your team and will generally earn you a good portion of your points.  Check the scoring below to see just how many points pitching can get you.
I should also mention that the player salaries are updated game to game based on players performance.
Scoring
You win your fantasy baseball league by scoring more points than your opponents.  So it should be obvious that understanding the scoring rules is very important when picking your team.  The scoring used will be different at other daily fantasy sites online so be sure to check the scoring structure before picking your teams.  Below I've outlined the scoring structure used at FanDuel.
Hitters
Single = 1 point
Double = 2 points
Triple = 3 points
Home Run = 4 points
RBI = 1 point
Run = 1 point
Base on Balls = 1 point
Hit by Pitch = 1 point
Stolen Base = 2 points
Out (bats – hits) = -0.25 points
Pitchers
Win = 4 points
Earned Run = -1 point
Shutout = 1 point
Innings Pitched = 1 point (fractional scoring by out)
Check out our other sport specific pages for their individual FanDuel scoring:
Daily Fantasy Baseball Tips
Look at Match Ups – This is extremely important in fantasy baseball.  Certain hitters may be stronger against specific types of pitchers and vice versa.  Make sure you research past performances between the teams and the starting pitcher to get an idea of if certain hitters match up well against the pitcher they will be facing.  This is where the research and statistics come into fantasy baseball and it's really what separates the winners and losers.
Know The Park – Certain baseball parks allow far more home runs than others and this has to be taken into account when selecting your team.  An example would be Coors Field where the ball seems to carry forever due to the high altitude.
Select a Starting Pitcher – This is obvious, but it's worth mentioning because if you do accidentally select a pitcher that doesn't end up starting you will not be winning your fantasy league for the evening.  The MLB website offers information on the probable pitchers for each night.
Set Your Team as Late as Possible – This continues with the tip above.  The longer you wait to set your lineup the more information you will have when it comes to picking your pitcher, and also your hitters for that matter.  Knowledge is power in fantasy baseball, so do yourself a favour and collect as much knowledge as possible before setting your lineup.
Select Players on Hot Streaks – Hitting in baseball is all about confidence.  For this reason you will often see players go on hot streaks or cold streaks throughout the season.  Try to pick players who are on hot streaks and whose salary hasn't been changed yet to account for it.
Stack Your Hitters (Full Page On Stacking) – Hitters on the same team (especially close to each other in the lineup) will generally have positively correlated points.  Using the Blue Jays as an example a good stack may be Revere, Donaldson and Bautista (the first 3 batters in the order when I'm writing this page).  If Revere and Donaldson get on base and then get batted home with a Bautista home run, each of these three players are in for big points.  Revere and Donaldson would each get their hit and run points, while Bautista would get his home run, 3 RBI and run points.  This tip is especially important if you want to win big gauaranteed prize pool contests.
Don't Pick Hitters Against Your Pitcher – This is another very obvious strategy tip, but I thought I should mention it.  Taking hitters against your pitcher really brings your ceiling down because the players would be negatively correlated.  If one has a big game then the other cannot.