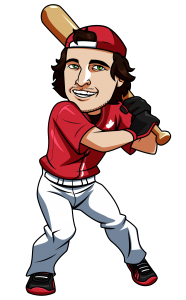 Fantasy baseball has gone through many changes over the past twenty years. Fantasy baseball was the original season-long fantasy sport, and daily fantasy MLB became very popular over the past decade. Fantasy baseball now has another great product with the launch of Sorare: MLB in 2022.
In the MLB the entire league plays almost every night, which gives a lot of options and entertainment throughout the season for fantasy baseball players.  Sorare: MLB is a great fantasy game because there is a lot of strategy involved with picking players each game week, buy/selling players on the market, and prioritizing roster spots for number of games, match-ups, form, and more.  The statisticians out there can really sink their teeth into daily fantasy baseball and if you know the game you can definitely make a profit.
Top Daily Fantasy Baseball Site
Sorare.com is our top rated fantasy baseball option for DFS players.

How Sorare: MLB Works (Overview)
With Sorare: MLB you buy or win player cards that can then be used in bi-weekly MLB Fantasy contests.
When you buy or win a card you own that card and can use it in MLB Fantasy contests for the lifetime of the players career. You can also choose to sell the card on the secondary market.
Sorare: MLB has five scarcities of player cards:
Common (Unlimited)
Limited (#/5000)
Rare (#/1000)
Super Rare (#/100)
Unique (#/1)
When you create an account at Sorare.com you will receive a variety of Common cards that you can immediately use to play in the free-to-play version of the fantasy game. Sorare typically offers two or three contest for each scarcity.
Picking Players
A Sorare: MLB team consists of 7 players, which need to fill various positions:
1 Starting Pitcher
1 Relief Pitcher
1 Corner Infielder (First Base, Third Base or Designated Hitter)
1 Middle Infielder (Second Base, Short Stop or Catcher)
1 Outfielder
1 Extra Hitter (any position)
1 Flex (any pitcher or hitter)
There is not currently a salary cap in Sorare: MLB, so you can pick any player cards you have to fill out your roster for any given game week.
Scoring
You win your fantasy baseball contest by scoring more points than your opponents.  So it should be obvious that understanding the scoring rules is very important when picking your team.  The scoring used at Sorare is similar to the scoring structure used at traditional DFS websites.
Hitters
Single = 2 points
Double = 5 points
Triple = 8 points
Home Run = 10 points
RBI = 3 points
Run = 3 points
Base on Balls = 2 points
Hit by Pitch = 2 points
Stolen Base = 5 points
Strikeout = -1 point
Pitchers
Inning Pitched: 3 points
Strikeout: 2 points
Earned Run = -2 points
Hit Against: -0.5 points
Base on Balls Against: -1 points
Hit Batsman: -1 points
Win: 5 points
Save: 10 points
Hold: 5 points
The Sorare: MLB contests are bi-weekly, so players will generally have multiple games in a "game week". With Sorare: MLB your players score is the cumulative total of their MLB fantasy scores during the game week.
Prizes
Every contest will have a prize pool that contains Sorare: MLB cards as rewards. Players are divided into 5 tiers and the higher finishes receive the more valuable player cards. At this time (in 2023) you generally win a card if you finish in the top 25% of entries.
When you win a reward you can either keep it in your collection to use in upcoming Sorare: MLB Fantasy contests or sell it on the secondary market.
Check out our other sport specific pages:
Daily Fantasy Baseball Tips
Look at Match Ups – This is extremely important in fantasy baseball. Certain hitters may be stronger against specific types of pitchers and vice versa. Make sure you research past performances between the teams and the starting pitcher to get an idea of if certain hitters match up well against the pitcher they will be facing. This is where the research and statistics come into fantasy baseball and it's really what separates the winners and losers.
Know The Park – Certain baseball parks allow far more home runs than others and this has to be taken into account when selecting your team.  An example would be Coors Field where the ball seems to carry forever due to the high altitude. A team stack that is playing a few games at Coors Field during the game week could be a significant advantage.
Select a Starting Pitcher – This is obvious, but it's worth mentioning because if you do accidentally select a pitcher that doesn't end up starting you will not be winning your Sorare: MLB contest that game week. Sorare is pretty good at listing probable pitchers, but I suggest checking a few sources to make sure your pitcher is likely to start one of the games in the game week.  The MLB website offers information on the probable pitchers for each night.
Stack Your Hitters – Hitters on the same team (especially close to each other in the lineup) will generally have positively correlated points.  Using the Blue Jays as an example a good stack may be Bo Bichette, Vladimir Guerrero Jr, and George Springer.  If Springer and Bichette get on base and then get batted home with a Vladdy Jr. home run, each of these three players are in for big points. Add in the fact that each Sorare game week is multiple games and stacking can make even more sense if the team gets hot for a few games in a row.
Pick Players With More Games – Sorare: MLB uses the cumulative total of your players fantasy scores for the game week. Some teams may play four games in a game week and others may play two. This means certain players may have twice as much opportunity for points as others. You should always try to roster players with as many games as possible. More at bats means more opportunities for points.