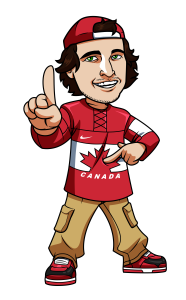 I have become absolutely hooked on daily fantasy golf, putting in between 10 and 20 lineups every week.  It's a ton of fun following your players throughout the weekend and sweating a top lineup into a big cash come Sunday.
There is a lot of strategy that goes into picking your golfers each week.  Current form, how the golf course suits their game, the weather leading up to and during the tournament, and which time each player is set to start are just a few of the endless factors that can go into picking the best possible fantasy golf team each week.
On this page, I'll go over the basics such as how you go about picking your lineups, as well as how the scoring works.  Then at the bottom I'll give a few tips that I use when picking my daily fantasy teams that have helped me be fairly successful to this point in my daily fantasy golf career.
Top Daily Fantasy Golf Site
Sportsbook
Features
Offers
Rating
Bet Now
**SIA is our top rated golf betting site for Canadians.  We do not currently promote any DFS sites.
Picking Players
Your fantasy golf team consists of 6 players.  Each player has a designated salary and you must stay under the $50,000 salary cap when picking your team.  Here are a few examples of players prices from a 2015 tournament:
Jordan Spieth $12,500
Rickie Fowler $10,500
Bubba Watson $9,500
Brooks Koepka $8,400
Danny Lee $7,700
That gives you an idea of some of the salaries players can have.
Scoring
The scoring for golf is a little big complicated, with a few different bonuses that you have to think about, but overall if your golfer are at the top of the leaderboard then you can be confident they are also performing well in terms of fantasy points.
Per Hole Scoring
Double Eagle: +13 points
Eagle: +8 points
Birdie: +3 points
Par: +0.5 points
Bogey: -0.5 points
Double bogey or worse: -1 points
Streaks and Bonuses
Streak of 3 birdies or better: +3 points
Bogey free round: +3 points
All 4 rounds under 70: +5 points
Hole in One: +5 points
Finishing Position
1st: 30 points
2nd: 20 points
3rd: 18 points
4th: 16 points
5th: 14 points
6th: 12 points
7th: 10 points
8th: 9 points
9th: 8 points
10th: 7 points
11th-15th: 6 points
16th-20th: 5 points
21st-25th: 4 points
26th-30th: 3 points
31st-40th: 2 points
41st-50th: 1 point
There you have it.
Daily Fantasy Golf Tips
I've had some success with daily fantasy golf, but I'm by no means an expert.  Everyone has their own strategy and as you play more you will figure out what works for you when picking your lineup.  That said, here are a few things that I look at:
Compare Prices to Odds – One of the main things I do when picking my lineup is look for under-priced players by comparing their "outright winner" odds to their price.  If a player has the 20th best odds to win the tournament at Bet365, but a DFS site may have them as the 30th highest priced player, you can expect that player will be on some of my lineups.  Our golf betting page outlines some of the various odds you can look at and compare to the DFS prices.
Figure Out What Stats Benefit The Course – I try to read as many reviews of the weeks course as I can and then try to analyze which type of players will fare the best based on the course set up.  For example, if the course plays very long I might look to Dustin Johnson.  If it's difficult tee to green I might lean towards Hideki Matsuyama.
Past Performance at the Course – This plays into the previous tip in that you need to find players who can play well on the course.  Past performances is an ideal way to know how each players game matches up with the course.  Don't look at the players results in past tournaments if the tourney jumps between courses.  Try to stick with looking at their results on the specific course that the tournament will be played on this week.
Current Form – You always want to take players who are playing at the top of their game.  I like to look for players who have been performing well, but not winning in recent weeks because I find that players prices will jump significantly after a win, while they may remain low even after a few top 10 finishes in a row.
Research Like Crazy – The more information you have to pick your golfers the better.  My buddy is always trying new strategies with his teams.  Most recently he's looking at how players perform in the first two rounds when they play early on day 1 and late on day 2 vs late on day 1 and early on day 2, and it's actually brought some pretty interesting results.  Just keep researching and trying to improve your knowledge of the game and the players and you will do well.
Check out our Daily Fantasy Sports page to see pages like this one for other popular daily fantasy sports.