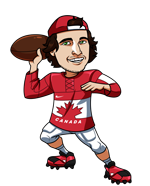 With the bye weeks complete it's a very exciting time to be an NFL fan heading into these final weeks of the season with all 32 teams in action each week.  Last week I was in Detroit for the Lions Thanksgiving game against the Vikings, and although the Lions let me down in terms of my betting pick, it was a great experience overall.  The Redskins were able to cover the 7 point spread while hosting the Giants later in the day, so I ended up going 1-1 for my week 12 picks.  That brings my season record to 10-15-1, but I'm within striking distance of getting back to .500 before seasons end.
I'll be using SportsInteraction.com for all of the spreads and predictions below.  You can see our full Sports Interaction review here.  I have 3 plays for this weekend.
Sportsbook
Features
Offers
Rating
Bet Now
Detroit Lions @ Baltimore Ravens
Detroit +3
Baltimore -3
I'm going back to the Lions this week.  The offense is still healthy and I think they will be able to find a way to move the ball through the air against this very solid Ravens pass defense.  Matt Stafford often plays his best against strong defenses and Eric Ebron has picked up his game over the past couple outings, which will be important because the TE position is the one weak spot in the Ravens passing defense.
On the other side of the ball, the Lions defense has not looked good of late, but they are #3 in the league DVOA against pass catching running backs, which is a key part of this Ravens offense.  Flacco has looked poor all year and I still don't think he puts up more than 200 yards against the Lions.
If Stafford can move the ball for around 250 yards, while not turning it over and Abdullah and Riddick can gain some first downs on the ground, then this is a very winnable game for the Lions.
Play: Lions +3
Kansas City Chiefs @ New York Jets
Kansas City -3.5
New York +3.5
After looking so good in the first third of the season, the Chiefs have really regressed of late losing 3 straight games and 4 of their last 6.  The two losses coming out of the week 10 bye have been especially poor, with losses to the Giants and struggling Bills really bringing this team down.  The offense has sputtered with Kareem Hunt barely being able to gain any yards last week against a Bills team that had given up 638 yards on the ground over their previous 3 games.  Alex Smith has also regressed back to his norm, having not thrown over 300 yards in 4 games, while it was becoming basically an every other week thing through the first 7 weeks of the season.
The Jets defense has been a bright spot this year, so I don't expect the Chiefs to get their offense clicking on the road this week either.  It will likely be a low scoring game, but it could just take a big play from Josh McCown to Robbie Anderson, who has been on fire of late, to get the Jets this win.
This is primarily a Chiefs fade, but the Jets have been better than expected this year and have a decent 3-3 record at home.  Take the points.
Play: Jets +3.5
New England Patriots @ Buffalo Bills
New England -9
Buffalo +9
This is somewhat of a piggybacking play on the Chiefs fade.  The Bills beat the Chiefs 16-10 in Kansas City last week, but that doesn't convince me that this team has shored up their defensive issues in just a week.  This is still the same Bills team that gave up 482 yards to the Saints in week 10 and 429 yards to the Chargers in week 11 (and 331, 367, 447, 388 and 389 the previous weeks).  The Patriots will have no trouble moving the ball against this Bills defense.
New England also runs a 3 man committee at running back and at least one of those guys will have a good game and be able to eat up this Bills run defense, which Hunt wasn't able to do last week.  Through the air Cooks should have a field day as well, while Hogan may be back as a threat as well.  Then of course you have Gronkowski.  I don't see any way the Pats don't get at least 25 points in this game, and it's more likely to be 30+.
The Bills smartly went back to Tyrod Taylor last week, but this is still an offense that isn't going to do a ton of damage.  Add in the fact that the Pats defense seems to be improving each week, capped off by only allowing 221 total yards to the Dolphins last week, and I feel pretty safe giving up the points and taking the Pats in this one.
Play: Patriots -9
Tagged With : NFL betting • NFL Picks