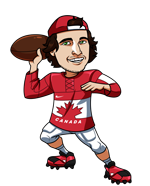 When I started to write this article it wasn't meant to be a "Thanksgiving Edition" article.  I was simply doing my normal research and trying to find 2 or 3 plays that I liked above the others.  In the end though, I've settled on two games that happened to be part of the Thanksgiving Day 3-pack of games, so I'm sticking with them.  These will be my only two plays of the week and they both just so happen to be taking place tomorrow.
Last week I was able to go 1-0-1 on my spread betting picks with the Lions -3 play pushing and the Chargers -4 play absolutely crushing against the Bills.  That brings my season record to 9-14-1 against the spread.  I'm slowly clawing my way back to break even and I hope these two Thanksgiving plays can help move me towards that goal, which I set for myself after starting off the season so poorly.
I'll be using SportsInteraction.com for all of the spreads and predictions below.  You can see our full Sports Interaction review here.
Sportsbook
Features
Offers
Rating
Bet Now
I'm actually going to the Lions vs Vikings game tomorrow with a few friends.  It will be my first time at Ford Field and we will definitely be making the most of it!  This will likely be my last article of the week here at SBC for this reason.
Minnesota Vikings @ Detroit Lions
Minnesota -3
Detroit +3
I'll admit that I'm a Lions fan, but that's not the reason I really like them in this spot.  Matt Stafford has consistently performed extremely well in Thanksgiving games at Ford Field.  He didn't go off last year throwing for just 232 yards and 1 TD, but it was enough to secure a big 16-13 win over these same Vikings.  That was more of a game management situation and the Lions still got the job done.  But if you look at Stafford production from the previous 4 Thanksgiving games you will begin to see where this confidence is stemming from:
2015 vs Eagles – 337 yards and 5 TD in a 45-14 win.
2014 vs Bears – 390 yards and 2 TD in a 34-17 win.
2013 vs Packers – 330 yards and 3 TD in a 40-10 win.
2012 vs Texans – 441 yards and 2 TD in a 31-34 loss.
So the Lions are on a 4 year winning streak on Thanksgiving and Matthew Stafford has gone absolutely ham in 4 of these games.  In the one loss, Stafford threw for a ridiculous 440 yards to keep the game close in a 3 point loss that would push this weeks spread.
The Lions come to play on Thanksgiving day.  Add in the fact that the offense is fully healthy and I expect Stafford and company to be able to find a way through this formidable Vikings defense this week.
Minnesota had a nice win over LA this past Sunday, but I'm still not very impressed.  The Rams had been beating up weak teams this year and have struggled against solid defenses.  Stafford steps up against strong D.  He put up 38 points against the Browns a couple weeks back and as bad as the Browns are they have a solid D that had never given up that many points this season.
I expect the Lions offense to be able to score 25+ points in this game at home.  On the flip side I don't think the Vikings will have much more success than they did in the first two meetings between these teams which Detroit won in Minnesota 14-7 in week 4.
I absolutely love the Lions in this spot and will have a lot of money line action on this game as well.
Play: Lions +3
New York Giants @ Washington Redskins
New York +7
Washington -7
The Giants were able to pull out a sloppy win at home over the Chiefs last Sunday, which has kept this spread to just a touchdown.  That said, the weather in that game was dreadful with very high winds that kept the potent Chiefs offense in check throughout the game.  The Giants were able to slow down Kareem Hunt, which ultimately lead them to be able to keep the Chiefs out of the endzone.
The weather for this game won't be nearly as bad and Kirk Cousins will find a way to move the ball through the air against this D.  The Redskins blew a nice lead this past week against the Saints and now sit at 4-6 in the standings.  A loss in this game would surely eliminate them from playoff contention.  This is a huge game for the Redskins and I think it being a short week will help them because they will not be able to dwell on last Sunday, but instead can focus their energy towards destroying their division rivals.
I don't think it matters that the Redskins defense isn't great.  They should still be able to keep the Giants out of the end zone.  Cousins should be able to throw for 300+ yards like usual and the Redskins should be able to put up 25+ points, which should be enough to easily cover this spread.  The Giants D is strong, but I still think Washington will be able to move the ball under the lights and put up a big Thanksgiving win for their fans.
Play: Redskins -7
Tagged With : NFL betting • NFL Picks