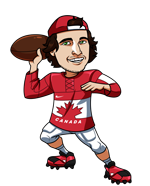 It's finally here, the 2017 NFL season is set to begin next week and I'm excited to have another successful betting year.  Last season I went 26-13-2 against the spread in the regular season, which is an absolute beast of a record that will be difficult to follow this season, but I'm confident I can at least get through the season with another healthy profit.  I also went 4-3 in the playoffs, so overall I was 14 games above .500 last season against the spread.
This year I'll once again be  focusing on my two favourite plays against the spread each week.  This will generally be anywhere between two and four picks, depending on the number of plays I feel confident in that particular week.  By not forcing plays I will provide much better picks and as we saw last year, this was a winning strategy.
I'll be using SportsInteraction.com for all of the spreads and predictions below.  You can see our full Sports Interaction review here.
Sportsbook
Features
Offers
Rating
Bet Now
New York Jets @ Buffalo Bills
New York +8.5
Buffalo -8.5
In this battle between two teams who are likely to be near the bottom of the standings at the conclusion of the season, the Bills are very big favourites for a week 1 game.  The Jets have completely stripped their roster and look to be gunning for the first overall pick next season, but that doesn't mean they won't come to compete against their division rivals in this game.
Let's not forget that the Bills are also a depleted team having traded away Sammy Watkins and then having seen Anquan Boldin leave the team because he didn't feel they would compete.  Add in the fact that Tyrod Taylor is still in concussion protocol and even if he does get cleared for this game he won't have had as many practice reps to prepare for the season.
These two teams always play each other hard and even though the Jets are not expected to be a competitive team I still think they keep this game close and potentially pull off a surprising upset.
If the Jets can't even beat an 8.5 point spread against a weak Bills team then I'm curious to see what kind of spreads the Jets games will have against legitimate opponents this season.
Play: Jets +8.5
Carolina Panthers @ San Francisco 49ers
Carolina -5.5
San Francisco +5.5
The Panthers had a very poor season in 2016, but let's not forget 2015 where they made the Super Bowl after an absolutely ridiculous 15-1 regular season.  I still believe that this Panthers team can be one of the better teams in the league if Cam Newton stays healthy and is able to play his game to the best of his ability.  The 49ers are the perfect team for the Panthers to play in week 1 to allow Newton to get off to a good start.  The 49ers defense is going to be extremely weak once again after allowing 480 points against last season (the most in the NFL).
I expect Newton and company to rack up points in this one and I don't think the 49ers offense will improve at all from last year now that Kaepernick is out of the picture.
Play: Panthers -5.5
Indianapolis Colts @ LA Rams
Indianapolis -3 (1.87)
Los Angeles +3 (1.95)
Andrew Luck is not expected to play in this game and obviously Scott Tolzien is a massive step down at QB for the Colts.  Indianapolis has really only been as good as Andrew Luck the past few years so I'm not expecting much out of the Colts offense on the road in LA this Sunday.  The Rams offense struggled mightily last year, but the defense was actually fairly solid given how much they had to be on the field.  I believe the Rams D to be underrated and expect them to do a good job shutting down the Colts here in week 1.
On the offensive side Todd Gurley looks good in the preseason for the Rams and if he can get a bit more help from the O-line this year I expect him to have a resurgence.  Add in the addition of Sammy Watkins and Jared Goff will have a dynamic weapon to use against a relatively weak Colts D.
I actually like the Rams to win this game, but I'll take the 3 points.
Play: Rams +3 (1.95)
I'm going to stick with 3 plays for week one and hopefully get off to a profitable start to the season.  Check out our NFL betting page to learn more about how to bet on the NFL online.
Tagged With : NFL betting • NFL odds • NFL Picks • NFL Spread Picks • NFL Week 1