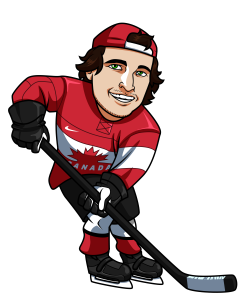 Last night I took the Sabres and Blue Jackets, the two biggest dogs of the night.  I really just needed 1 to get the W in order to claim a decent profit and lucky for me the Blue Jackets came through with a shootout win after a shutout from Sergei Bobrovsky.  I think it's starting to become very apparent that this guy is the best goaltender in the league.  The fact his team was so horrible when he was injured and that they are still giving up 30+ shots per night, but getting the wins with Bobrovsky between the pipes says it all.  Last night he had to save 30 shots and then win a shootout just to get the W.  As crazy as it is, Bobrovsky actually has a winning record this year (12-8-1) on a team that was literally in the basement of the NHL before he came back.  Anyways, I'm very grateful for that win!
NHL Season Record: 53-64 for +1.30 units.
Dallas Stars @ Vancouver Canucks
I'm going to go a route I don't normally go and bet the over/under on this game.  The Dallas Stars currently have the 8th highest (2.90) goals for per game, along with the most average goals against (3.52).  This means their average game would have 6.42 goals scored.  The Canucks also have 2.90 goals for per game and they also give up a lot of goals at 2.83 for 5.73 goals per Canucks game on average.
The only time these two teams played this season the Stars won 6-3.
The Stars defence hasn't improved of late and 7 of their last 9 games have gone over 5.5 goals, while the other two have had exactly 5 goals scored in them.  This is not a team that has low scoring games.
Vancouver has also gone over 5.5 goals in 3 of their last 4 games (the other one had 4 goals in it).  I think this game is a prime opportunity to bet the over 5.5.
The odds still indicate that the over 5.5 is a slight underdog, so we will take advantage of that and then hope that Seguin, Benn and the Sedin twins have big nights.
Play: Over 5.5 2.00 @ 5Dimes.eu
Tagged With : Dallas Stars • Vancouver Canucks