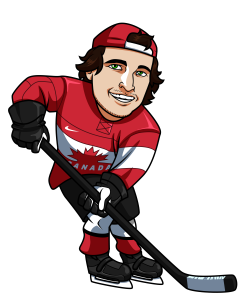 Here in Canada fantasy hockey leagues, also commonly referred to as hockey pools, are a staple among friends.  Daily fantasy hockey is taking it one step further by allowing you to compete in leagues that only last one night. With the recent creation and subsequent popularity of daily fantasy sports leagues you can now take the thrill of a season long fantasy hockey league and shrink it into one night.
With daily fantasy hockey you pick a new team, with new players every night you feel like playing some good old fashion fantasy hockey.
I personally have been playing fantasy hockey with friends since my early years in Elementary school.
Best Daily Fantasy Hockey Site
Sportsbook
Features
Offers
Rating
Bet Now
**SIA is our top rated hockey betting site for Canadians.  We do not currently promote any DFS sites.
Picking Players
A fantasy hockey team at typically consists of 2 Centres, 3 Wingers, 2 Defensemen, 1 Goaltender and 1 Utility (C, W or D).  You pick your team while staying under at $50,000 salary cap.  Some of the top players may cost around $8000, but you will also be able to get players as cheap as $2,500.
Throughout the season DFS sites will update players salaries depending on their performance game to game.
Scoring
The object of daily fantasy hockey is to score more points than your competition.  In order to do this effectively you need to thoroughly understand the scoring rules at whichever site you're playing.  The scoring may differ at other fantasy sites so it is important that you always check the scoring at whichever site you are using prior to picking your teams.
Forwards/Defencemen
Goals = 8.5 points
Assists = 5 points
Shots on Goal = 1.5 points
Blocked Shots = 1.3 points
Shorthanded Points = 2 bonus point
Shootout Goal = 1.5 points
Hat Trick = 3 bonus points
5+ Shots = 3 bonus points
3+ Blocked Shots = 3 bonus points
3+ Points = 3 bonus points
Goalies
Wins = 6 points
Goals Against = -3.5 point
Saves = 0.7 points
Shutouts = 4 points
Overtime Loss = 2 points
35+ Saves = 3 bonus points
If you play daily fantasy with other sports, check out our other sport specific pages for the scoring:
Daily Fantasy Hockey Tips
These tips should help you start to think like a winning daily fantasy hockey GM.
Hot/Cold Streaks – DFS sites won't drastically alter the price of players based on their recent play.  This can allow you to get players on a hot streak for under their true value.  I also suggest steering clear of players who haven't been putting up points of late because their salaries may not have dropped to account for this.  Confidence is a huge part of scoring in hockey so it's always smart to pick players who have been performing well of late.
Injuries & Suspensions – First of all never pick a player who is out of the game due to an injury or a suspension.  But taking this one step further if a star player is out his teammates may get more of an opportunity to score in his place.  This can allow you to get great value on players who for example may be getting a rare opportunity on the first line or first powerplay unit.  The TSN injury report is a good resource to check for current injuries.
Goaltenders Expected to Face Shots – Just by looking at the goaltending scoring it's obvious that you want to pick a goaltender who will see a lot of shots.  This is because you only lose 1 point per goal against and you gain 0.2 points per save.  A typical NHL goaltender will have around a .900 save percentage, which means the points for saves more than compensates for the points lost for goals against when facing a team who takes a lot of shots.  Taking this one step further you want to find a goaltender facing a team that takes a lot of low percentage shots.  This would result in a lot of saves, while still having a good chance at winning the game.  A good example from last year of a team you would want your goaltender playing against would be the Arizona Coyotes.  The Coyotes had the worst shooting percentage in the league last year (14-15) with a 6.90 shooting percentage.
Starting Goaltender – This is another critical tip.  You need to make sure that the goaltender you choose starts that night.  A site like daily faceoff is great for confirming which goaltender will be between the pipes for each team on any given night.
Stack Correlating Players – In the large contests you should try to positively correlate your player picks.  This means picking players who can pick up points on each others goals.  For example, if Daniel Sedin goes off for a big game there is a VERY good chance that Henrik Sedin also has a big game.  By picking players who play together you have a better chance for a high ceiling, which can help win you GPP tournaments.  One of my favourite stacks is Tyler Seguin & Jamie Benn.  These guys just go off for massive games every once in a while and if you have them when they do you're in a great spot to win a big tourney.  Daily Faceoff's lineup combinations page is a great resource to see who is lining up with who that night.
Don't Pick Players Against Your Own Goaltender – This is an obvious tip, but one I thought I should mention.  Don't negatively correlate your plays because it puts a lower ceiling on how well your team can perform.  When you pick a goaltender you are always looking for a shutout, so picking a player on the opposing team of your goaltender just doesn't make any sense.
Pick Powerplay Participants – In today's game a huge portion of goals are scored on special teams.  I always want all of my player picks to be on the powerplay unit (preferably the top powerplay).  Powerplays are purely offensive opportunities for players.  Even if the powerplay doesn't score a goal, your powerplay participants are also much more likely to be in line for shots which are worth half a point each.
Pick Shorthanded Participants – DFS sites often give out a bonus point for shorthanded points, so if you have star players who also kill penalties you are putting yourself in a good spot to have a high ceiling.  Shorthanded goals happen more than you might think.  In 2014-15 there was actually about 12% as many shorthanded goals as there were powerplay goals.  That means that for every 10 powerplay goals there was at least 1 shorthanded goal scored.  These shorties aren't as rare as many people may think.  Also, penalty kills are a great spot for players to rack up blocked shots.