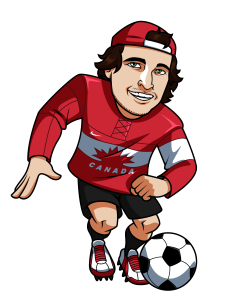 This round of 16 match up is definitely the strangest I can remember.  Both of these teams were expected to finish the group stage at the bottom of their respective groups, but instead one of these teams will be advancing to the quarterfinals.
Costa Rica has been by far the biggest surprise of the tournament and one of the biggest Cinderella stories of recent memory.  They were in a very difficult group that included England, Italy and Uruguay.  Bet365 had given them 2500/1 odds of winning the World Cup and they were expected to be a non-factor that might be able to steal a draw against one of the big nations.  What actually happened was them qualify for the round of 16 after two big wins and then another strong showing in a 0-0 draw against England.  Perhaps the more surprising thing than the actual results is how they've been achieved.  Costa Rica isn't playing a super defensive counter attacking style.  In fact they have had close to 50% of possession and attacks as any of the teams they have faced.  People may be starting to believe in this Costa Rican team.
Greece waited until their third game to score a goal, but a spirited draw with 10 men against Japan gave them the opportunity to win and advance against Ivory Coast.  A last second penalty converted by Samaras was enough to put Greece through to the round of 16.  This will now be a very interesting match.
Costa Rica vs Greece Odds
Here are the 1×2 odds followed by the odds to qualify for the quarterfinals:
Costa Rica 2.55
Draw 3.27
Greece 3.30
To Qualify:
Costa Rica 1.83
Greece 2.05
My Pick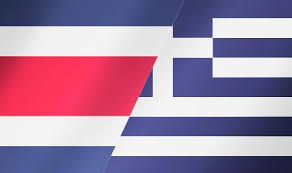 I doubt anybody would have every expected Costa Rica to be the favourite in a match at this World Cup.  They aren't a huge favourite because people still aren't complete believers, but they do deserve to be favourites in this match and I think they will win.
Let's look at their match stats in some of their matches against superior teams to Greece.
Game 1 vs Uruguay – 3-1 Win for Costa Rica
Total Shots: Uruguay 9 – Costa Rica 12
Shots On Target: Uruguay 5 – Costa Rica 4
Possession: Uruguay 54% – Costa Rica 46%
Game 2 vs Italy – 1-0 Win for Costa Rica
Total Shots: Italy 10 – Costa Rica 10
Shots On Target: Italy 6 – Costa Rica 6
Possession: Italy 58% – Costa Rica 42%
Game 3 vs England
Total Shots: England 8 – Costa Rica 4
Shots on Target: England 3- Costa Rica 3
Possession: England 53% – Costa Rica 47%
As you can see from those game stats Costa Rica was not outplayed by any of those three top nations in their group games.  They are not playing a solely defensive style like Greece did when they won the Euro Cup in 2004.
Costa Rica has only given up 1 goal against 3 quality teams and it was a penalty kick goal early in game 1 against Uruguay.  Greece has a very difficult time scoring goals so I don't expect them to find the back of the net against Costa Rica.
For this reason I expect Costa Rica to look like the better team and to come out with a win and a place in the quarterfinals.
My Play: Costa Rica in regulation 2.55
Tagged With : Costa Rica • Greece • World Cup