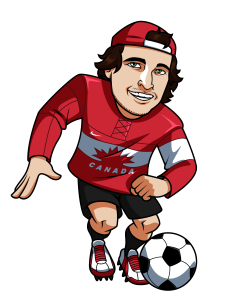 As of today the 2014 FIFA World Cup is only 50 days away!  I am getting excited and felt like tossing up a post looking at some of the favourites today.  I'm a Dutch supporter and am still looking to get replay of the Iniesta goal to give Spain a 1-0 win in the finals of the 2010 World Cup out of my head.  The Dutch aren't expected to do as well this time around, partly because they are in a very tough group and a section of the draw that results in a good chance of playing Brazil in the second round, but I still have hope.  And the fact that they aren't a favourite means I will be cashing out that much more winnings if they do pull off a big win!
Outright World Cup Winner Odds (April 23rd)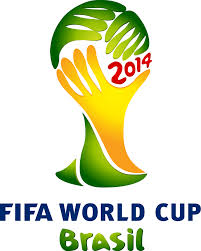 Here are the outright winner odds for the World Cup.  The date of these odds is April 23rd, so you should note that the odds will change as we get closer to the event depending on many factors such as key players health, team form and more.  I've included the odds from the sportsbook that you can receive the biggest payout from for that country.
Brazil 4.00
Argentina 5.84
Germany 6.50
Spain 8.00
Belgium 17.00
France 24.00
Italy 26.00
Colombia 29.00
Uruguay 29.00
Netherlands 29.00
England 34.00
Portugal 34.00
Chile 55.00
Russia 88.00
Switzerland 132.00
Ivory Coast 155.00
Mexico 158.00
Ecuador 158.00
USA 172.00
Croatio 186.00
Bosnia-Herzegovina 201.00
Ghana 251.00
Japan 258.00
South Korea 301.00
Greece 301.00
Nigeria 335.00
Australia 613.00
Cameroon 653.00
Algeria 1501.00
Iran 1501.00
Honduras 2001.00
Costa Rica 2501.00
I was only planning to put the favourites, but I got a little carried away and provided the odds for the entire 32 team tournament.  In reality though I would say only until maybe Russia have a shot at winning the tournament.  But anything is possible.  Just look at Greece winning Euro 2004.
Top Contenders
Brazil is the favourite according to the bookies.  Brazil will have home field advantage throughout the tournament, which has often played a big role in past World Cups.  In fact the home team has won 6 of the 19 World Cups, which is a huge amount especially when you consider that some host countries were not really contenders (USA, Japan, South Africa) and others won their only World Cup on home soil (England, France).
Brazil doesn't have the easiest road to the title though with a round of 16 match-up set against likely one of Spain, Netherlands or Chile.  From there on it will continue to be very difficult so at odds of 4.00 I don't think Brazil is a great bet in this case.
Argentina, the other soccer powerhouse from South America, is the second favourite at odds of 5.84.  Argentina did finish atop the South American qualifying standings and they should be in top form heading into this tournament.  Lionel Messi will be the main player on this team and if Brazil is not able to win, Argentina are definitely the next most likely South American country to take it down.
An interesting stat is that a South American team has won each of the three World Cups that were played on South American soil.  Uruguay won in both Uruguay and Brazil in the first and fourth World Cups and Argentina won in Buenos Aires in 1978.
After the two South American powerhouses there are two European powers that are separate from the pack.  Germany has odds of 6.50, while Spain has odds of 8.00 to win the tournament.  I think Germany has a very good chance with players like Schweinsteiger leading the way.  To me he is one of the best in the world and will be able to control the game for the Germans.  Then there is Spain who have won the past 3 major tournaments for European countries.  Euro 2008, World Cup 2010 and Euro 2012 all belong to the golden generation of Spanish soccer.  If they can win this one as well they will become only the second team in the history of the World Cup to defend their title.  I think both of these teams have a very good chance in Brazil this year.
My dark horse is definitely the Netherlands.  They did draw a very difficult group and they haven't played their best in their last few outings, but with Robben and van Persie leading the offense this team is very dangerous.  If they can get out of their group, as well as avoid Brazil in the round of 16 they will have a very good chance to go deep in the tournament.
That's all I've got right now, but check back in a month or so when I will start to break down each of the 8 World Cup groups and give my picks for which teams advance to the round of 16.  Then during the tournament I will be posting my World Cup bets on a daily basis.  I'm excited.  Only 50 days to go!
Tagged With : 2014 World Cup • World Cup • World Cup betting • World Cup Winner