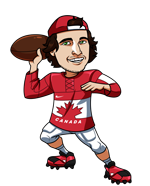 I was able to get back in the win column last week, going 3-1 against the spread to bring my season record to 22-16.  The Bombers were able to outclass the Alouettes on the road, while the Roughriders had another solid outing en route to a big win in Edmonton.  The Stamps were able to easily cover the 10 point spread against the Argo's as well, with my one loss coming when the Redblacks got a much needed win at home over the Lions.
I'll be using SportsInteraction.com for my CFL picks all season long.  They're our top rated sportsbook and they are an in-game sponsor of the Hamilton Tiger-Cats this season, which shows their commitment to the CFL.  You can check out our full SIA review here.
Ottawa Redblacks @ Montreal Alouettes
Ottawa 1.91
Montreal 1.91
The Redblacks have won 2 straight games for the first time this season and those wins have jumped them up to 2nd in the East Division even with their weak 3-6-1 record.  That said, I do still think this Ottawa team is much better than their record indicates and their big win over BC last week proves this.  I don't think Ottawa will take their foot off the gas this week in what is a very big game against the Alouettes who are only 1 point behind them in the East with a game in hand.
Ottawa is the best team in the East and I do expect the cream to rise to the top of such a weak division, and that starts with a win this week on the road.
Play: Redblacks 1.91
Winnipeg Blue Bombers @ Saskatchewan Roughriders
Winnipeg +2.5
Saskatchewan -2.5
The Bombers have won 5 games in a row.  A good chunk of these were against East Division teams, but last weeks win on the road in Montreal, as well as their week 9 win over the Eskimos have both been impressive.
The Roughriders are also showing they are not pushovers this year with their own dominant win over the Eskies this past week where they racked up 54 points, as well as their big 41-8 week 8 win over BC.  The Riders offense is firing on all cylinders right now and I don't think it will slow down against this Bombers team that has given up the most points of all teams in the West this season (second most in the league).
I have to go with the Riders to put up another 35+ points and for that to be good enough to get the win at home against the Bombers.
Play: Roughriders -2.5
Edmonton Eskimos @ Calgary Stampeders
Edmonton +11
Calgary -11
The Eskies have lost two straight games and have up a ridiculous 54 points to the Roughriders last week, but I'm still having trouble taking the Stamps with this large a spread against a solid Western team.  The Stamps covered their last two spreads, but they only scored an average of 22 points in these past two weeks.  If their offense isn't firing at it's best, I don't think they cover this spread because the Eskies will find a way to put at least a couple touchdowns on the board.
Play: Eskimos +11
Toronto Argonauts @ Hamilton Tiger-Cats
Toronto -4.5
Hamilton +4.5
I'm pulling the trigger on the Ti-Cats this week.  They've been absolutely awful this season, but playing at home against their rivals, while coming off a bye-week I think everything is lining up for them to get their first win of the season.
Toronto has not been good on the road this season, and although they've proven themselves to be better than the Ti-Cats they are still a below average team in this league.  If the Ti-Cats come in rested, with a good game plan, and the will to beat the rival Argos I think they will at least keep this game close.
Play: Tiger-Cats +4.5
Tagged With : CFL • CFL betting • CFL picks