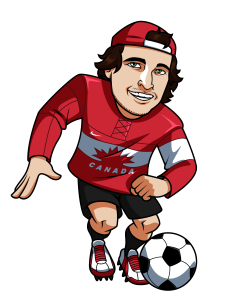 Canada pulled off a pretty big upset in the quarterfinals with their 1-0 win over France.  The French team did look like the favourite throughout the match outshooting the Canadians 12-5, including 4-2 in shots on goal and also earning double the free kicks that Canada earned, while controlling possession for 57% of the match.  That said though, the Canadians held tight and it just took one amazing ball forward followed by a great couple touches from Janine Beckie to send a beautiful cross to Sophie Schmidt who finished off the play in the 56th minute for the Canadians.
I was able to hit a great 4/1 bet on Canada in regulation for this match.  Below you can see the entire CBC replay:
Next up is the German team who Canada was able to beat 2-1 in group play. I wouldn't put too much stock in that match though as both teams had already qualified for the knockout stage, with the losing team actually earning a much more favourable match up with China, rather than France.  I'm not saying Germany threw the game because if you look at the stats they actually outshot Canada 22-6 and held possession for 67% of the match.
Canada vs Germany Semifinal Odds
Here are the odds for the match from Bet365.com:
Canada 3.75
Draw 3.40
Germany 2.00
As you can see the oddsmakers aren't putting much stock in the fact Canada beat Germany in group play either.  The Germans are the favourites here, but Canada are smaller underdogs than they were against France in the quarters.

My Pick
I'm going right back to Canada with my pick here.  Yes, they've been outplayed in both of their previous two matches, including the match they ended up winning against Germany, but that last word is the most important.  Winning.  Canada has now won all four of their matches in these Olympics.  Australia, Germany and France are all top Women's teams and our Team Canada beat each won of them.
Canada may not have the same talent level of the German side, but they have intangibles such as team unity, toughness and grit.  They will go out there and battle for every ball and have done a great job of keeping it out of our own net so far in this tournament.
Add in the fact that with Janine Beckie firing on all cylinders, Jessie Fleming and Sophie Schmidt adding in creativity from the midfield and of course Christine Sinclair who still has a nose for the net it doesn't take the Canadians that many chances to find the twine, which they've showed leading up to these semi-finals.  Finishing your chances is crucial in Women's soccer and the Canadians have some of the best strkers in the world finishing plays for them in these Olympics.
I expect Canada to get outplayed in this game, but not outscored.
Play: Canada 3.75 @ Bet365.com
Check back later this week for another Women's soccer pick.  Hopefully it will be for the gold medal.
Tagged With : Canada Soccer • Olympics Soccer • Women's Soccer • Women's soccer betting