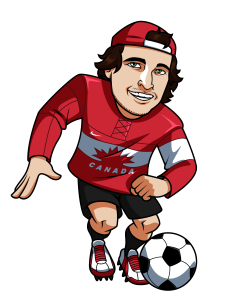 Team Canada has looked amazing in the Women's Soccer tournament to this point in the tournament.  They've gone 3-0 through pool play and are coming off a massive 2-1 win over Germany, who kicked off the tournament as co-favourites.  That win has helped Canada to top Group F, but it may have actually set them up with a much more difficult quarterfinal match up.  Team Canada will play France in the quarterfinals, the runner-up in Group G, while Germany is up against the runner up in group E which happens to be China.  France is ranked #3 in the world and finished second in their group behind top ranked USA, while China is ranked #12 in the world.
It's a bit of a tough draw for Canada, but the way the tournament was set up winning Group F was always going to set up a very difficult match against whichever team of USA or France finished second in group F.
That said, Canada has looked great, so they definitely have a legitimate chance against France in these quarters.
Canada vs France Quarterfinal Odds
Here are the odds from Bet365.com:
Canada 5.00
Draw 3.60
France 1.70
As you can see France is a big favourite over Canada in this match.  They're actually expected to win the game in regulation.

My Pick
Call me crazy, but I think Canada has a legitimate chance to win this game.  They've gone 3-0 in these Games and that includes a 2-0 win over Australia (ranked #5 in the world) to kick things off in a match where Canada had 10 women for the majority of the match.  They followed that an expected 3-1 win over Zimbabwe, but then finished things off with an impressive 2-1 win over Germany.
Canada has three players who have really shown they can put the ball in the back of the net in these games with Beckie scoring 3 goals to this point in the tournament, while veterans Sinclair and Tancredi have each added a couple.  Being able to score against top competition is a very important aspect in high quality Women's soccer and with these three women each having the ability to score at a moment's notice, Team Canada will always be in the match even if they are being outplayed by the French Women.
Don't get me wrong, France has looked very strong throughout this tournament, winning clean sheet blowouts against both Colombia and New Zealand, while only losing a tightly contest 1-0 battle with Team USA, but the quality at the top end of Women's soccer is becoming closer and closer together, where any top team can win on any given night.
Team Canada's confidence is sky high at the moment, and although they will know they've received a difficult draw after being the only team to go 3-0 in pool play, they will be ready to put it on the line tomorrow night.
Play: Team Canada 5.00 @ Bet365.com
Check back for the semi-finals post that I hopefully will be writing about this Canadian soccer team.
Tagged With : Olympics Soccer • Team Canada • Women's Soccer