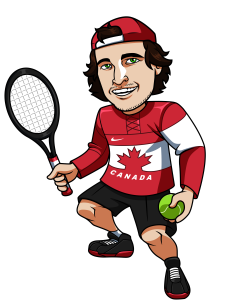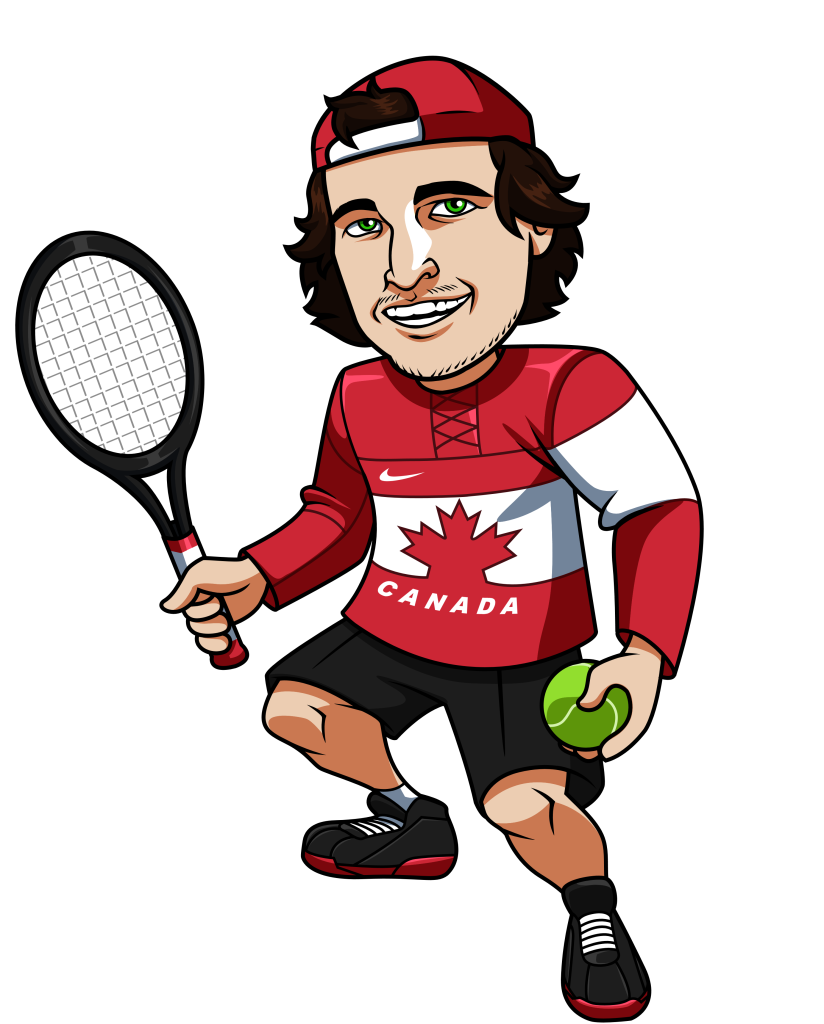 After Eugenie Bouchard bowed out against a top form Maria Sharapova last night the hopes of Canada now rest solely with Milos Raonic.  He too is in a very tough quarterfinal where he will be a big dog just like Genie was last night.  Djokovic holds a 4-0 head to head record against the Canadian and he looks to be on his game as the overwhelming favourite to win this tournament.  Anyone in Canada looking to watch this match you can catch it on TSN in the early hours of the morning.  The match is set to take place at 3:30am tomorrow morning.
The other singles matches tonight include a very interesting match between #4 seed Stan Wawrinka and #5 seed Kei Nishikori.  Before the Men get underway tonight though both Williams sisters are in action in what could result in a crash course to the semi-finals.  #18 seeded Venus Williams takes on the young American Madison Keys who has done very well to get to this point in the tournament, while the top seeded Williams sister takes on Cibulkova in the other quarter.
For tennis fan night hawks it's a very exciting night.
Milos Raonic vs Novak Djokovic
I'm going to be using odds from PinnacleSports.com for all of these matches because they really are by far the best sportsbook when it comes to betting on tennis matches online.
Novak Djokovic 1.151
Milos Raonic 6.610
Novak is a huge favourite and rightfully so.  He's stormed through the tournament without dropping a set to this point.  He was a better than 2/1 favourite to win the whole tournament before round 1 and now he's listed at 1.813, which actually isn't a huge change considering both Federer and Nadal are out of the tournament.  That said I can't really see Milos winning this match.  He would have to play near perfect tennis to beat Novak in this form.  Novak has the best return game on the Tour and I expect he will be able to break Raonic a few times in this match.
The spread in this match is 6 games, which basically implies 3 breaks over the course of the 3 sets, or 1 break each set.  I think that spread is pretty much bang on.  I could see Milos pulling out a set, but I can also see Novak dominating a set 6-2, which scares me when it comes to predicting this spread.  I'm going to stick to a relatively safe bet here and take Novak outright.  I just cannot see Raonic finding a way to beat the Serb in 3 sets tonight.
Play: Djokovic 1.151
Stan Wawrinka vs Kei Nishikori
This is a very interesting match up.  Wawrinka is the defending champion here and when he is playing at his best he can be the best in the world like he proved last year beating Djokovic and Nadal to win this tournament.  Kei though has shown that he can also beat the best in the world and he's shown a consistency in the last 6 months that makes me think he can bring his A-game most nights.
Stan Wawrinka 2.26
Kei Nishikori 1.729
Wawrinka owns the head to head record between these two 2-1, but his two wins came in 2012, while Nishikori won their most recent match.  A quarterfinal 5-setter at the US Open.  In that match it was so close that Wawrinka actually out-pointed Nishikori 181-177, but failed to win the big points that decided the match.
I think these two are so tough to call that I'm going with the underdog in this one.  Wawrinka has the Australian Open experience and when he's on his game he has slightly more weapons than Nishikori because he also has a decent serve to go with his ground strokes.  If both men are at their absolute best I like Wawrinka.
Play: Wawrinka 2.26
Venus Williams vs Madison Keys
Venus Williams 1.724
Madison Keys 2.27
Madison Keys has stormed through this tournament, getting better every match.  She dropped a set in the second round to Dellacqua, but stormed back winning the next two sets 6-1, 6-1.  Since then she's beaten #4 seed Kvitova and fellow American Madison Brengle.  Keys is only 19 years old, but she's been a regular on the WTA Tour for the past couple seasons and she finally has made here break through.
This is a winnable match for Keys.  Venus has played well, but she has dropped a set in her last two matches and she hasn't made a run this deep in a while.  I see Keys coming out with nothing to lose and taking this match to Venus to thwart the potential Williams sisters semi-finals.
Play: Keys 2.27
Serena Williams vs Dominika Cibulkova
Serena Williams 1.195
Dominika Cibulkova 5.46
I'm not convinced Serena is going to win this tournament based on her form to this point, but I don't see her losing to Cibulkova.  The win for Cibulkova over Azarenka was a surprise for me, but I don't see her beating Serena.  Yes, she did make the finals last year before losing to Li Na, but I don't see a repeat performance.  Serena is better in all aspects of the game and even though she isn't in top form she's shown that she still has the fight after losing the first set in both of her last matches.  Serena should make the finals of this tournament and that's when the real big test will come.
Play: Williams 1.195
To follow any of these bets go to PinnacleSports.com.  And remember to check back tomorrow for my picks for all 4 semi-finals.
Tagged With : Australian Open • Milos Raonic • Novak Djokovic