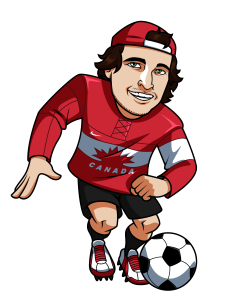 Group E looks like a very interesting group with 3 teams that are capable of finishing atop the group standings.  Honduras is in a tough spot in this group and likely will not be advancing.  France, Switzerland and Ecuador all have teams capable of advancing to the round of 16 and deeper in the tournament.
Group E Winner Odds
I'm surprised Ecuador is such a long shot to win this group because neither European team is unbeatable and Ecuador has the advantage of playing close to home.
France 1.76
Switzerland 3.75
Ecuador 5.15
Honduras 34.00
Group E Odds to Advance
It's likely going to come down to three teams battling it out for two spots in this group.
France 1.20
Switzerland 1.67
Ecuador 1.90
Honduras 7.50
My Prediction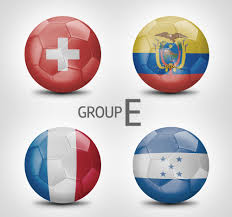 I'm surprised that Ecuador is the third favourite in this group and has quite long odds to win the group when compared with France or Switzerland.  Ecuador did only finish fourth in the South American qualifying, but every nation from South American has a quality squad and I expect all of the South American teams to do well in Brazil.  Ecuador is no exception.  Their last outing was a 3-1 loss in Mexico, but before that they tied Holland and Honduras on the road and beat Australia away from home as well.  This team is being overlooked and I think they are the best bet to win this group, with France and Switzerland having to adapt to the travel when coming to Brazil.
France had a tough qualifying group out of UEFA in which they finished second behind Spain, which was expected.  In the second round they played Ukraine and after losing the first game 2-0 they came back with a crazy effort to win 3-0 and shock the Ukranians out of the World Cup.  Since then France has continue to play well defeating the Netherlands 2-0 at home and following that up with a 4-0 win over Norway and a 1-1 draw with Paraguay, all at home.  My concern is that France does not play nearly as well on the road and they have the reputation of either performing very well or very poorly at these big tournaments.  For this reason I'm steering clear of France in both the winner and to advance bets because I think their odds are too short and you can get better value elsewhere.
Switzerland is an interesting team because I don't generally think of them as having too strong of a National Team.  The Swiss were in the easiest qualification group and won it easily posting a record of 7 wins and 3 draws over 10 games.  Their opponents included Iceland, Slovenia and Norway though, which aren't exactly the top teams in Europe.  Since qualifying Switzerland have lost to Korea on the road, tied Croatia at home and beat Jamaica only 1-0 at home.  I don't see Switzerland making a lot of noise in this tournament, but I'm leaning towards them qualifying just because the return is much better than on France and I don't give Honduras much of a chance.
The reason I'm not giving Honduras a chance is because they haven't performed too well since qualifying and each of their friendlies have been played at home.  CONCACAF simply doesn't have the depth for these later qualifers to put up much of a fight at the World Cup.
Tagged With : Group E • World Cup • World Cup betting