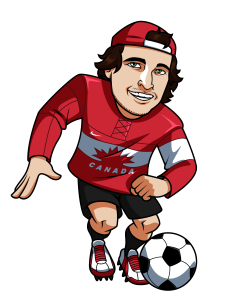 The United States were grateful to Portugal for putting up a good effort against Ghana, which allowed them to secure second place in Group G even with their 1-0 loss to Germany in the final group game.  That second place has earned them the right to face Belgium who topped Group H with 9 points.  The Americans have overachieved somewhat to this point, although second place in their group was always up for grabs, but the jury is out on Belgium even though they won 3 straight games.  Group H wasn't of particularly high quality and although Belgium managed to win, they still have some naysayers who aren't convinced they are as strong as they were being given credit for pre-tournament.
USA vs Belgium Round of 16 Odds
Here are the odds for the match.  First is the 1×2 odds, which only include regulation time, and then there are the odds to advance, which includes the possible extra time and penalty shootout.
USA 4.75
Draw 3.70
Belgium 1.85
To Advance:
My Pick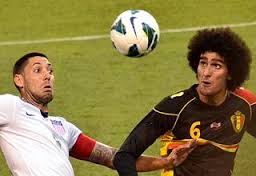 Belgium aren't being given a ton of credit, but they are still big favourites in this match and rightfully so.  Belgium should be on another level compared to the Americans.  That's not to say they are guaranteed to win, but it is to say that they have a very good chance.  I don't think we've yet seen the best Belgium side at this tournament and this could be the ideal time for Belgium to play their best match.
In their final group game against South Korea, Belgium received a red card in the first half and still managed to score a late goal in the second half to win the match 1-0.  They have only allowed 1 goal in the tournament and that was an early one in the first game to Algeria, before coming back to score 2 to win that game.  I think Belgium may still have more in the tank and we will see it come out against the Americans.
The United States were somewhat fortunate to get this far in the tournament already and should be happy with their result.  They finished the group stage with only 4 points, but because Portugal got destroyed 4-0 in their opening game due to a red card they are able to advance.  Against Ghana they looked outmatched most of the game, but a first minute Dempsey goal held until the 82nd minute when Ghana finally scored.  It looked like the States would just want to hold on for a draw, but a fortunate corner kick goal and they have 3 points, which was huge for them to advance.  I honestly think the United States were the worst team in Group G, but timely goalscoring helped them a lot.
I'm expecting Belgium to be too much for the United States and defend Dempsey and company better than some of the other squads in Group G.  Look for Belgium to win this one in regulation.
I'm taking Belgium in regulation 1.85
Tagged With : Belgium • USA • World Cup betting