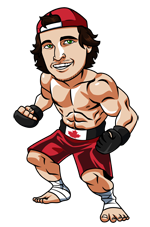 The UFC is back in our lives after a week off following UFC 216.  Of my 3 bets on that card, 2 of them were cancelled because I was on both Werdum and Harris, who eventually faced each other after Derrick Lewis dropped out the morning of the fight.  It was a strange sequence of events, but my main bet on Ferguson did win, so it was a profitable event for me.
This week we head to Gdansk, Poland for a fight night card that will be taking place on Saturday afternoon here in Canada.  The card is headlined by Donald Cerrone and Darren Till, and there are a few interesting fights.  The entire card will be shown on UFC Fight Pass starting at 11:30am EST, with the four main card fights starting at 3pm.  If you don't have Fight Pass, the main card is also shown on The Fight Network here in Canada at 3pm.
Sportsbook
Features
Offers
Rating
Bet Now
1

Licensed and regulated in Canada
Easy deposits & withdrawals including Interac
Competitive betting lines
2

Licensed and located in Ontario
Entirely focused on Canadian betting market
Easy deposit/withdrawal options, including Interac
Donald Cerrone vs Darren Till
Cowboy Cerrone has lost two straight and many people seem to be down on him, but I am not one of those people.  Yes, Cerrone lost two fights in a row, but they were to top 5 fighters in the welterweight division in Masvidal and Lawler.  Cerrone actually looked pretty good against Lawler, and if you looked at the fight as a whole of the 15 minutes he would have won the fight, but Lawler took round 2 off and was able to edge Cerrone in rounds 1 and 3 ever so slightly to get the win.
Cerrone is a guy that takes on all challengers and isn't one of the many guys in the UFC who pick and choose opponents and only fights guys who are ahead of him in the rankings because they are afraid to lose their spot if they lost a fight to an up and comer.  This strategy has worked well for Cerrone so far in his career because he's been able to outclass everyone who isn't a top 5 fighter in the UFC division.  Yes, he's lost his last 2 fights, but let's not forget that Cerrone is 19-6 in his UFC career and all of his losses have been to big names.
Darren Till is a decent prospect, but he has not established himself as a top fighter in the division by any means.  Till has 2 decision wins this year after taking 2016 off.  His wins were fairly impressive, but the level of competition was fairly low in Ayari and Velickovic.  This is a massive step up in competition for Till.
From a technical standpoint I also think this fight falls right into Cerrone's wheelhouse.  Cerrone has problems with pressure strikers, but Till is a guy who likes to stay at range and pick his shots.  Cerrone will be able to get into the flow of the fight and that's when he can really start letting his kick boxing go.  Also we cannot sleep on Cerrone's takedowns and ground game.  Once he gets his striking flowing he can transition into takedowns very easily and if he gets this fight to the mat he will have a big advantage there as well.
I expect Cerrone to have an advantage everywhere in this fight and for him to use his leg kicks to slow down Till, then his punches to set up a high kick and also go for takedowns when they present themselves.  I actually expect this to be a clinic and an easy win for Cerrone over a guy in Till, who is a promising prospect, but is not ready for this level of competition.
Play: Cerrone 1.65
Karolina Kowalkiewicz vs Jodie Esquibel
Kowalkiewicz is another fighter coming off of two losses who I fully expect to get back in the win column.  Kowalkiewicz will be fighting in front of a home crowd and it seems to me that the UFC matchmakers set this fight up to get Karolina an impressive win.  Esquibel is a former professional boxer, but she was only .500 in that realm and will still be at a significant disadvantage on the feet compared to Karolina in my opinion.
Kowalkiwiecz will be able to put on a high pace in this fight and I fully expect her to easily outland Esquibel en route to a decision.  I don't expect any takedowns in this fight, but if it does go to the mat, I still give Kowalkiewicz the edge there as well.  Esquibel is really not near the level of Karolina and I simply don't see any paths to victory for Esquibel, so I'm willing to take the big favourite here.
Play: Kowalkiewicz 1.22
Damian Stasiak vs Brian Kelleher
I don't think Kelleher is as good as many people seem to think.  Yes, he had an impressive submission in his debut, catching Alcantara in a guillotine choke, but he followed that up by getting caught himself by Marlon Vera in an armbar.  Both of these guys are active, grinder type fighters who have the ability to pull off submissions in a fight, so I expect this to be an action packed fight with plenty of scrambles.  The winner will be the fighter who can capitalize on the scrambles by sinking in a submission.  In that respect I give the edge to Stasiak.
Stasiak has never been submitted and I see him as the safer fighter in the scrambles, with the higher fight IQ.  Kelleher is willing to put himself in bad positions to look for submissions and that is not a smart tactic against a guy like Stasiak.
Kelleher had a nice winning streak leading into his UFC debut, but he actually has 5 submission losses in his career.  Look for Stasiak to go for takedowns, which will initiate scrambles, and for him to find an opening and sink in a submission like he did against both Pejic and Grant in his two UFC wins.
Play: Stasiak 2.00
Those are my 3 picks for UFC Fight Night Poland.  As for leans I'm looking at Hamilton (2.00) and Alvey (2.15).
Tagged With : UFC betting • UFC Fight Night • UFC picks • UFC Poland