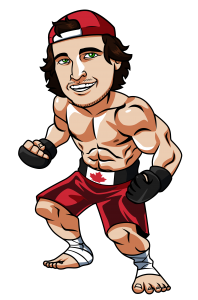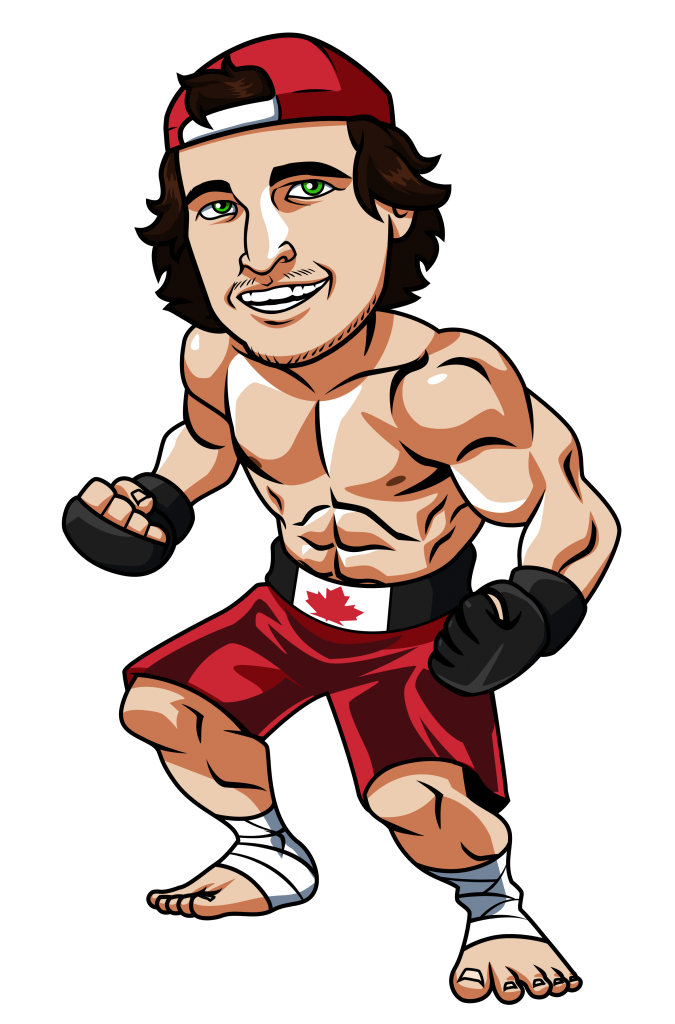 The UFC is heading to my home town this Saturday, so I will be at the fights and I'm pumped that I don't have to travel to go to a live UFC event for the first time in history.  The Rory MacDonald vs Stephen Thompson fight is as good a headliner as we could have hoped for in Ottawa, but one that I have mixed feelings about because I'm a fan of both fighters and think Wonderboy really should have been getting the title shot over Woodley, who has done nothing of late.  It will still be a great fight, but I think it's a very tough ask for Wonderboy after he has won 6 in a row including finishes of Whittaker, Ellenberger and Hendricks, while Woodley gets a title shot after only winning two in a row and just barely getting past Gastelum in his last fight after Gastelum had a ton of trouble with the weight cut.
On top of the great main event, the co-main of Patrick Cote vs Donald Cerrone is also going to be a treat for the fans.  The card does weaken considerably after these two main fights, but it's still a very solid Fight Night card from top to bottom and Ottawa will definitely be pumped up this weekend.
I'll be using the best odds I can find among our top rated sportsbooks for Canadians for these picks.
To learn more about the various MMA bets you can make, check out our MMA betting info page.
Rory MacDonald vs Stephen Thompson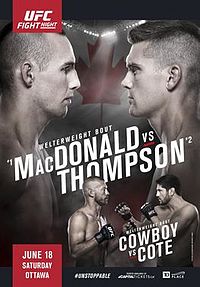 As I mentioned above this fight is going to be crazy.  In my opinion MacDonald and Thompson are the two best fighters in the Welterweight Division, which is why it's so bitter sweet that they are having to fight each other here.  That said, I have to give the benefit to MacDonald here.  He is so technically strong and is able to keep distance that I don't expect him to be hit with some of the attacks that Wonderboy was able to land on shorter Welterweights such as Hendricks and Whittaker.  If MacDonald is able to avoid these huge shots I think he will be able to use his technical ability to land some shots on Wonderboy and if they get into the clinch or the fight goes to the ground MacDonald will have a significant advantage.
Thompson is definitely capable of another massive knockout and we don't really know what kind of MacDonald is going to show up after his war with Lawler, but I think MacDonald wins this fight more times than not.
Play: MacDonald 2.00 @ Bet365.com
Donald Cerrone vs Patrick Cote
Cerrone is staying at welterweight for this fight after moving up to face Alex Oliviera back in February.  He beat Oliviera with a triangle choke in the first round of that fight and he definitely doesn't look out of place as a welterweight, but he will be the smaller man in this fight as Cote did fight at Middleweight early in his career.
People don't seem to give Cote the credit he deserves.  He is 5-1 in the UFC since moving to Welterweight in 2013 with his only loss coming to Wonderboy Thompson, who we all know is an absolute killer.  Not to mention that Cote was the only win in Thompson's last 5 where Wonderboy failed to get the finish.  Cote is the real deal and should not be overlooked.  He's coming off of two TKO victories (Burkman and Saunders) and although Cerrone is a step up in competition, Cote should be able to strike with Cowboy and I see him doing some real damage.
From some interviews I think Cerrone is overlooking Cote a little bit, which is not a good strategy against the Canadian.  I'm looking for Cote to get a big win in front of his home fans and send Cerrone back down to lightweight where he belongs.
Play: Cote 2.50 @ Bet365.com
Tagged With : Rory MacDonald • UFC betting • UFC Ottawa • Wonderboy Thompson